AMVR Knuckle Straps & AMVR Silicone Controller Grips DEALS
The AMVR Knuckle and Silicone Straps stand out as the best accessory for Quest 3 controllers. But when it comes to choosing between the two, which one is better? Find out in our AMVR Knuckle Straps Review.
If you've already received your Quest 3, we probably both agree that replacing or upgrading certain components can be crucial for a comfortable experience. The Quest 3 is a significant improvement over the Quest 2, not just in terms of the headset and its comfort but also with the controllers. They are not only lighter and smaller but also noticeably more compact.
In this review, our main focus will be on these controllers. Like the controllers of Quest 2 (or any controllers from Meta, or Oculus back then), the Quest 3 controllers do not include a strap or grip, and this unfortunately requires you to constantly hold the controller. Controller Grips not only enhance immersion but also improve safety – Having a strap or grip significantly reduces the chance of accidentally throwing your controller across the room.
The AMVR Knuckle Straps provide precisely that. AMVR, alongside Meta, was the first company to introduce Controller Grips for the Quest 3 to the market, and they have truly delivered. I can confidently say, even before the review, that this is a product worth buying. I recommend it, especially considering its reasonable price. However, AMVR offers two similar controller grips that serve the same purpose but differ significantly. In my opinion, one is better than the other, and throughout this review, I'll discuss the drawbacks and flaws of both products and help you with choosing which one is a better purchase.
Hey, short disclosure here: AMVR provided me with both of their Controller Grips for Quest 3, but had absolutely no input on this review. All opinions are my own.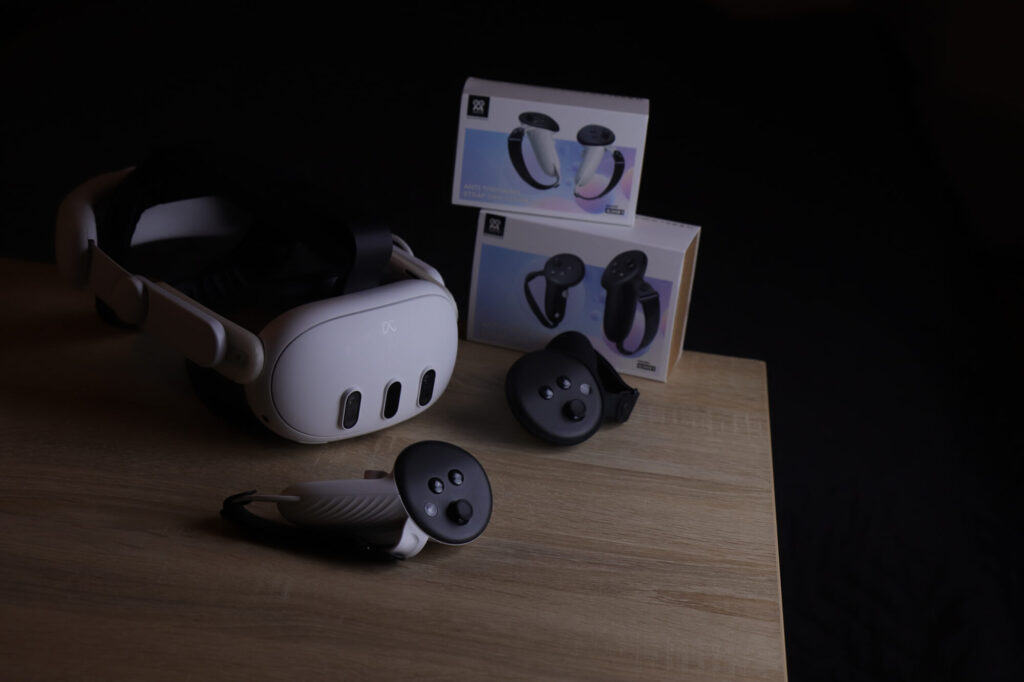 ---
Table of Contents
---
Are They Essential?
No, they're not, much like the charging dock, third-party facial interface, or even an improved headstrap. (Although I would argue about the last one; the Quest 3 remains a rather uncomfortable headset, so upgrading the headstrap can really change the experience for the better.) Still, the point stands – these accessories are not crucial for the headset to function, but they can undoubtedly improve the overall experience.
The feeling of being able to just release your hand while throwing an object in VR – without the feeling that you are gonna destroy your TV – is amazing. I've had moments where people threw my Quest 2 controllers around, and luckily, nothing bad happened, and the controllers were fine, but you never know if they might hit a TV, window, or someone passing by.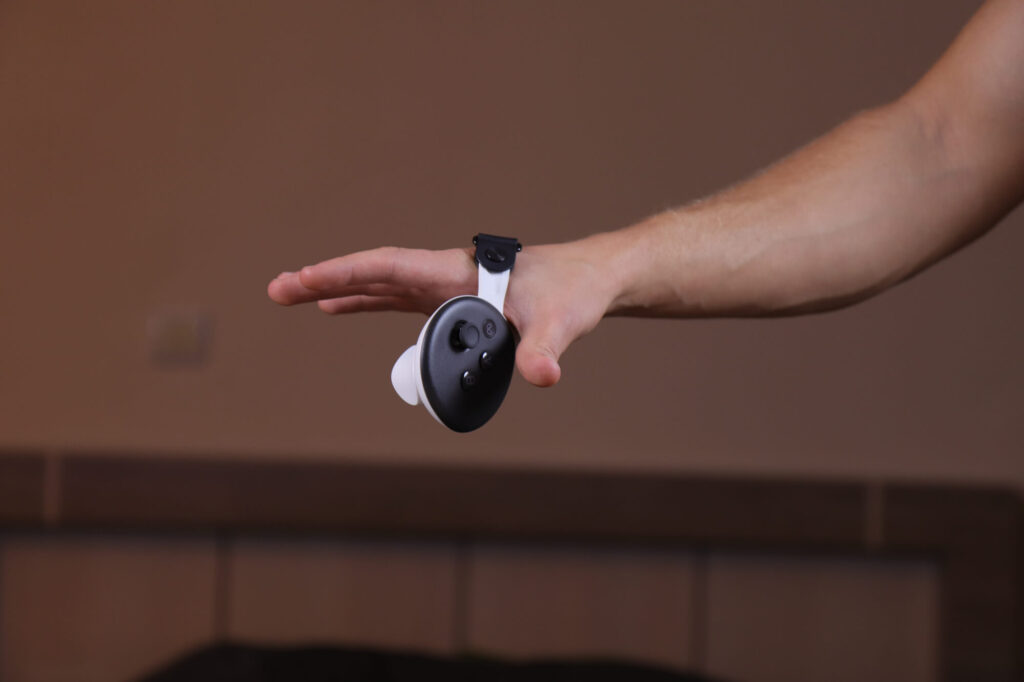 You might be wondering, "Don't the controllers of Quest 2 and Quest 3 have strings to secure them around your wrist and prevent them from flying around?" And you would be correct, they do offer this option. However, Controller Grips come with an extra advantage – they are securely attached to your hand at all times. The ability to effortlessly open your hand instead of pressing a button adds a remarkable level of immersion in VR.
If you're upgrading your Quest 3, considering controller grips as one of your first upgrades, could be a good option. But why go for AMVR knuckle or silicone straps over other options?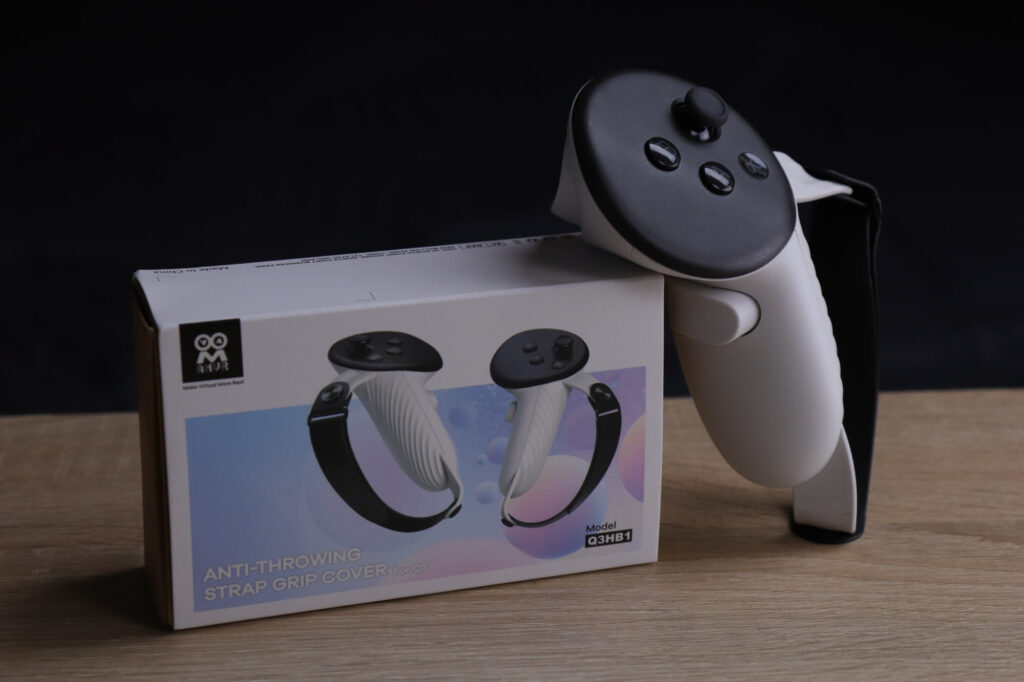 ---
Unboxing and installation
Before we dive into the main part of the review, let's address some key points. This review covers two products: one made of silicone and the other not. It's important to distinguish between them. So, don't be confused if I reference the "AMVR Silicone Controller Grips Cover" shortly after mentioning the "AMVR Adjustable Knuckle Strap" – these are two distinct products.
Now, onto the review. The first thing you'll do after getting the package, of course, is unboxing your new shiny item. The packages are of high quality and quite nice, but even if they weren't, it wouldn't matter much because the most important thing is what's inside.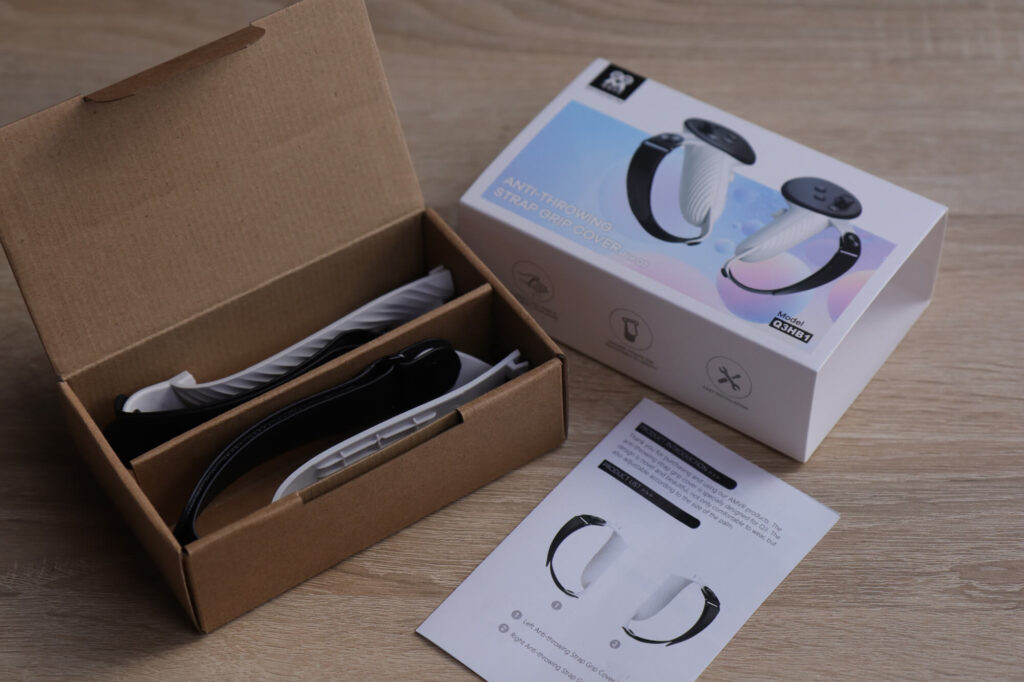 What's inside sets these products apart. Inside the package of AMVR Knuckle Straps, you'll find essentially two things: AMVR's battery covers. Installing them is as simple as flipping a light switch. All you have to do is remove the default battery cover from the Quest 3 controller by pressing the button just above it, then insert AMVR's cover. Repeat the process once more to the second controller, and voilà! Everything is done, and you're ready to go.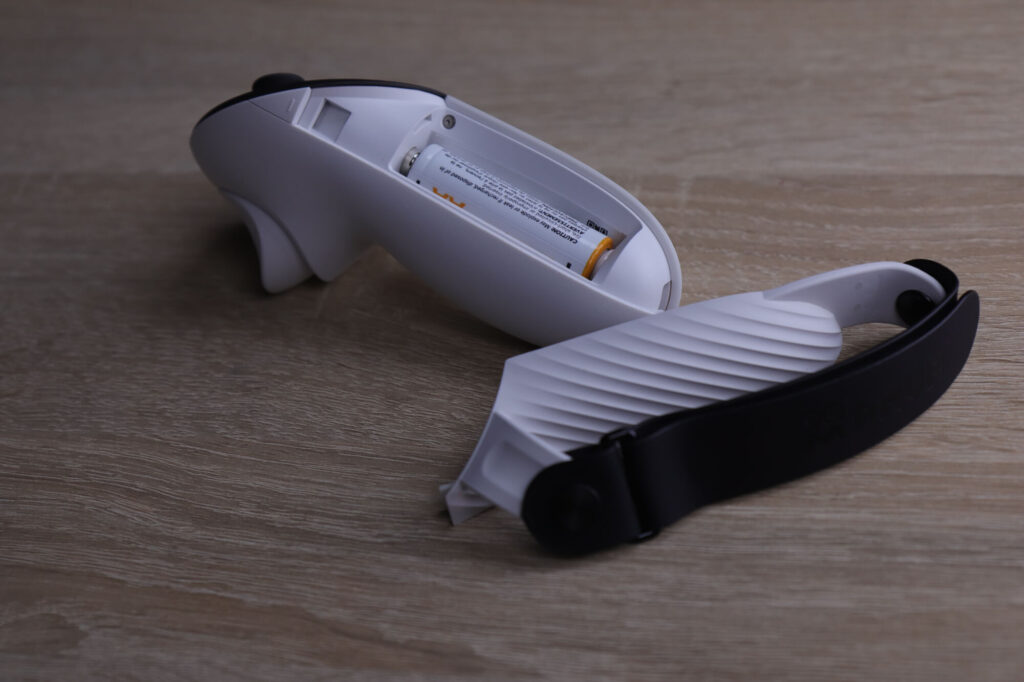 If you're familiar with how third-party controller grips work with Quest 2, you might be confused now. Quest 2 controller grips need a silicone cover to function, but the AMVR Knuckle Strap doesn't have one. This is because there's a button securing the battery cover in place, unlike the sliding mechanism required for Quest 2. This button works reliably, and trust me, you won't accidentally click it.
Installing the AMVR Silicone Controller Grips is a bit more complicated, but it still only took me about half a minute or so. Firstly, let's see what's inside the package – two battery covers (different from those in the AMVR Knuckle Straps) and two silicone covers. Now, you might be confused again – how does the silicone cover stay in place without any attachment points, unlike Quest 2 controllers with their large tracking rings? Well, it's possible because AMVR worked some magic here – they added a point of attachment to the battery cover.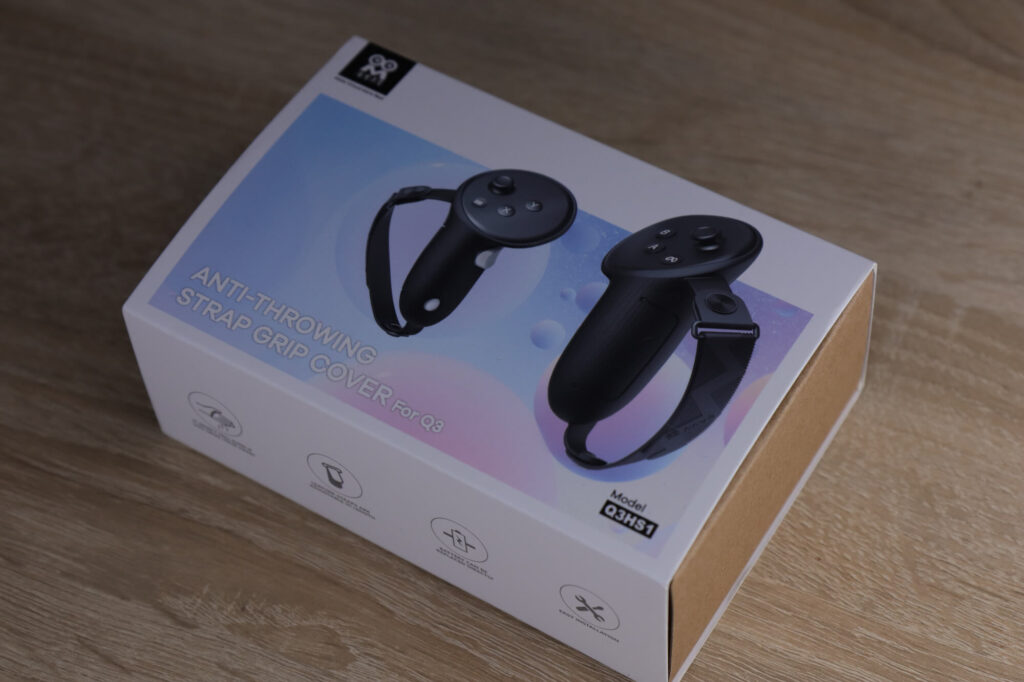 You can easily put the entire silicone cover on the controller by sliding it on and securing it to the small bulge. Repeat the process for the second controller, and you're good to go.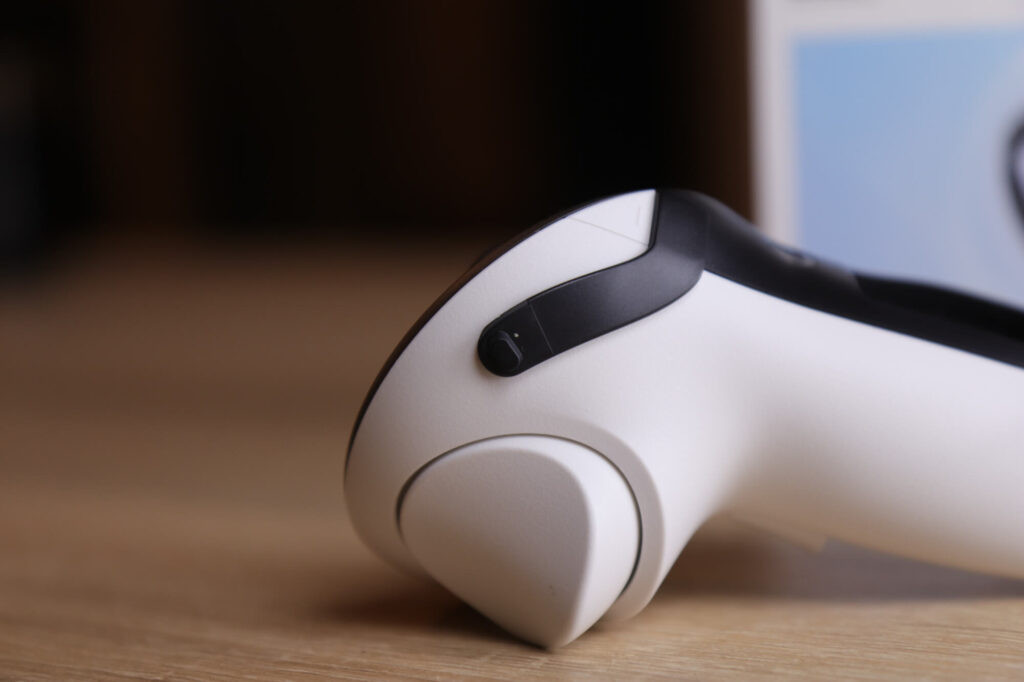 And no, the silicone cover doesn't affect tracking. Throughout my testing of both products, I consistently experienced perfect tracking. AMVR did an excellent job in this regard.
---
Comfort in Hand
Comfort when holding your controllers is crucial. The most comfortable VR controller grips I've used were the Kiwi Design Extended Controller Grips for Quest 2, featuring long grips made from a very comfortable material. However, this design made the controllers remarkably long and noticeably heavier though. Neither AMVR's Silicone Controller Grips nor Adjustable Knuckle Straps share a similar design. AMVR opted for a more minimalistic and lighter approach, which, in my opinion, is a positive direction.
A Quest 3's controller is lighter than a Quest 2's controller, mainly due to the absence of tracking rings. Adding extra straps and grips to the controller will increase its weight, and we want to keep it as low as possible. However, I'll delve further into this in the Stability section of the review.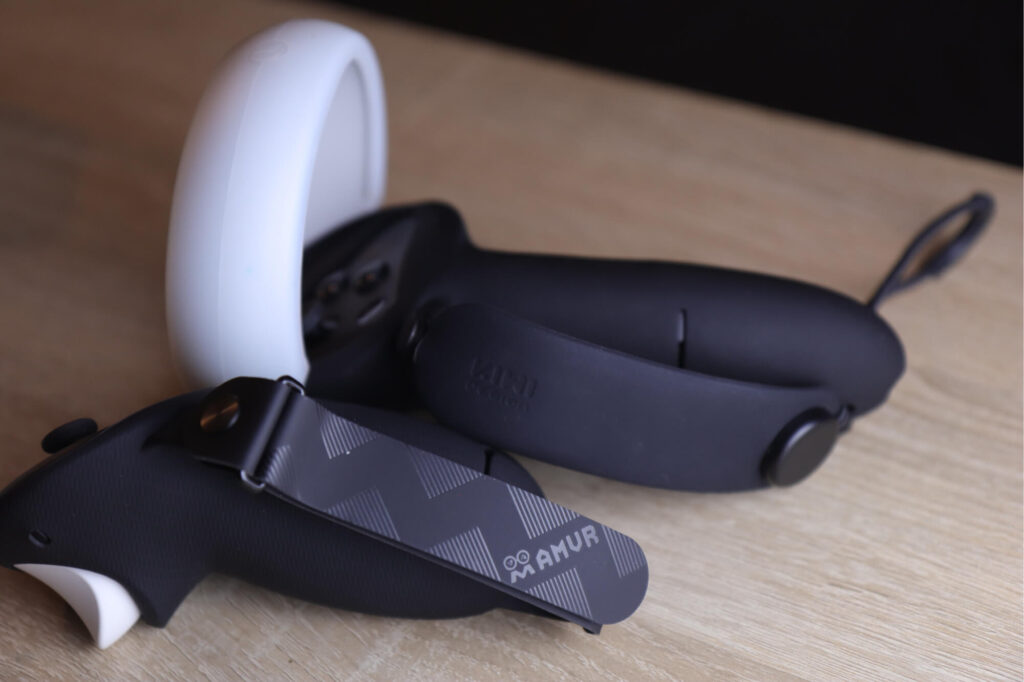 However, comfort is not solely influenced by the controller's weight; it's mostly about the material of the strap and the entire controller. I won't babble on – the material and overall comfort are alright. Both AMVR's Knuckle and Silicone Grips feature the same strap (the only difference is that the one has some patterns on it, while the other does not), but they differ in the material on the part of the controller that your hand holds.
AMVR Silicone Controller Grips, as the name suggests, are made of silicone, providing a comfortable feel, just as expected. The Adjustable Knuckle Strap has a wavy material – I'm not sure if it's silicone, but it's very comfy, and I actually prefer it over the full silicone one. The reason behind this lies not only in the material on the battery cover but also in the overall material of the controller. With silicone controller grips, the entire controller is covered in silicone, which is fine, but I personally prefer the sensation of having just the controller without any additional covering. This is the feeling that the Knuckle Straps has.
So, in terms of comfort, I give the point to the AMVR Knuckle Straps. Both are comfortable to hold with okay straps and great materials, ensuring I don't feel too much pressure on my hand – both are excellent. However, I slightly prefer the feeling of the AMVR Knuckle Straps.
---
Stability
The stability of controller grips is often overlooked by reviewers and regular users alike. When waving your hand to a friend in VR or throwing a grenade, you'd want your controller to stay in place, right? The catch is that the heavier the controller, the less stable it tends to be. However, a longer controller tends to be more stable, as demonstrated by Kiwi Design Controller Grips. I compared the stability of the longer and shorter versions in one of my reviews, and the difference was certainly noticeable.
| | | | |
| --- | --- | --- | --- |
| | AMVR Knuckle Straps | AMVR Silicone Controller Grips | Kiwi Design Extended Controller Grips |
| Weight of Controller | 138g | 163g | 234g |
To be completely honest, throughout my testing with both AMVR controller straps, I thought that the knuckle version was more stable, mainly due to the lighter weight of the controller. However, when I recorded myself making quick hand movements, such as throwing objects into the air or waving, the results turned out differently than I had expected.
AMVR Knuckle Straps:
AMVR Silicone Controller Grips:
I genuinely think that both are quite stable on your hands for what they are. However, if I had to pick a winner in this category, it would undoubtedly be AMVR Silicone Controller Grips. The controllers hardly wobble at all when waving a hand or throwing something, unlike AMVR Knuckle Straps, which not only wobble but also almost fell off my hand during rapid movements. The difference between the two is not as big when casually playing though, as making such rapid movements is quite rare.
I would still argue that they are both more stable than Kiwi Design Extended Controller Grips. They always stay in place and rarely show any tendency to slip from your hand. If it were to happen, you would sense it well in advance.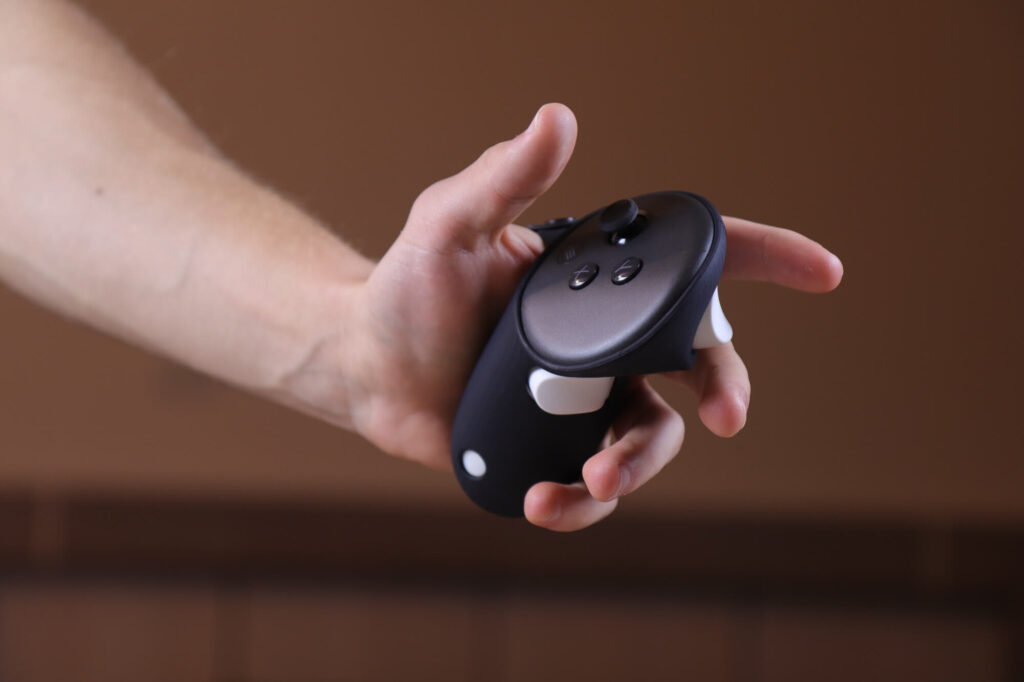 ---
Problems
Up to this point, I really enjoy both controller grips, but one has an issue that the other doesn't. While AMVR Silicone Controller Grips are excellent, I've often encountered the problem of the silicone material peeling off the controller. The bulge that serves as an attachment point for the controller grip doesn't seem to work well for me.
However, it isn't like the whole silicone grip material will fall off the controller when it peels off the bulge. Everything always stayed in its intended place, and the overall material remained secure, so I wasn't particularly concerned about the silicone material detaching from my controller.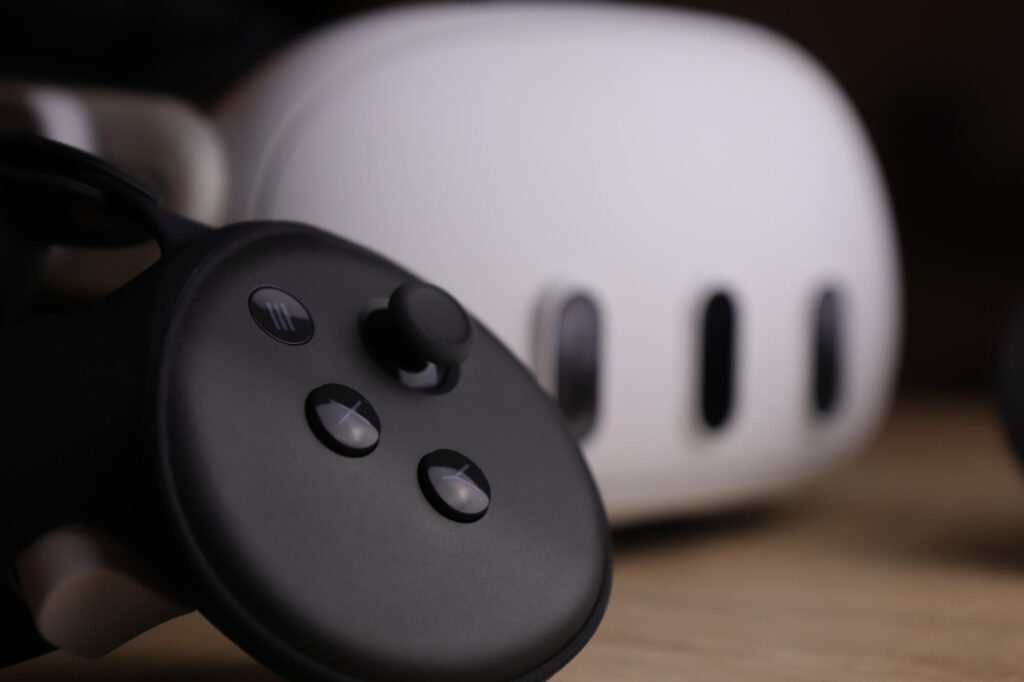 However, the issue of the material peeling off was still frustrating. There were times when it came off, ending up on the controller's trigger. I had to readjust it properly before I could continue playing comfortably.
AMVR Knuckle Straps don't have this problem. I truly appreciate the simplicity of these straps – you just place them onto the controller, and then everything works perfectly. The controllers are ready to be used without any concerns about something peeling off from the controller.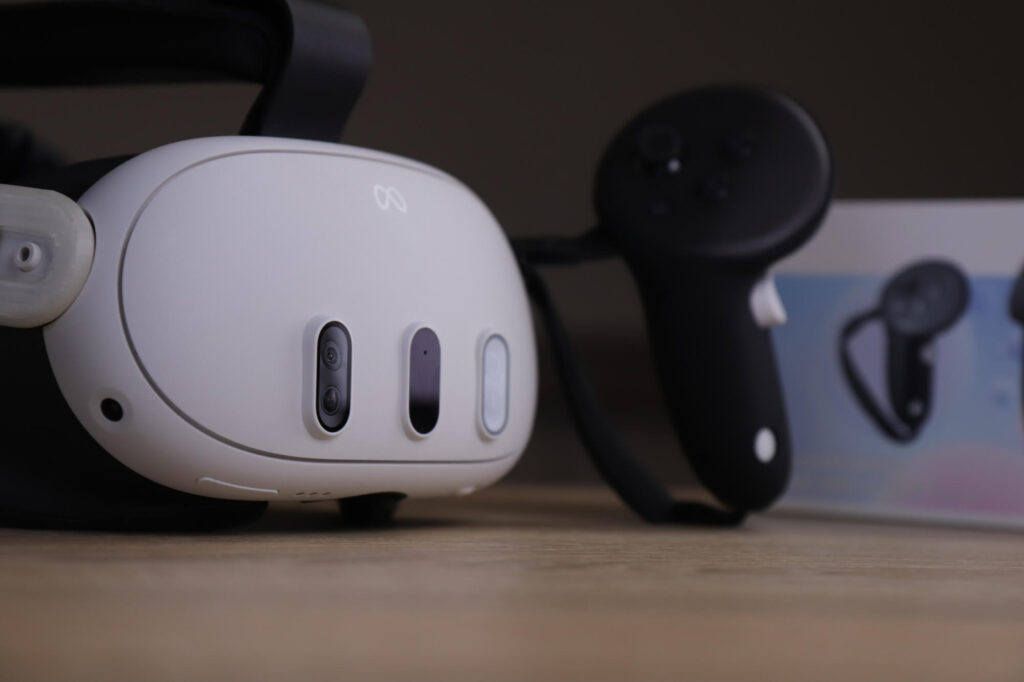 ---
Conclusion – Which is better?
If you're looking for controller grips for Quest 3, I believe the better option is AMVR Knuckle Straps, the version without any silicone cover material. I appreciate how straightforward it is to set up – you simply attach a battery cover, strap it on, and you're ready to play.
Both of AMVR's straps are highly comfortable, but I lean towards the Knuckle Straps due to their lighter weight and more comfortable grip. While AMVR's Silicone Controller Grips offer slightly more stability on your hand, the difference is relatively small in casual playing. Considering this, along with the issue of material peeling off the Silicone Version, my preference goes to the Knuckle Straps. Since both options are essentially the same price, I strongly recommend choosing the Knuckle Straps.
The Review
AMVR Knuckle Straps & AMVR Silicone Controller Grips
Personally, I prefer the AMVR Knuckle Straps without silicone cover for their simplicity and comfort. They are easy to set up, lightweight, and offer a comfortable grip. Although the Silicone Controller Grips are slightly more stable, I lean towards the Knuckle Straps due to their overall advantages and similar pricing. I recommend choosing the Knuckle Straps.
Review Breakdown
Comfort - AMVR Knuckle Straps

0

Comfort - AMVR Silicone Controller Grips

0

Ease of Use - AMVR Knuckle Straps

0

Ease of Use - AMVR Silicone Controller Grips

0

Stability - AMVR Knuckle Straps

0

Stability - AMVR Silicone Controller Grips

0

Appearance - AMVR Knuckle Straps

0

Appearance - AMVR Silicone Controller Grips

0
AMVR Knuckle Straps & AMVR Silicone Controller Grips DEALS
We collect information from many stores for best price available
Best Price
$26