Yesterday, Apple unveiled its latest product line, Apple Vision, with an initial focus on mixed-reality headsets. The company aims to eventually transition these headsets into a true AR glasses form factor, a feat that has not been achieved thus far.
With other mixed-reality headsets like Quest Pro available in the industry, how does the Apple Vision Pro stand out? Is it better than the competition? What does it offer and what are the specifications of this device? And most importantly – Do you need it? All of these questions will be answered in this article.
---
Table of Contents
---
Apple Vision Pro Release Date
Apple has announced that its highly anticipated headset is scheduled to be released and shipped in early 2024. This delay is attributed to the reported production challenges faced by Apple in creating its most complex product to date. The specific release date is described as "Available early next year in the U.S.," and information regarding the release dates for other regions is not currently available.
The extended-release date also suggests that Apple aims to provide developers with a significant timeframe to create compelling virtual and augmented games and experiences. This strategy indicates that Apple may have more exciting offerings in store beyond what was initially showcased at the WWDC announcement, which we will explore in detail later in this article.
Apple Vision Pro Price
The Apple Vision Pro is priced at $3499 in the US, although the price for Europe and the United Kingdom has not yet been confirmed. This premium price is justified by the utilization of state-of-the-art technology within the headset, including 4k x 4k Micro-OLED panels, numerous cameras, multiple sensors, advanced optics, and a dual processor unit.
The reported Bill of Materials (BOM) for the headset is approximately $1500. Even when accounting for marketing, research and development, and other costs, it still appears that Apple aims to generate profits from this device, despite reports indicating lower sales figures. Some estimates suggest shipments as low as 100,000 units for this year.
---
Apple Vision Pro FOV
While initial rumors suggested a FOV of 120°, testers have informed us that the actual FOV ranges from 100 to 110°, comparable to that of Quest Pro and PSVR2.
While some may find this FOV disappointing, Let's not forget that a smaller FOV allows for higher pixel density, resulting in more realistic visuals.
VisionOS – Apple's new Ecosystem
The headset will introduce a new and innovative operating system called VisionOS. Users will find it familiar and intuitive, thanks to its resemblance to the wider Apple ecosystem and other operating systems. It has the capability to run all iPhone, iPad, and Mac apps seamlessly, ensuring smooth compatibility within the Apple ecosystem.
For example, you'll have the ability to wear the headset and look your MacBook screen, which then will transform into a large virtual screen hovering above your Mac, visible only to you.
---
Resolution of Apple Vision Pro
Apple's "First Spatial Computer," a term synonymous with "Mixed-Reality Headset," will feature dual 4K x 4K micro-OLED displays, surpassing the capabilities of its competitors. Testers, including veterans with over a decade of experience in the VR industry, unanimously agree that this is unquestionably the best VR display they have ever encountered.
And that makes perfect sense, considering that Apple Vision Pro boasts a total of 23 million pixels, while Meta Quest 2, currently the most popular VR Headset globally, only has 7 million pixels. This means that Apple Vision Pro offers nearly beyond three times the resolution compared to Quest 2.
Meta Quest Pro, with its mere 6.9 million pixels (yes, even less than Quest 2), serves as further evidence that Apple Vision Pro truly stands uncontested in its class. The only exception is the Varjo XR-3, hailed as the best mixed-reality headset in the market. It comes with a hefty price tag of $6,495 along with a yearly subscription of $1495.
The display boasts a brightness of 5000 nits. However, it is important to note that not all of this brightness reaches our eyes. Due to inefficiencies in optics and other factors, more than 90% of the light is lost during its journey from the displays to our eyes. As a result, the actual perceived brightness may be comparable to that of the PSVR2, which is around 265 nits.
Another significant feature regarding displays is the inclusion of the first-ever Reverse-Passthrough technology in the actual product. This innovative feature, known as EyeSight, enables others to see your eyes while engaging in conversation with you.
EyeSight is a unique curved OLED display that projects the view captured by cameras recording your eyes. It is designed to address the issue of isolation in VR and MR experiences. However, this feature has received mixed opinions from users. The use of lenticular optics to create the illusion of depth for your eyes on the screen results in a lower perceived resolution and darker visuals, which some find unsettling and uncanny.
This feature is expected to be refined and improved in future generations of Apple headsets. It is highly likely that other companies, such as Meta, and emerging players in the XR industry like Google and Samsung, will also incorporate similar solutions in their products.
---
Optics of Apple Vision Pro
The Headset will boast advanced Pancake Optics, employing three layers of lenses stacked on top of each other. These Pancake Lenses offer an exceptionally sharp view and a thin form factor for the headset by reducing the required space between the lens and display.
In comparison to the previous generation of lenses, such as the Fresnel lenses found in headsets like Meta Quest 2, the Pancake Optics in Apple Vision Pro present a significant upgrade. The upcoming Meta Quest 3 is also expected to incorporate Pancake Optics, similar to those utilized in the Meta Quest Pro.
---
Dual Chipset – M2 and R1 in the Apple Vision Pro
In the announcement, Apple confirmed that the headset is powered by the highly capable M2 Chip, responsible for delivering impressive graphical fidelity. Additionally, accompanying the M2 Chip is the R1 Chip, Apple's latest SoC, which handles camera inputs and data from various sensors.
This powerful combination makes it the most advanced mixed-reality headset in history, surpassing the capabilities of other standalone headsets, which in the majority are utilizing Snapdragon XR2 Gen 1 SoC.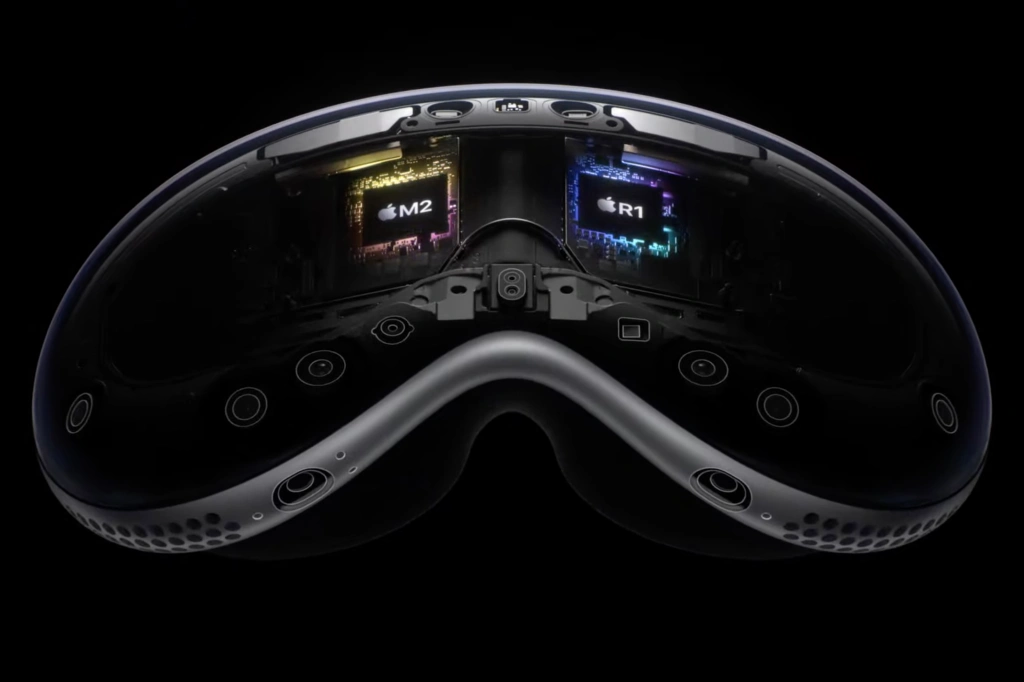 ---
Apple Vision Pro Weight
Although there is no official weight measurement available, multiple testers have reported that the Apple Headset feels front-heavy, despite the optional top strap. This observation is understandable, given the inclusion of dual processor units, numerous mechanical moving parts, and a substantial number of cameras, all located in the front of the device.
However, in order to maximize usability, comfort, and reduce weight, Apple has made the decision to remove the battery from the headset and instead transfer it to a separate battery pack that users can conveniently carry in their pocket. The battery pack provides up to 2 hours of usage time, but can also be connected to a power source for extended sessions, such as watching a movie.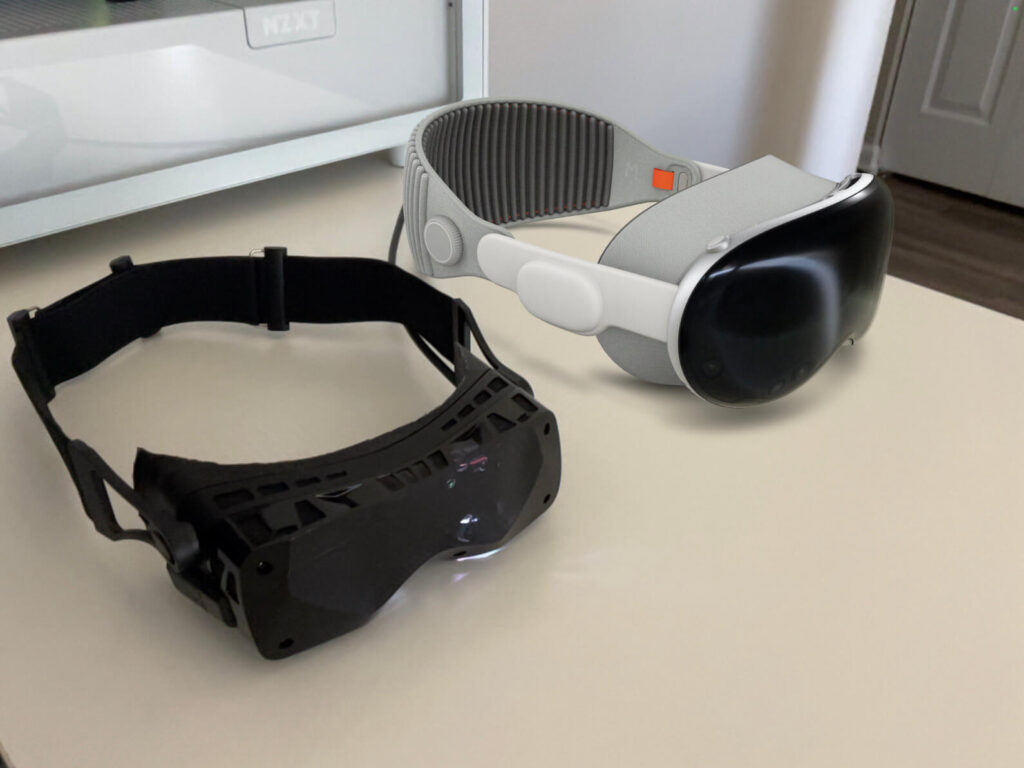 ---
Cameras on the Apple Vision Pro
The headset will be equipped with 12 cameras for tracking and mixed-reality purposes, along with 5 sensors to accurately map your room and surroundings. These cameras will enable precise tracking of your head, eyes, face, hands, and potentially even your legs.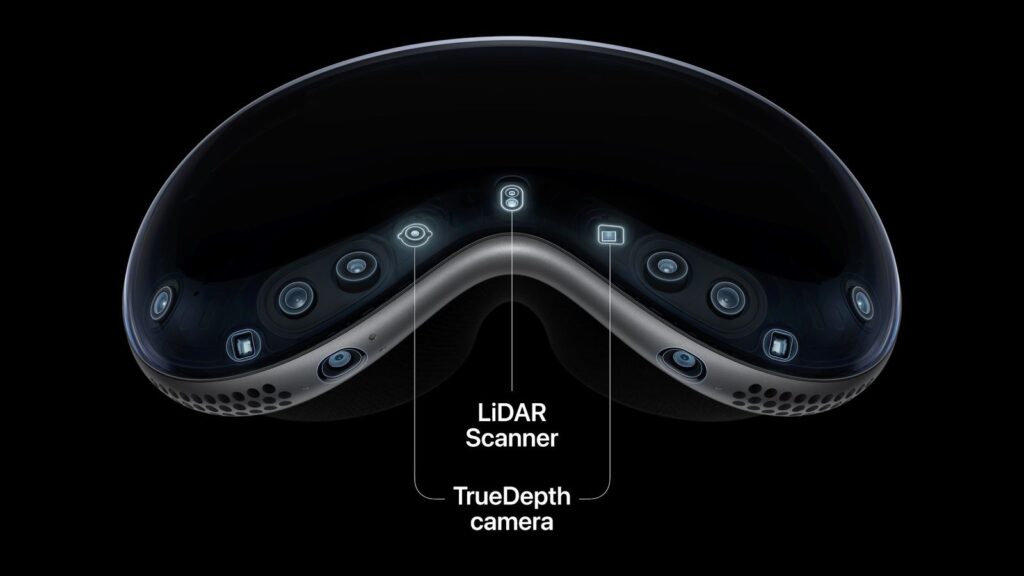 Hand tracking serves as the primary input method in the headset, and Apple has prioritized its reliability based on feedback from testers. When combined with eye tracking, users can conveniently direct their gaze toward a specific button or just the object they wish to interact with, and by simply pinching their fingers, they can engage with it seamlessly.
Testers have reported that Apple has achieved an exceptional level of reliability with hand tracking, and they quickly adapted to using it within minutes. They even praised it as the most natural input method currently available in any VR/AR headset.
We may be on the brink of a new era in VR and AR, where Apple once again revolutionizes device control, reminiscent of their groundbreaking introduction of multi-touch with the iPhone. With the seamless integration of eye-tracking and hand-tracking, we are poised to experience a level of interaction and immersion that surpasses anything we have seen before.
The cameras will also be utilized for capturing Apple's first-ever 3D videos through the headset, enabling users to relive their memories with enhanced depth and captivating 3D effects.
The cameras on the headset serve a crucial role in delivering the Mixed-Reality/Augmented Reality experience, which is the primary focus of the device. While you have the option to enter VR mode using the digital crown (which also functions as a home screen button), upon launching the device, you are always greeted in your real environment, never in virtual reality.
According to testers, the color passthrough on the headset is unrivaled in the industry, surpassing any other VR/AR device available.
---
Eye, Face, and Leg Tracking
As mentioned earlier, Eye Tracking, along with Hand gestures, serves as the primary input method for the headset. Eye movements are tracked by two cameras in each eye. Although Apple has not explicitly mentioned Face Tracking capabilities, it is highly likely that the headset utilizes it. During FaceTime sessions (which will be discussed in the next point), it was shown that users' digital avatars accurately mimic their mouth movements.
Leg Tracking, on the other hand, remains a mystery at the moment as there was no demonstration of its use during the showcase. Apple Vision Pro is equipped with two downward-facing tracking cameras on the headset, which are currently utilized for hand-tracking.
For instance, when you are sitting or standing, there is no need to keep your hands in front of you as they can rest on your knees and still be accurately tracked. However, there has been no indication of the cameras being used for leg-tracking purposes.
---
Apple Vision Pro – FaceTime and Meetings
Currently, users are required to scan themselves using the cameras and sensors on the headset in order to create a lifelike avatar. This avatar can be then used as their visual representation during meetings, FaceTime calls, and other interactions.
FaceTime was rumored to be one of the most anticipated features of the device, with expectations that Apple might utilize leg tracking to generate highly realistic avatars of users during conversations with other individuals using Apple Vision Pro
However, during the keynote, Apple only showcased how FaceTime appears when used between individuals using the headset and an iPhone, rather than demonstrating its functionality between two individuals using the headset alone.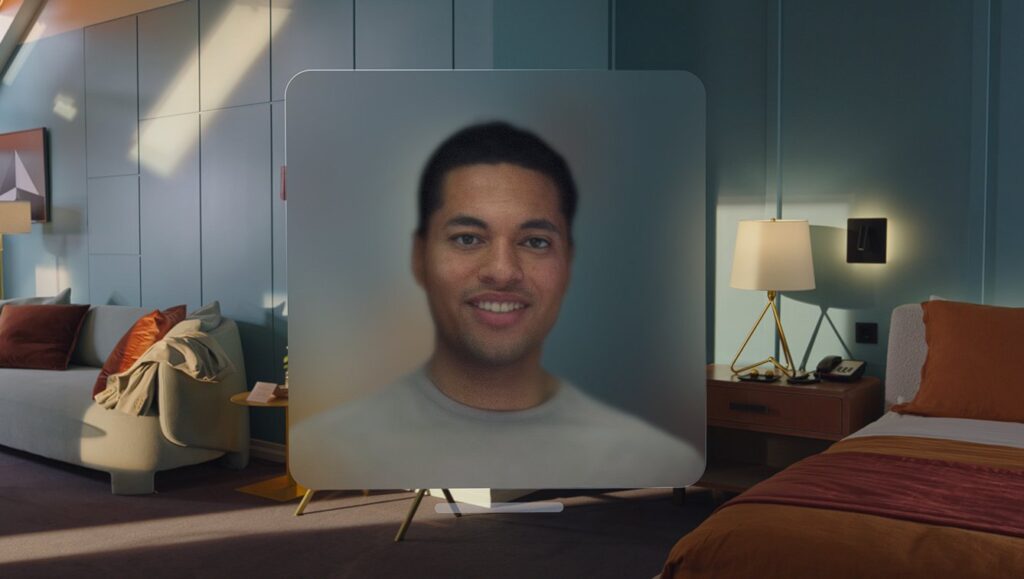 ---
What about the games on the device?
It has been confirmed that Apple will not include any controllers in the package nor offer them as optional accessories for purchase. While no games were showcased during the keynote, missing an opportunity to highlight the headset's gaming potential, it has been confirmed that users will be able to play 2D screen games using their Xbox or PlayStation controllers.
VR or AR games were not showcased during the event; however, given Apple's hardware capabilities, we can expect them to fully utilize their potential in future game and app releases. Developers are already gearing up to work on their ideas for apps and games, and we can anticipate exciting offerings this year.
Apple has also announced the Unity support for the device. This integration is expected to have a substantial impact, as it will facilitate the seamless porting of games and experiences to the VisionOS platform, greatly enhancing the accessibility and availability of content for users.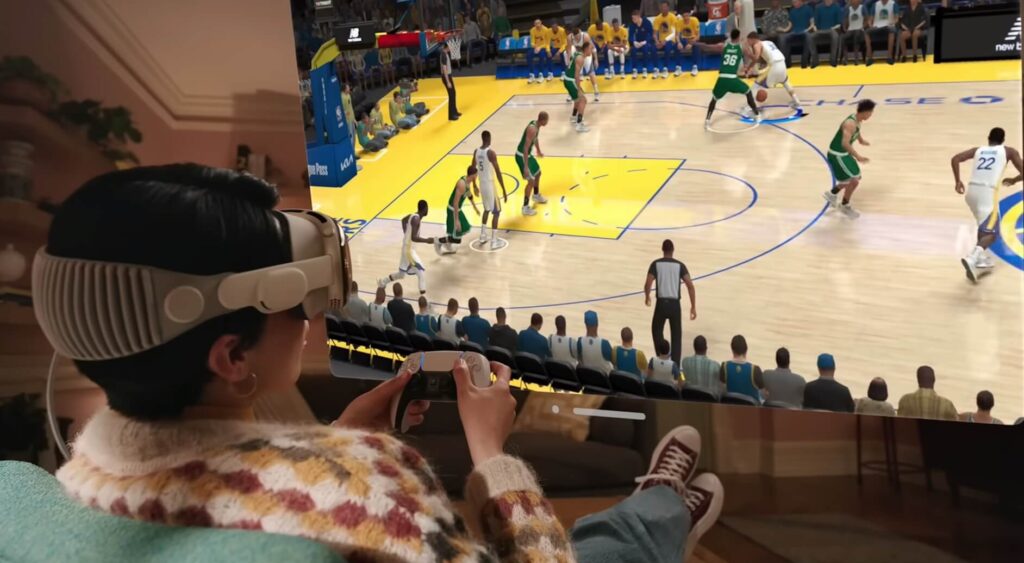 ---
Is this a Headset for You?
Apple Vision Pro, as implied by its name, is tailored for professional users. While its premium price may be discouraging for some, given the current limited range of applications, Apple has yet to showcase the full potential of this device. The true capabilities of the Apple Vision Pro are yet to be revealed, and we can expect a shift in this narrative before its release in 2024.
Apple might follow a similar trajectory as they did with the Apple Watch for their headset. Initially, the first generation of the Apple Watch lacked a clear use case and purpose, with no standout app to drive its adoption. However, over time, developers harnessed its potential and devised innovative ways to make the device highly functional and practical.
The same evolution could occur with the Apple Vision Pro, as developers explore its capabilities and uncover compelling applications, eventually showcasing the true value and purpose of the device.
If you are eager to be an early adopter, you can anticipate the preorder phase and purchase the headset. The device holds tremendous potential with limitless use cases, extending beyond media consumption and productivity, and we are on the verge of witnessing the full extent of its capabilities.