Rec Room Release officially on Apple Vision Pro
Rec Room, one of the most popular social VR Games, has officially confirmed its availability on Apple's latest device, Vision Pro. The headset is the company's first Spatial Computer (in other words, the Mixed-Reality Headset).
During the WWDC Keynote, Apple hinted at the presence of Rec Room on the Apple Vision Pro, as the game appeared in the "Apps and Games we Love" section of the headset's App Store.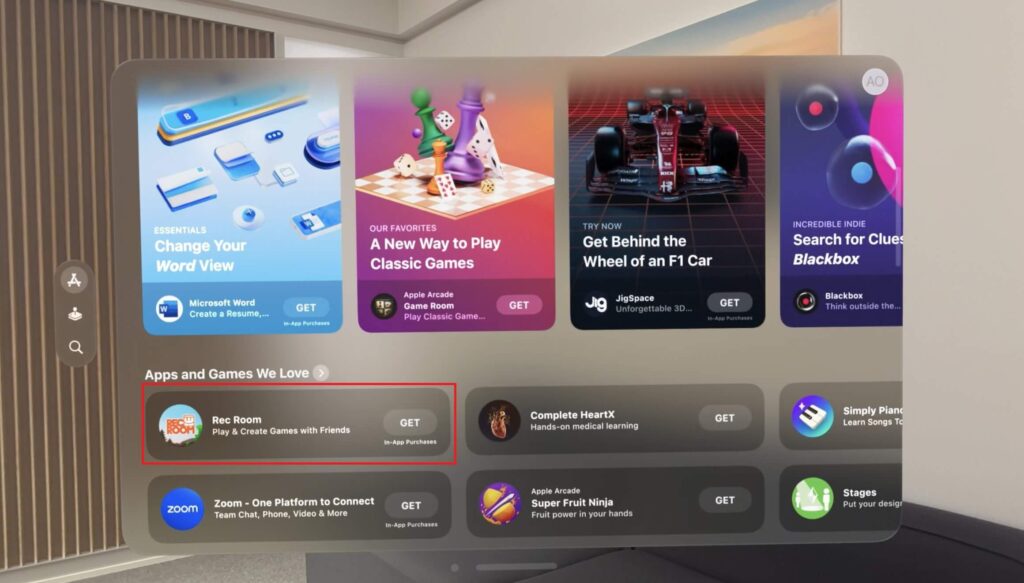 However, there hasn't been any official confirmation regarding whether Rec Room on the Vision Pro will be playable on a 2D screen or exclusively in the immersive 3D VR environment. The game is currently available on various platforms, including PCs, smartphones, and other platforms, not limited to VR.
This was until now. Apple has officially introduced developers to the world of VisionOS – They have provided them with tutorials and a variety of videos to assist them in navigating the development process on this new spatial platform. Among these resources is a video demonstrating how to port Unity VR apps to the Vision Pro, in which Rec Room on the headset was showcased.
---
How Will Players Move Without Controllers?
This has been a big concern for many. Apple has made a deliberate decision not to include controllers with the device – As a result, the entire user interface, as well as all available games and experiences, will be controlled solely using the user's hands, eyes, and voice commands.
How will a VR game that heavily relied on controllers be available on the Apple Headset? Well, the answer lies in the hand-tracking capabilities of the device, as you may have already guessed.
Interactions like grabbing, throwing, and others are not a major concern with the near-perfect hand tracking provided by Apple. However, the challenge lies in the movement aspect. With traditional controllers, we have the option of using smooth locomotion through the joystick or teleportation.
Teleportation emerges as the ideal solution for Vision Pro, serving as the most appropriate method for movement in VR without controllers. A potential implementation could resemble the teleportation mechanics found in games like Waltz of the Wizard, as Nathie suggested on Twitter. Users can perform a gesture and then indicate the desired location in space to initiate the teleportation.
Apple has confirmed that both Hand Tracking and game controllers, including PlayStation and Xbox ones, will be supported for VR games on the Vision Pro. With the deep integration of Unity into VisionOS, we can expect a significant influx of VR games to be ported to the platform.