New sources have revealed that the cost of the Apple VR/AR Headset may be significantly lower than originally anticipated
Today, Brad Lynch provided us with information regarding numerous reports from China that supposedly reveal the Bill of Materials (BOM) for the highly anticipated Apple VR/AR Headset which is scheduled for release on June 5.
It is important to note that the information regarding the cost of materials for Apple's Headset is not sourced from a single report, but rather from multiple sources providing varying, but overall similar perspectives on the matter.
The first report, summarizing information from Minsheng Electronics, provides several key insights. Firstly, it suggests that around 400,000-500,000 units of the headset are expected to be manufactured in the latter half of this year.
The article refers to the operating system as "rOS" (although it is unlikely to be the official name) and emphasizes its support for a wide range of applications, including games, video software, and office tools, possibly including collaboration features. Additionally, the article hints at a potential compatibility issue between "rOS" (xrOS) and iOS, without providing specific details on the reasons behind it.
Bill of Materials according to the article:
Chip: two pieces in total, $120 -140;
Micro OLED screens: $280-320;
Camera (will carry 14): $160;
Optical-mechanical lens system and assembly: $70-80;
Rearview mirror: $13-15;
Pupillary distance adjustment module: $30-35;
3D sensor part: $80-90;
Metal middle frame: $95;
Appearance parts: $15-20;
External battery pack: $22 -25;
Microphone: $21-22, Speakers: $16-18;
PCB+FPC: $40-45;
RAM+ROM storage part: $40-45;
Other chipsets such as wifi, Bluetooth, PMIC, etc. total: $60-70;
Total cooling module: $70;
Other auxiliary accessories: $30-40;
Assembly: $110-120;
Total cost: Approximately $1,400, and considering shipping costs, the conservative estimate is within $1,600.
Some terms used in the leaks, such as "Rearview mirror," may seem unfamiliar as they might not directly correspond to their conventional meanings. It is possible bad translation occurred, or that Apple could be using placeholder terms to represent specific components without disclosing proprietary information. Thus, it is plausible that the term "Rearview mirror" could be referencing the passthrough display feature.
Another report, this time from Wellsenn XR, supports the notion of a similar overall price for the Apple VR/AR Headset. Although it may be challenging to decipher the names of the individual components, the prices appear to align closely with those mentioned in the previous report.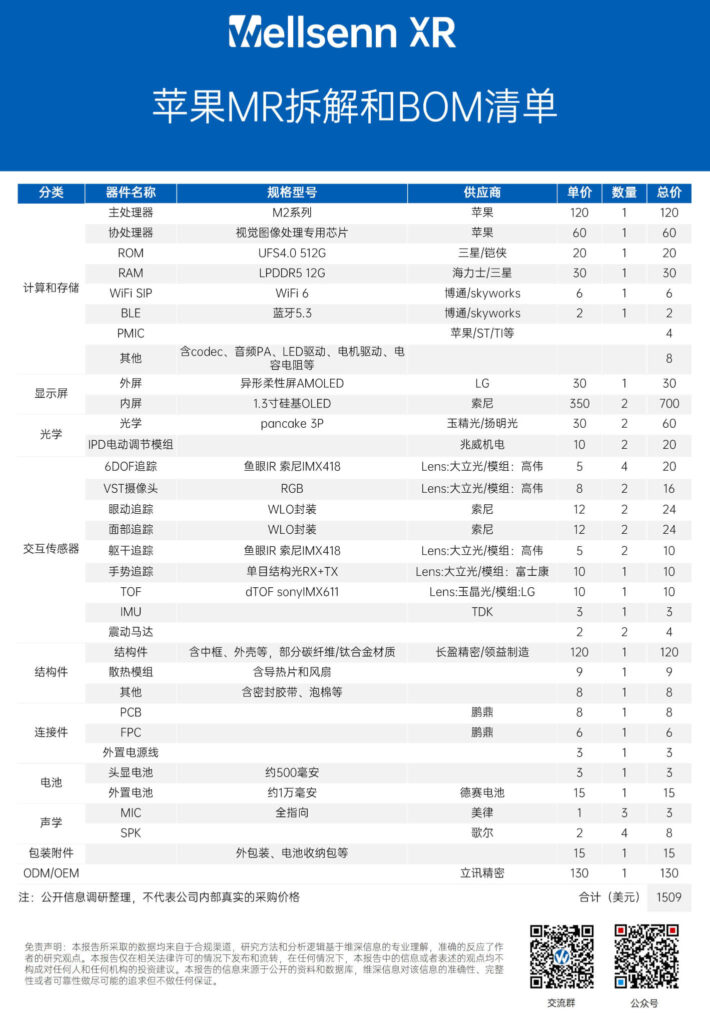 Another Chinese report highlights two additional sources that expect a lower Bill of Materials (BOM) for the Apple VR/AR Headset, although it's important to note that these estimates may not include shipping costs. The reported figures are $1290 and $1300, respectively.
Regardless of the precise BOM, it is anticipated that manufacturing the Apple VR/AR Headset will cost approximately $1500, which is significantly lower than the rumored final price of $3000. Apple's strategy may involve initially showcasing cutting-edge technology at a premium price point, and subsequently offering more affordable options for consumers, potentially including both low-end and high-end variants to attract more clients.