The highly anticipated sequel to Meta's first-party game, Asgard's Wrath, known as Asgard's Wrath 2, has been leaked in a recent interview.
With the Meta Gaming Showcase happening today, the entire VR community is filled with anticipation as they eagerly await Meta's latest offerings, including exciting new games and quite possibly the unveiling of their highly anticipated VR/AR headset, Meta Quest 3.
The news outlet GGRecon published an article about Asgard's Wrath 2, but quickly deleted it. However, we managed to obtain access to the original article, rather than relying on a leak from a Korean forum.
The original Asgard's Wrath set the stage for a captivating Norse mythology adventure, where players assumed the role of a Norse god working alongside Loki. With its compelling storyline and diverse cast of mortal heroes, the game left a lasting impression. Building upon the success of its predecessor, Asgard's Wrath 2 plans to raise the bar even higher.

According to Mat Kraemer, Head of Design at Sanzaru, development for Asgard's Wrath 2 commenced shortly after the release of the first game, spanning several years. The team has dedicated its efforts to expanding the game's world and enhancing its mechanics.
One of the big improvements noted by Mat Kraemer lies in the revamped combat system, which was one of the drawbacks of the original game. The enhanced system in Asgard's Wrath 2 presents players with a range of options to confront enemies and conquer obstacles.
The sequel will introduce players to a brand-new setting – Ancient Egypt. Kraemer expressed his excitement about exploring Egyptian lore and incorporating the rich mythology, promising diverse environments that go beyond the typical desert and pyramid settings associated with Egypt. Players can expect a vast world to discover and conquer.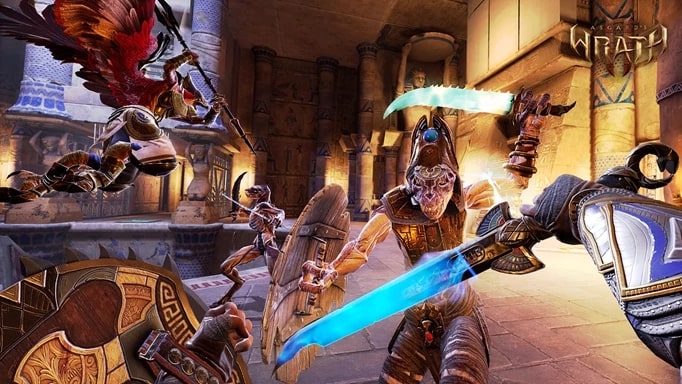 To facilitate exploration, the game introduces a mount mechanic, providing players with a faster means of traversal. While this could potentially induce motion sickness in some players, Sanzaru has taken steps to accommodate different playstyles and comfort levels. They have designed the game with two different movement options, ensuring that both new and experienced VR players can enjoy the adventure.
Sanzaru Games has shown a strong commitment to pushing the boundaries of VR gaming and creating a true RPG experience. The team's passion and dedication are evident, with the promise of surprises and hidden features that will astonish players. With the absence of groundbreaking VR titles since Half-Life Alyx, Asgard's Wrath 2 has the potential to become the next must-play VR game, captivating even the most hardcore gamers.
Whether the game will be exclusive to Quest 3 remains unknown, but the screenshots from the game look highly promising, showcasing impressive graphics. This suggests that the game may have been primarily designed for Meta Quest 3, while also potentially being optimized for its predecessor, Quest 2, with lower fidelity graphics and other performance optimizations.