I tested the Exit Suit, a Performance Suit designed for VR. My initial impressions were both fun and scary. Willie Winkler also told me about the future of this product.
The Exit Suit represents one of the most intriguing concepts in VR to date. What if players could not only walk, and sit, but also fly in VR, by literally doing that with their own bodies? This is the question that Exit Suit wants to answer. My initial impressions of the Exit Suit shed light on its great potential, although it's the suit is not fully ready for everyone yet.
---
Table of Contents
---
My Impressions
I had the opportunity to test the Exit Suit at AWE EU 2023, where I explored numerous fascinating projects and start-ups, some of which involved AR glasses. Articles about these innovations will be published in the coming days. However, the Exit Suit particularly caught my attention, as I had been following this project since its beginning and was eager to try it. My excitement was real, and when one of the three available Exit Suits became free, I couldn't wait any longer to try it.
However, there was one problem – the Wi-Fi at the event was quite unreliable, likely due to the heavy usage by around 100 exhibitors and over 1,500 attendees. An employee informed me that, unfortunately, they couldn't launch the game on the VR headset due to the poor Wi-Fi connection. People before me were playing Population One, because it seems, this is the game that shows the potential of the suit – it allows players to run, climb, and fly, all of which can be simulated using the suit's motion capabilities.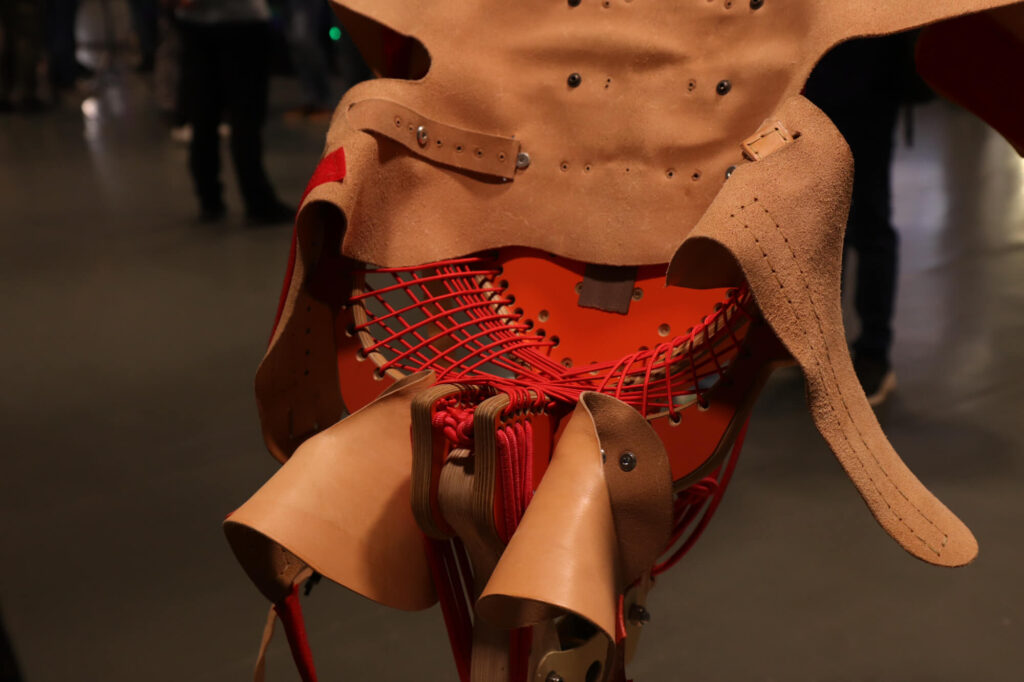 What I tried was moving with the suit without a VR headset. Just to be clear, it's not the same as an omnidirectional treadmill like Katwalk VR, where you slide with your own feet to move. In the Exit Suit, players still use the thumbsticks on the controllers to move. This was my initial impression while trying out the Exit Suit, but as you'll read in the interview, Winkler mentioned that people can add their own features like force feedback or floor movement to the suit. From my understanding, Winkler had or still has plans to incorporate this function into future Exit Suits.
This is crucial because, with the suit's range of movement, along with the potential for adding force feedback and foot-movement elements, you could have the ultimate VR haptic and omnidirectional treadmill suit… If that makes sense.
One of the most significant issued I had, was that I didn't feel entirely secure while flying. In the first minute or two, I was surprised by how well the suit supported my body weight, but after those initial moments, I heard the Velcro coming off me. This was a bit unsettling because the last thing you want is to come fall down from this thing. The Exit Suit doesn't rely solely on Velcro; it has several belts that an employee needed to fasten to ensure a safe experience. It took about a minute for him to secure me in the suit.
Before using the Exit Suit, I had to sign a waiver, which essentially meant that I took full responsibility for using the suit, and it was a bit concerning. The issue with the Exit Suit is that if you don't secure yourself in it correctly, or if you fasten one belt incorrectly, there's a real risk of falling off this thing, especially when you're immersed in a VR game with headphones on. It's something to keep in mind.
Overall, my experience with it was a lot of fun but somewhat concerning due to the issue mentioned above. If this issue can somehow be addressed (though it's a bit tricky because it ultimately depends on the user fastening themselves into the Exit Suit correctly), this suit has the potential to significantly enhance immersion in VR and be one of the best or even the best choice when choosing omnidirectional treadmill and bodysuit combined. Now, let's dive into the interview where you'll discover details about pricing, the release date, the construction of the Exit Suit, and much more.
---
Interview with Willie Winkler, the Creator of Exit Suit
Cezary Sobociński, XRDailyNews: Can you tell us shortly what Exit Suit Exactly is?
Willie Winkler, the Creator of Exit Suit: Exit Suit is a performance suit for VR. It is a spine that allows you to move in amazing ways and attach other elements of force feedback onto it. Elbows, legs, movement in the floor, haptics, tracking, they all attach them to the spine.
XRDailyNews: Is the Exit Suit possible for everyone to build?
Willie Winkler: We've got the open-source suits here behind us [On AWE]. People can download the blueprints in January in an open-source way. They'll see the instructional videos, and they can build their own suits for around $1000.
XRDailyNews: Do you plan on making it available for consumers to buy?
Willie Winkler: We're going to start selling kits of that same thing. So that will be around $1,500 maybe $2,000. We haven't got a price yet on that but there's going to be a kit that you can buy in case you're not up to welding and turning and doing all the CNC cutting yourself. That will just come as a kind of IKEA kit and you assemble it. I can assemble one in about two hours so it's pretty quick.
XRDailyNews: One of the Exit Suits here is different from others. Why is that?
Willie Winkler: We're showing here through the Enterprise, the first concept for an Enterprise suit, which is aimed at arcades and LBEs. So it's the same suit but made with a bit higher quality in the finish.
XRDailyNews: What features does the Enterprise version of Exit Suit have that others don't?
Willie Winkler: It's got a stainless steel pelvis, so it is much stronger in the pelvis area. It's got more adjustment in it, so you can see there's an adjustment in the height, there's an adjustment in the harness, so you've got much more range of movement. And it's also got a few additional extras in there.
XRDailyNews: From what I see, the Enterprise version has also a screen. What is it for?
Willie Winkler: This works as a full-length mirror. So when you're wearing a headset, you don't care what the world's doing, that's fine, you're in there. But everybody else can't see what you're doing, so this mirror is as if they can see into your world, but seeing you first through that world. So it's an attractor for anybody else in the arcade.
We've also got the wind at the bottom, but the wind is easy. Wind is just a big fan, you turn it on, and you get wind. At the top, just underneath the TV, you can see a slot, and that's for a gust of air. So it can move air over your face, just kind of move your whiskers if you like, and then you can start really feeling the proximity of somebody in the game. If they're moving the air near your face, then you stand back, you're worried about how close they are.
We've even got vibrational sound in the throttle, it's also directional, and it's mapped to the 3D surround sound in the environment. So you can hear what surface you're walking on if it's gravel or sand or snow or twigs. You can also feel different experiences if something heavy hits the ground near you, you can definitely work out where it's coming from and how.
XRDailyNews: Where is that name, Exit Suit, from?
Willie Winkler: Exit Suit, it's the exit. When you put your VR headset on, you are exiting reality. You are going into a new world. In a fire, the exit is the door to a better place. In life, the exit is into a new world. So this suit will take you physically, it will give you a bicycle to ride into the digital world. That's the exit.
XRDailyNews: When I was trying to run or walk, it was kind of difficult for me because the best balance I had was either when I was maximum the back or in flying position. So my question is – do you plan on modifying it a bit for a better walking and running experience?
Willie Winkler: We're exploring that. We're aware that that's what's needed. When I play it, if I'm in there for two or three hours, I spend most of the time sitting in it like a gaming chair. It's comfy, you can do that. If something serious happens, you stand up and you're ready. And when you need to jump off a building, it feels amazing. It's terrifying because you're actually jumping. But you don't do it all the time. Yeah, well spotted. That is good. You should be one of our testers. Well, actually, you are one of our testers.
XRDailyNews: From what I also experienced, when I was flying, I didn't feel secure. I also needed to sign a waiver, so is it safe to use?
Willie Winkler: I am going to say no. It will never be safe. It is an extreme sport. You're getting on something, you must be mad. That's really the bottom line. Nobody's ever hurt themselves. It's much safer than running into a wall. If you fall over in VR, you can hurt yourself. This won't let you fall over. But you're doing extreme things.
When you're fighting a 20-meter dragon, you are extreme. And you might pull your muscles. You might do all sorts of things. So more like a skateboard, it's not safe. But we've never hurt anybody. We are using these exhibitions as testing, we had 80 people in it yesterday, and we can now say "Ah look, smaller people struggle to get up a little bit more than taller people. We need to have this, we need to change this…" and one of the belt buckles is broken we can't replace it. We're learning as we go.
Each time you make it, we learn it. And I've only ever made seven suits. This is number seven. So, you wait, Number 10, number 12, each one is safer, but flying, I don't want flying to be easy. Flying isn't easy. Flying isn't laying down and gliding around like on Birdly. I love the Birdly, by the way. It's a great thing. But that makes flying very easy. And actually, I want flying to be more extreme.
XRDailyNews: So you plan on releasing this product for enterprises, arcades, and also for consumers, so when is the release date? Do you have a release window for that?
Willie Winkler: Yes. So we're looking at early next year. It will probably be in late January, or February that we will release the Kickstarter. I don't know how long we'll run that Kickstarter for. It might not be a Kickstarter, it might be on CrowdFunder or somewhere else, but we'll set it up early next year and there'll probably be two systems, one for arcades and one for the kits and for elbows and elements, modular elements for the suit. So we'll do them both early next year.