Night and day difference in terms of comfort – A Review of the Kiwi Design Battery Headstrap for Quest 2
Meta Quest 2, while a great headset with an excellent price-to-value ratio, grapples with a significant problem – comfort. Quest 2 is often described as one of the most uncomfortable headsets on the market, but it doesn't necessarily have to be this way.
This issue hasn't gone unnoticed – Meta is currently offering a headstrap replacement known as the Elite Headstrap, which significantly enhances comfort. However, this product costs a staggering $120 and struggles with durability problems, which makes it not appealing to users wanting to enhance the comfort of their Quest 2. This is where third-party manufacturers, such as Kiwi Design, step in to offer alternatives.
Currently, we have a wide array of options when it comes to replacing the Quest 2 headstrap, with two prominent choices being Kiwi Design and Bobovr. In this review, I'll primarily assess the Kiwi Design Battery Headstrap, but I'll also draw comparisons with one of its main competitors, the Bobovr M2 Pro, which is available at a similar price point and has its own set of advantages (as well as drawbacks) in relation to Kiwi Design.
Disclosure: Kiwi Design provided me with the Battery Headstrap, but had no input on this review. All opinions are my own.
---
Table of Contents
---
Unboxing and Installation
The initial impression when purchasing the product is, naturally, its packaging. Therefore, let's begin by discussing this aspect. The headstrap is neatly presented within the box, and the entire unboxing experience is satisfying.
Within the box, you'll find the headstrap, a side clip for managing cables (one for the cable coming from the battery and an extra one), the accompanying manuals, and a microfiber cloth – a great addition that enables safe cleaning of the lenses or wiping the leather padding on the headstrap if it gets dirty.
The installation process is incredibly straightforward. You start by clipping the rear padding to the back of the headstrap, then remove the facial interface from the headset. Afterward, you simply attach both sides of the headstrap to the Quest 2 rail sides, thread the top strap through the opening above the lenses, and finally, reattach the facial interface. Voilà! It's that easy. Kiwi Design has made it so intuitive that even without a manual included in the box, most users would likely grasp the process within 2 minutes.
Once you put on the headset, calibrating its position on your head and locating the sweet spot is a very easy task. This can be easily achieved by adjusting the strap's tightness, which is controlled by a dial at the back. Additionally, you'll need to fine-tune the top strap to alleviate the weight on your face, a task easily accomplished by readjusting the Velcro until you reach the optimal fit. This ease of adjustment simplifies the process of sharing the headset, as users can quickly recalibrate the headstrap to suit their own heads in a matter of seconds.
---
Appearance
Meta Quest 2 with a default strap looks… lousy and cheap. The fabric strap that comes included with the Quest 2 doesn't give off a premium aesthetic, nor is it intended to, considering this is currently the most affordable VR consumer device available. However, if you desire to impart an elegant and sleek appearance to your headset, Kiwi Design proves to be an excellent choice.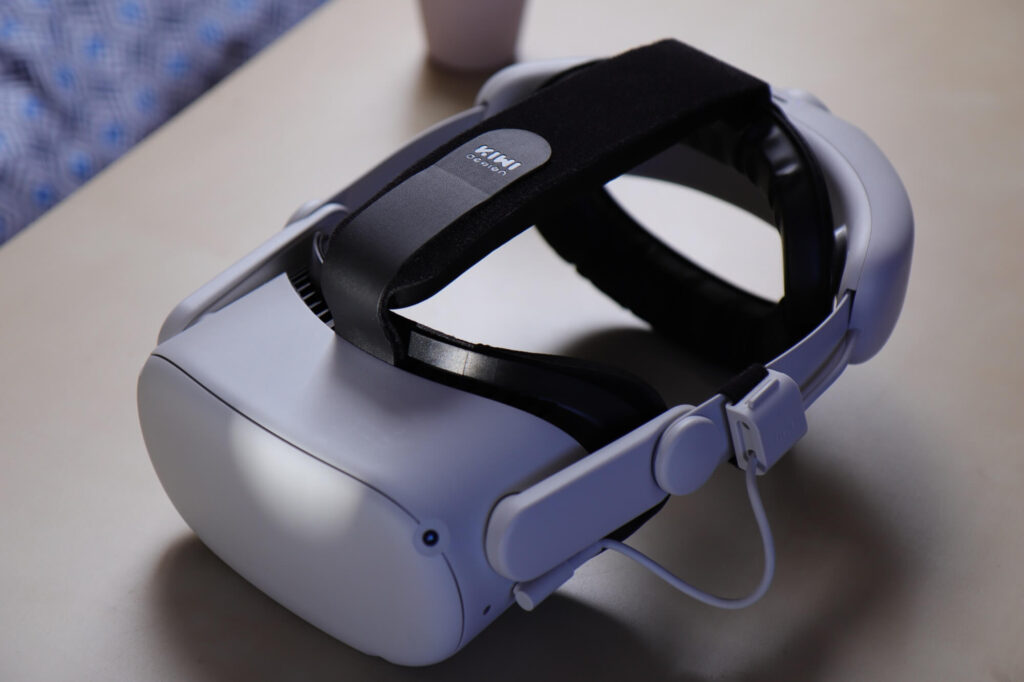 The Kiwi Design Battery Headstrap makes the headset look premium and elegant. The combination of white and black colors is nicely balanced. This solid headstrap stands in stark contrast to the budget fabric strap that comes with the headset, and the thick padding on both the top strap and rear side makes it look comfortable, even before you put the headset on. Yeah, in other words, the headstrap looks good.
Unlike the fabric Quest headstrap, this headstrap is almost resistant to any dirt. Even during intense gaming sessions that may cause sweating, there's no need to worry. The padding material, created from non-absorbent leather, simplifies headset cleaning – just a quick wipe to remove sweat.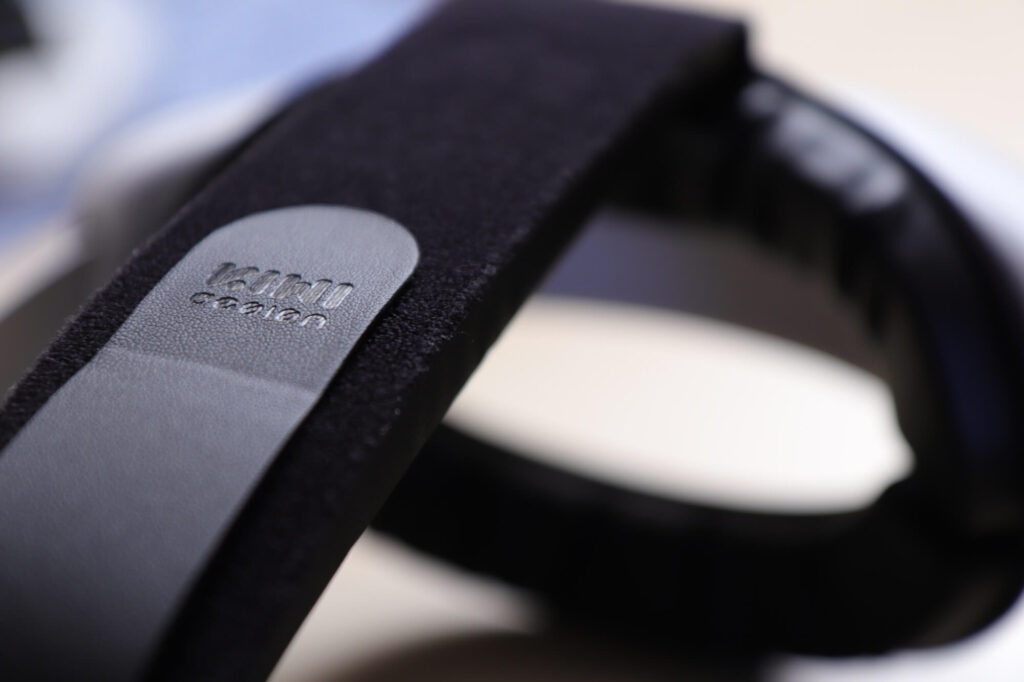 ---
My Testing
I tested the headstrap, along with several other accessories (reviews for which are coming), across a range of VR games. I personally love fast-paced VR Experiences, so I had a great opportunity to test the head strap's stability on my head, choose the optimal tightness level without causing discomfort, maximize the field of view (FOV) it provides, and explore other aspects of its performance.
The stability it offers on the head is unrivaled by any other headstrap. Unlike halo VR straps such as the Bobovr M2 Pro, it pressure against your face rather than your forehead. This approach, while somewhat less comfortable, delivers significantly greater stability.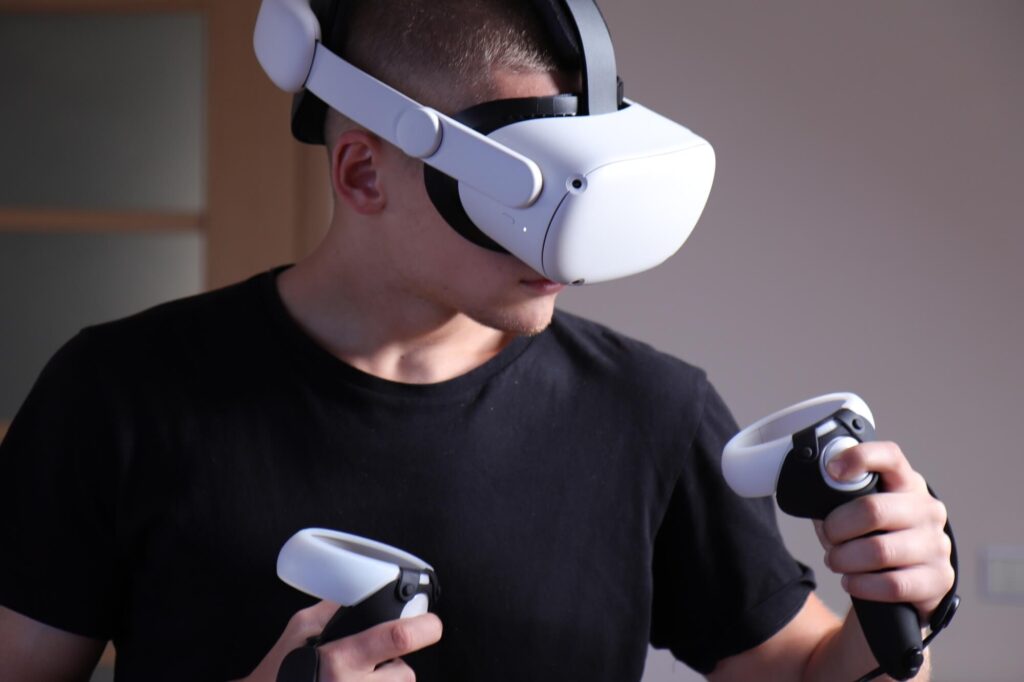 Hours spent in games like Thrill of the Fight, Pistol Whip, or fast-paced Half-Life Alyx maps have truly made me appreciate how stable it feels on my head. Typically, headset jitter can disrupt my immersion, but this wasn't the case with the Kiwi Design Battery Headstrap.
It is also well-suited for slow-paced games. However, when it comes to activities like watching movies, I personally lean towards the Bobovr M2 Pro – but I'll delve into that further later in the article.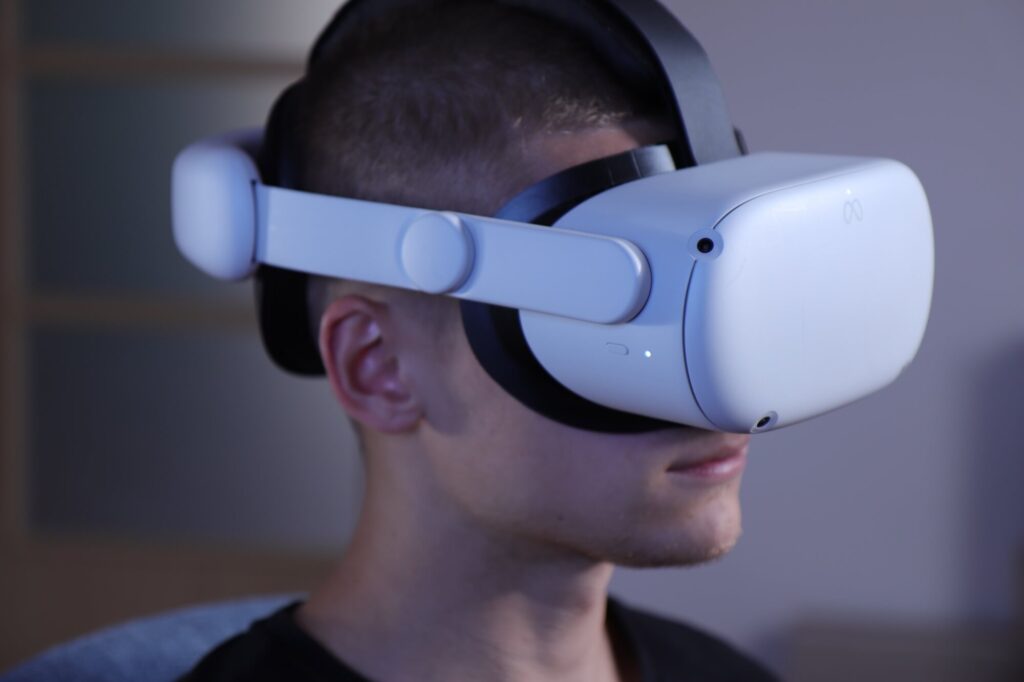 ---
Comfort
Now, let's dive into what matters most – my comfort impressions. As I previously mentioned, this isn't a halo strap; it still presses against your face, but this isn't necessarily a drawback in any way. This approach enhances the headset's stability and field of view (noticeably more than with halo head straps), albeit at the cost of a bit of comfort.
Do you sacrifice any noticeable amount of comfort because of this? Absolutely not. The headset remains securely in place on your face, and even with a tight fit, you can enjoy multiple hours of use before any discomfort sets in.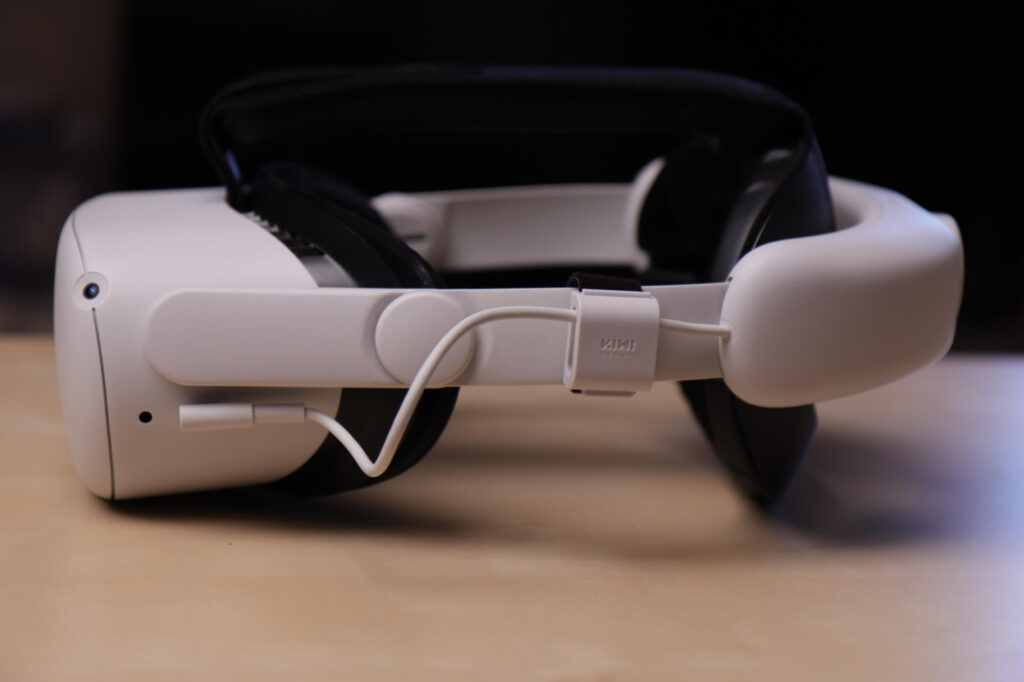 The longest period I spent with the Kiwi Design Battery Headstrap was approximately 4 hours, and I didn't experience any discomfort during this time. This comfort can be attributed primarily to the thick padding on the headstrap, as well as the very well-balanced weight distribution across the head. The placement of the battery at the back contributes to nearly perfect weight distribution.
I also own the Kiwi Design Comfort headstrap, the one without the battery on the back. While it is a great improvement over the default fabric headstrap, it did become a bit uncomfortable after using it for multiple hours, mainly due to the lack of balance.
I addressed this issue by attaching a power bank to the rear of the headstrap, but let's be honest – this solution isn't ideal and can be quite a struggle. That's why the Battery Headstrap is such a game-changer. In addition to greatly enhancing battery life, it significantly improves comfort, even though it adds more weight to my head. Yeah, weight distribution is quite important.
---
Battery life
And now, let's talk about the battery – the primary feature that makes this headstrap so appealing. Kiwi Design advertises the headstrap battery to last for 2.5 to 5 hours. If we combine this with the Quest 2's own battery life, we're looking at approximately 4.5 to 7 hours of battery life, which largely depends on how you're using the headset.
If you were to spend the entire battery lifespan gazing at yourself in the mirror in a Quest Home Environment, you'd achieve these full 7 hours. The same goes for watching movies, although it would likely consume more power. However, if you play any highly demanding VR games or PCVR experiences, this figure may decrease considerably.
But is this really big of a deal? The reality is that there are few, if any, people willing to spend 5, 6, or even 7 hours continuously in VR. I'm not criticizing anyone; I'm merely pointing out that the majority of users will play for considerably less time than the head strap's maximum battery capacity allows.
If you belong to the minority willing to spend long hours in VR, possibly even exceeding these 7 hours, you could have a problem. The Kiwi Design battery is integrated into the headstrap, making hot-swapping impossible. You can try if you are willing to, but it will be a lot of mess, just saying.
If you're a hardcore VR enthusiast who wants to spend more than 7 hours in VR, then this headstrap might not be the best fit for your needs. You might want to explore headstraps with hot-swappable batteries, and the Bobovr M2 Pro, which we'll delve into later in the article, could be a suitable option for you.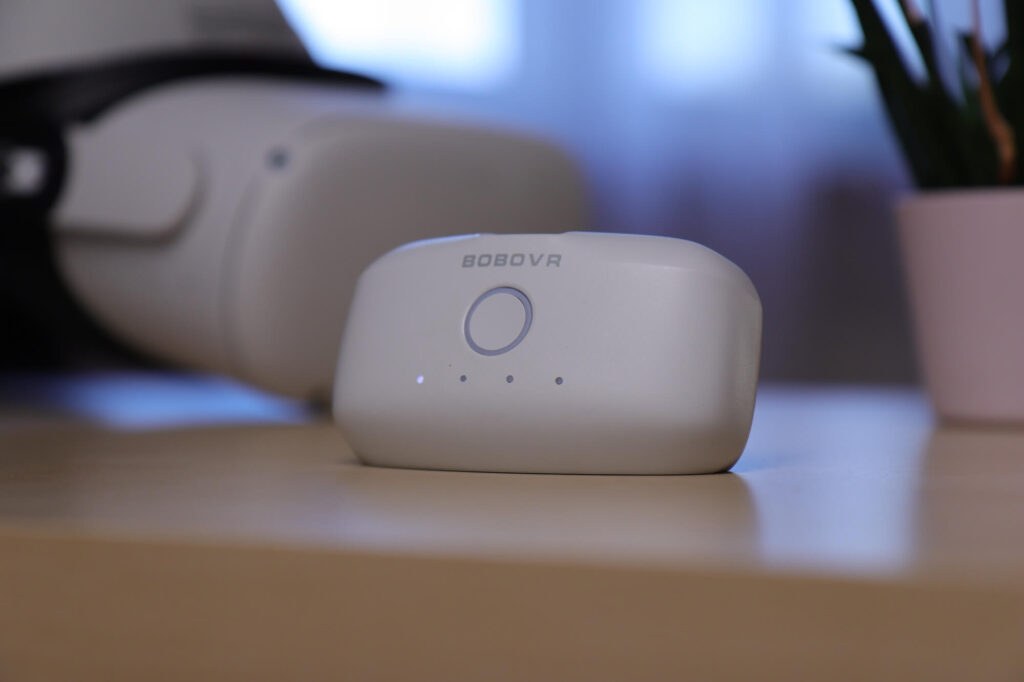 ---
Balance and weight
Counterbalance is crucial for ensuring headset comfort, and Kiwi Design has done a great job in this aspect. Below is a table that illustrates the weight of various headstrap combinations:
| | | | | |
| --- | --- | --- | --- | --- |
| Quest 2 | Kiwi Design Comfort Headstrap | Kiwi Design Battery Headstrap | Kiwi Design Battery Headstrap + Clip-on-Headphones | Bobovr M2 Pro with battery on |
| 503g | 668g | 860g | 1026g | 864g |
The comparison of Quest 2 different head straps' weight
| | | | |
| --- | --- | --- | --- |
| Quest 2 | Kiwi Design Battery Headstrap | Kiwi Design Battery Headstrap + Clip-on-Headphones | Bobovr M2 Pro |
| 503g | 860g | 1026g | 864g |
The comparison of Quest 2 different head straps' weight
As you can see from the table, each headstrap adds noticeable weight to the headset, but this increase in weight can be noticed only when looking at numbers. In reality, you won't even feel this weight that much – Each headstrap effectively balances the weight, creating a lighter-feeling headset despite the increased weight.
I've also included the Kiwi Design Clip-on-Headphones in the comparison, which I'll discuss in detail in the dedicated review in the coming days. I mention it here because Kiwi Design offers the "ultimate combo product" – the Comfort Battery Audio Headstrap, essentially a battery headstrap with built-in clip-on headphones.
These headphones do add quite a weight to the headset; after all, the user is wearing a kilogram on their head. However, they effectively distribute this weight along the sides of the headstrap, ensuring that the headset remains comfortable to wear.
---
Durability
VR faces a challenge that is both its fundamental aspect and a potential drawback – immersion. In VR, users become fully immersed, effectively disconnecting from the real world, which is a central aspect of the VR experience. This is why accidents happen; we may accidentally hit objects with our hands or even bump into things with our heads, meaning that the headset has to remain durable.
Kiwi Design promotes its headstrap as "ultra-durable," crafted from "eco-friendly polymer material" capable of enduring "over 10,000 bending cycles without breaking." Well, I didn't push the head strap's durability to the absolute limit during testing, as I doubt any consumer would try smashing it with a hammer or bending it to 360°, but I can confidently say that it is indeed built with durable material – this can be felt just by touching the product.
This became also clear through my testing – I tried bending it in various ways (though not to an extreme degree) and checking its strength by taking it off from the head rapidly and in unnatural fast ways. The headstrap survived without any damage, as you may expect.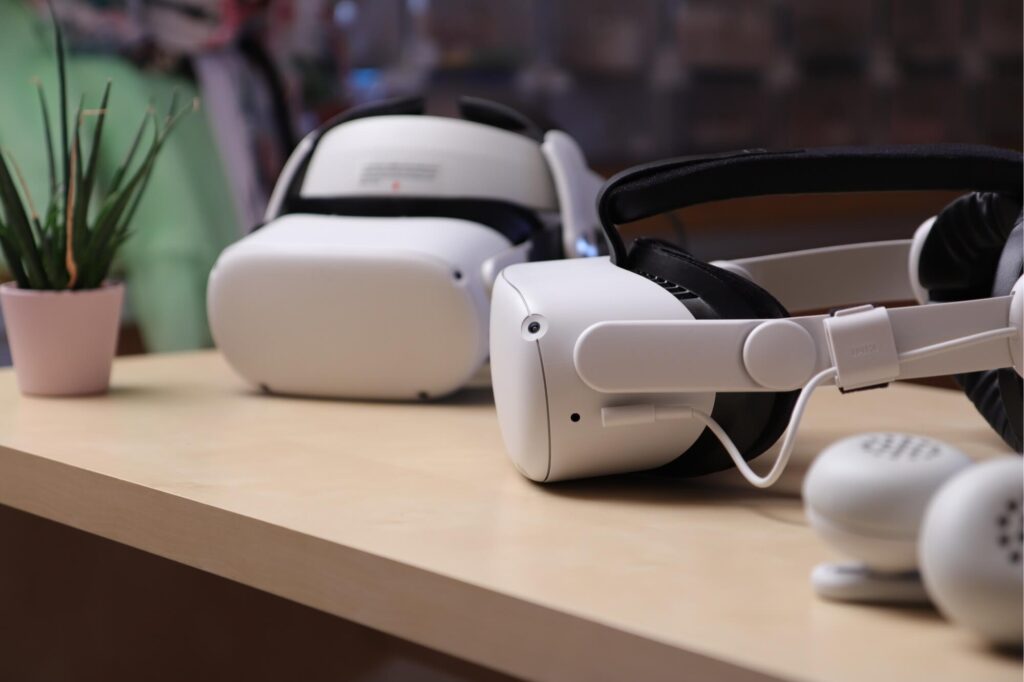 …Which is not the case with the official Elite Headstrap from Meta. If you have owned Quest 2 for some time or are familiar with the VR community, you may have heard of the official Elite Strap breaking relatively easily, sometimes within weeks or even days of getting it. This is not an issue with Kiwi Design or most other third-party headstraps, so Meta should take note in this regard.
---
Kiwi Design vs. Bobovr M2 Pro
So, let's begin the comparison by making it clear that these two headstraps are entirely different. As I mentioned earlier, the Kiwi Design Battery Headstrap supports the weight by pushing against your face and using the top strap, whereas the Bobovr M2 Pro rests on your forehead and secures the rear side of your head. This means that, with the Bobovr M2 Pro, you can use Quest 2 without the facial interface, essentially making it an open peripheral (similar to the Quest Pro), which is ideal for mixed reality experiences.
Quest 2's abilities for Mixed Reality are extremely limited though. It has a black and white color passthrough, no depth sensor, and low-resolution cameras. However, I personally love using the Bobovr headstrap for watching movies with open peripherals – I open a large window in the headset, start a movie, and simultaneously see my real-life surroundings through the sides of the headset, alongside the black-and-white representation from the headset's cameras. This setup works wonderfully and is comfortable with the Bobovr M2 Pro, as there's minimal contact with my face.
The problem is that I don't use VR for watching movies very often. That's why, personally, I prefer the Kiwi Design Headstrap much more – The Bobovr M2 Pro isn't as stable on your face as the Kiwi Design strap. I remember trying to play Blade & Sorcery with both headstraps, and the Kiwi Design one was miles ahead in terms of immersiveness compared to the Bobovr strap. This was mainly due to the fact that the Bobovr M2 Pro isn't very secure on your head, which makes the headset feel slippery during fast movements. However, that's not the only issue I have with it.
The Bobovr M2 Pro, by not pushing against your face, essentially reduces the amount of FOV you can get. This isn't a significant issue when watching movies, but when you aim for maximum immersion in the VR world, Field of View becomes crucial. That's why having the headset snug against your face is necessary – it allows you to maximize the FOV, which isn't achievable with Bobovr headstraps.
I also found the Kiwi Design headstraps very easy to put on. There are minimal adjustments that need to be made to find the sweet spot, making this headstrap perfect for parties or simply sharing it with others, as they can easily adjust the headset to fit their heads. In contrast, the BoboVR M2 Pro has a more complex build, requiring more time to adjust properly and locate the sweet spot.
This can make the headset a bit of a hassle when sharing with others. However, when the people I shared the headset with found the sweet spot and adjusted the headstrap properly, they often mentioned that it became a bit more comfortable than the Kiwi Design Headstrap. Perhaps because they don't have anything pushing against their faces during play sessions, which is a significant advantage.
I would recommend the Bobovr M2 Pro for dedicated VR enthusiasts who are willing to play VR for extended periods, especially more than 7 hours. The hot-swappable battery makes it possible to have virtually endless gaming sessions, and the headset is very comfortable, especially for long-term use. However, if you're seeking an immersive experience in virtual reality, particularly for fast-paced titles that involve quick head and body movements, I would recommend going for the Kiwi Design headstrap, as it offers a significantly more stable product.
Both headstraps cost $80 (if you are considering getting the Bobovr M2 Pro with two hot-swappable batteries instead of one), so the choice is ultimately yours.
---
Does it make sense to purchase this product for Quest 2 when Quest 3 is on the horizon?
Meta Quest 3 is expected to be officially announced with all details revealed at Meta Connect on September 27th. We anticipate the full release of the headset to be October 10th or a date close to that. So, with Quest 3 arriving in just about a month, is it even worth investing in Quest 2?
Quest 2 is an excellent headset, and according to Meta's CTO, Andrew Bosworth, it will continue to receive support for an extended period, possibly spanning years. The reason is straightforward: It's estimated that over 20 million Quest headsets have been sold, with the majority being Quest 2. With millions of Quest 2 units in use, it would be illogical for Meta not to continue supporting this hardware.
Quest 2 and Quest Pro have recently received an update that boosted their GPU speed by over 20%. As demonstrated by titles like the Red Matter series or Asgard's Wrath 2 (as all available footage for this game has been captured on Quest 2), Quest 2 is capable of delivering impressive graphics. It will likely be a while before games on Quest 3 offer significantly superior visuals compared to those on Quest 2.
If you are a satisfied Quest 2 owner with plenty of games and experiences left to explore, upgrading the headstrap or investing in other accessories for the headset remains worthwhile. The Quest 2 is an excellent headset with a wealth of untapped potential.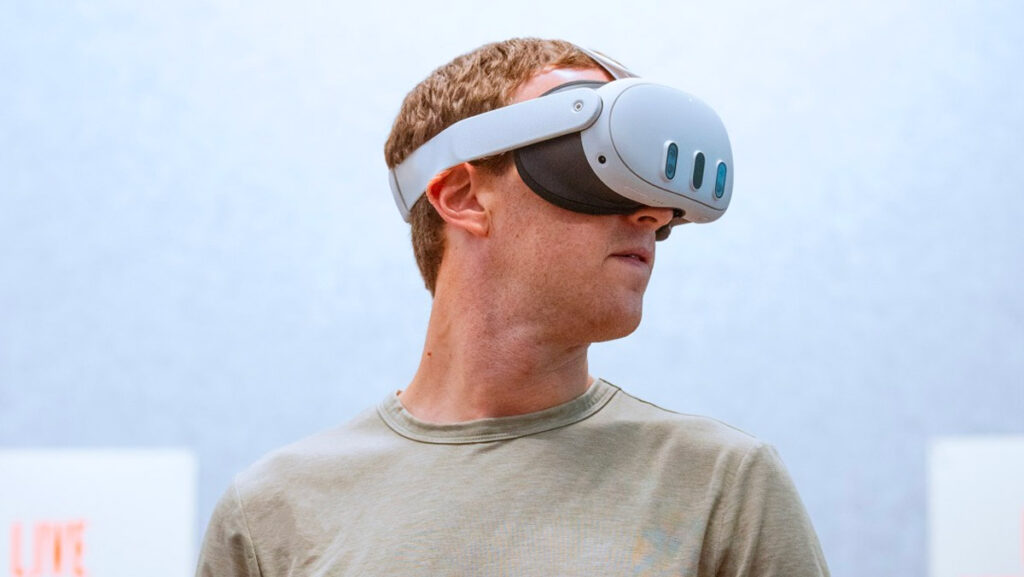 ---
Conclusion
The Kiwi Design Battery Headstrap is a night-and-day difference when compared to the stock fabric headstrap that comes with the Quest 2. It offers exceptional stability, effectively locking onto your head. You can comfortably adjust it to increase the field of view noticeably. Beyond all these benefits, it primarily serves as a comfort accessory, and it does a great job in this aspect. With a battery that adds 2.5 to 5 hours of playtime, users can comfortably enjoy play sessions lasting up to 7 hours.
Another significant advantage of the battery is the enhanced balance it provides due to the counterweight at the back of your head, further improving comfort. It also lends an elegant look to the headset and is incredibly easy to adjust, making it an excellent choice for sharing the headset with others.
While the Kiwi Design headstrap offers numerous advantages, it could be even better if the battery were hot-swappable. Additionally, some users might prefer Halo-style headstraps due to the varying shapes of their heads.
The Review
Kiwi Design Battery Headstrap
The Kiwi Design Battery Headstrap is a vast improvement over the stock fabric headstrap that comes with the Quest 2. It offers excellent stability, comfortable adjustment for increased field of view, and exceptional comfort. With a battery that extends playtime by up to 5 hours, users can enjoy longer sessions, and it also improves balance. While it's a great accessory, hot-swappable batteries and Halo-style headstraps might suit some users better.
PROS
Greatly Improved Comfort
Unparalleled Stability
Adds Elegant and Sleek Look
Significantly Improves Balance
Adds Long-lasting Battery (2.5 to 5 additional hours)
Straightforward Adjusting and Calibration
CONS
No Hot-swappable Batteries
Review Breakdown
Appearance

0

Comfort

0

Battery life

0

Balance

0

Ease of use

0

Durability

0