Beautiful, but with Some Caveats – Kiwi Design Clip-On Headphones Review
The Meta Quest 2, while a great price-to-value headset, is recognized for its relatively mediocre speakers. While they are entirely functional and might be more than enough for many users, those who experienced higher-quality audio from other headsets or just better headphones might find the Quest 2 speakers lacking in immersion and overall quality.
To solve this issue, numerous third-party manufacturers, including Meta itself, have introduced replacement accessories designed to enhance audio quality. In this review, we will delve into one of these solutions – the Kiwi Design Clip-On Headphones – and also compare them to the 'slightly' pricier Soundcore VR P10 headphones.
Disclosure: Kiwi Design provided me with the Clip-On Headphones but had no input on this review. All opinions are my own.
---
Table of Contents
---
Unboxing and Installation
We are welcomed with the typical Kiwi Design packaging – a simple, wood-colored cardboard box. The unboxing experience is quite nice, especially compared to the Fitness Facial Interface, where everything is packed in some sort of foil. Here, the headphones are neatly placed, enhancing the overall product quality.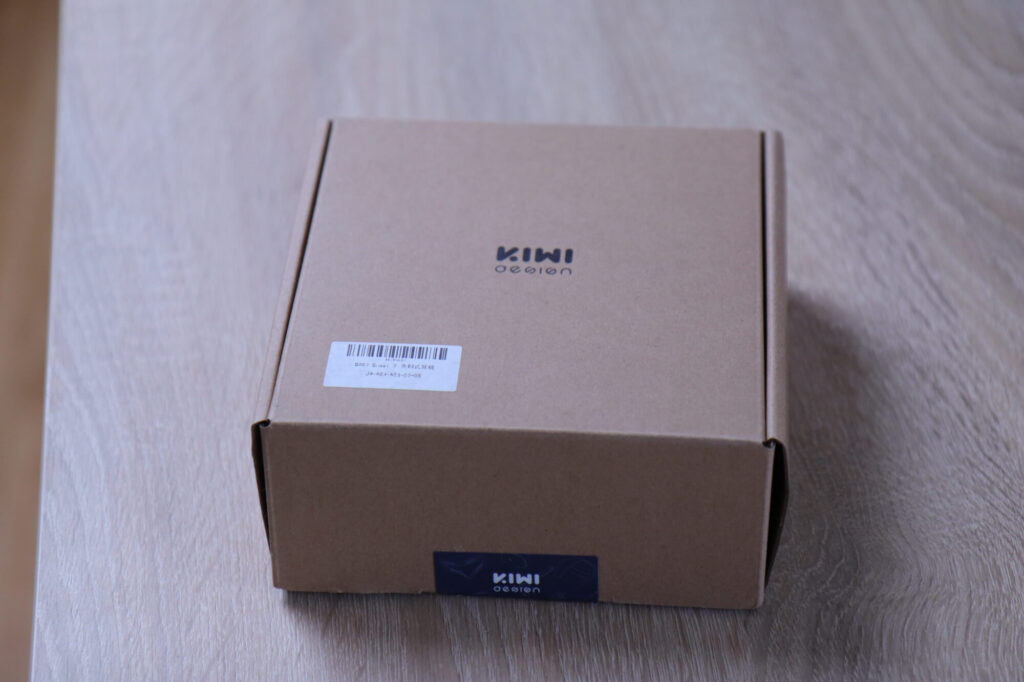 It reminds me of Kiwi Design's battery headstrap packaging, which also provided a high-quality unboxing experience.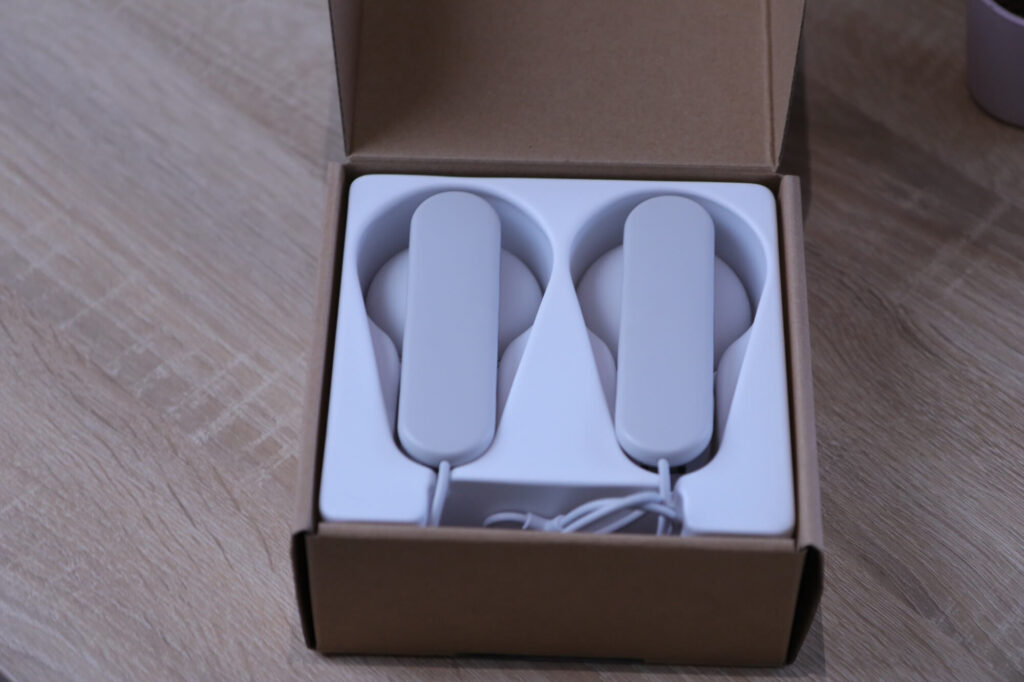 Alright, unboxing is all well and good, but not everyone may be interested in those details. Let's move on to the next step, which is something that all people go through when they receive their Quest 2 accessory: installing it onto the headset.
Installation is relatively straightforward but can lead to a bit of cable clutter. First, you'll want to attach both headphones to the sides of the headset. Keep in mind that one speaker should be on the side with a shorter mini-jack cable. After attaching both headphones in roughly the same position, you'll need to connect the mini-jack while avoiding cable mess.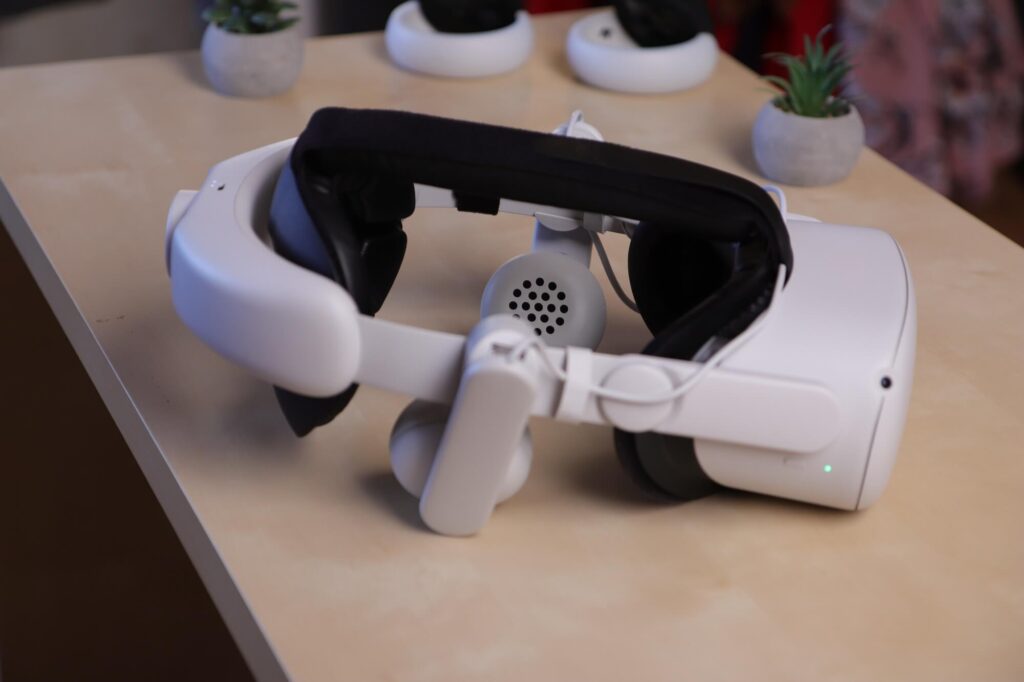 One issue with accessories like this is that they add extra cables to the headset, which can make it appear less visually appealing. While this isn't a major concern since you can't see yourself in VR, it's still a drawback without a clear solution.
With that in mind, managing the cables of these headphones becomes necessary. Fortunately, Kiwi Design included some mini Velcro straps to assist with cable management, which certainly does help. You can also hide a cable under the top strap.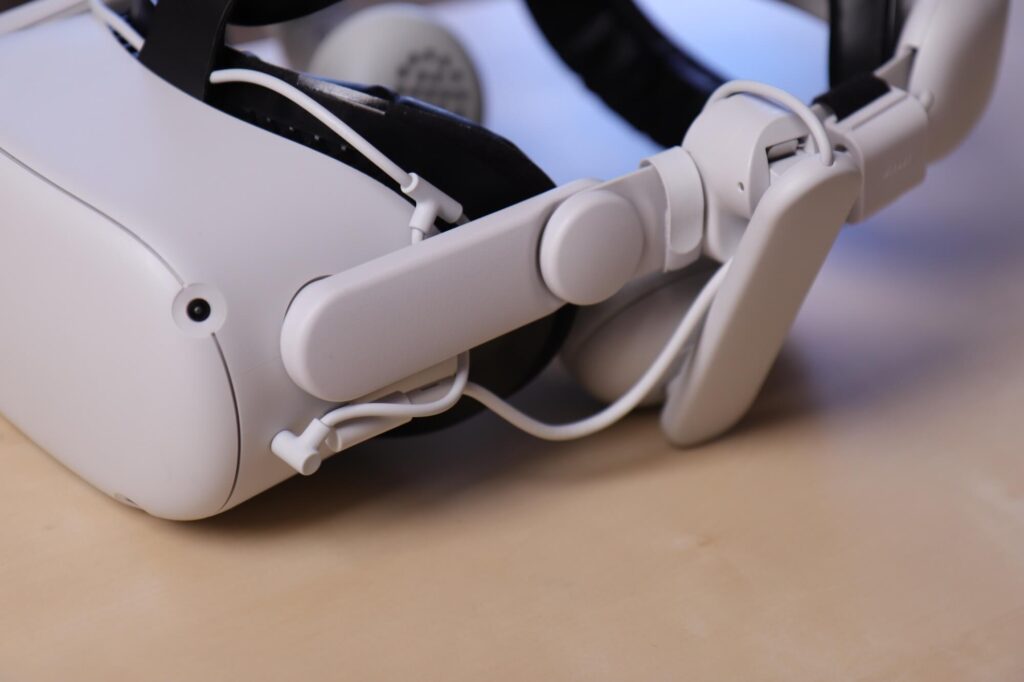 ---
Appearance – They look quite unusual…
While the Kiwi Design Clip-On Headphones have an appealing appearance once unboxed and attached to the headset, they can appear somewhat goofy when you're actually wearing the headset and catch a glimpse of yourself. This isn't necessarily a big flaw, as they look quite good from a profile, but the situation changes a bit once you see yourself from the front.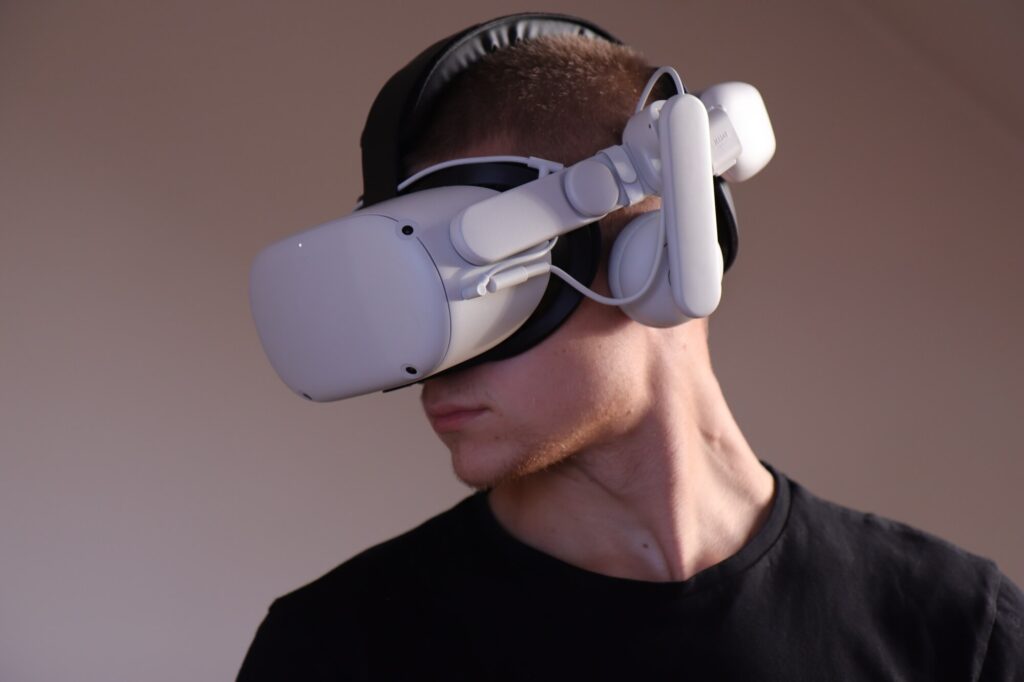 I don't believe this is a major drawback of the headset, but it's something to keep in mind when making a purchase. That said, the headphones themselves have an appealing and aesthetic design.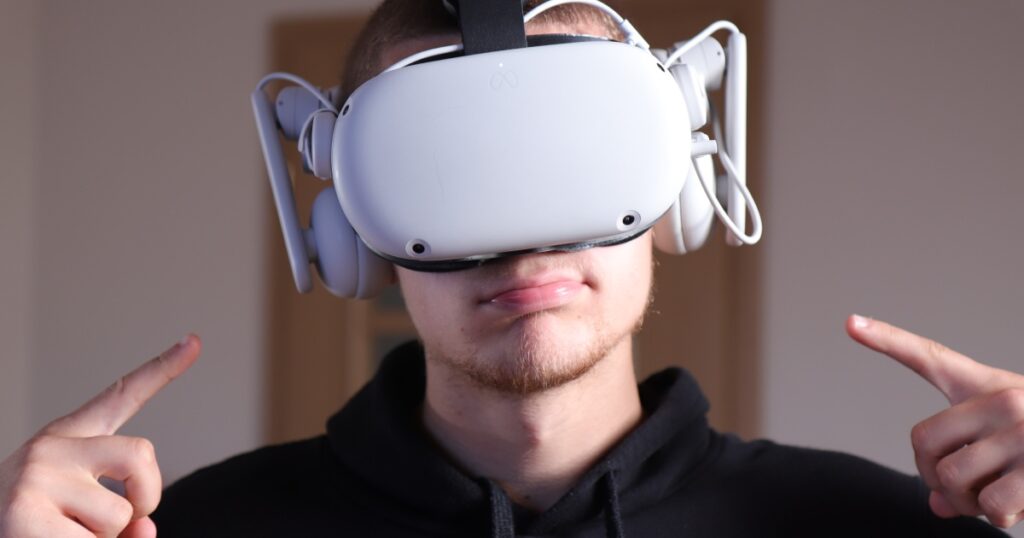 ---
Adjusting Kiwi Design Headphones
Kiwi Design Clip-On Headphones are designed to make contact with your ears. They don't have the same design as the headphones on the Valve Index, which are positioned at a distance from the ears. You essentially have two 'modes' of adjustability: one where the headphones are at a distance from your ears (for moments when you need to briefly remove them, perhaps when someone is talking to you), and the other where the headphones are in direct contact with your ears – you will be able to hear anything while using only the second one.
You can also make some adjustments by moving them on the sides, and even up or down, but you won't have the flexibility to change their exact distance from your ears. This design choice has its advantages, particularly in terms of sound isolation, which I'll discuss further in the article. Another benefit of this design is that it delivers noticeably more bass compared to the default Quest 2 audio speakers.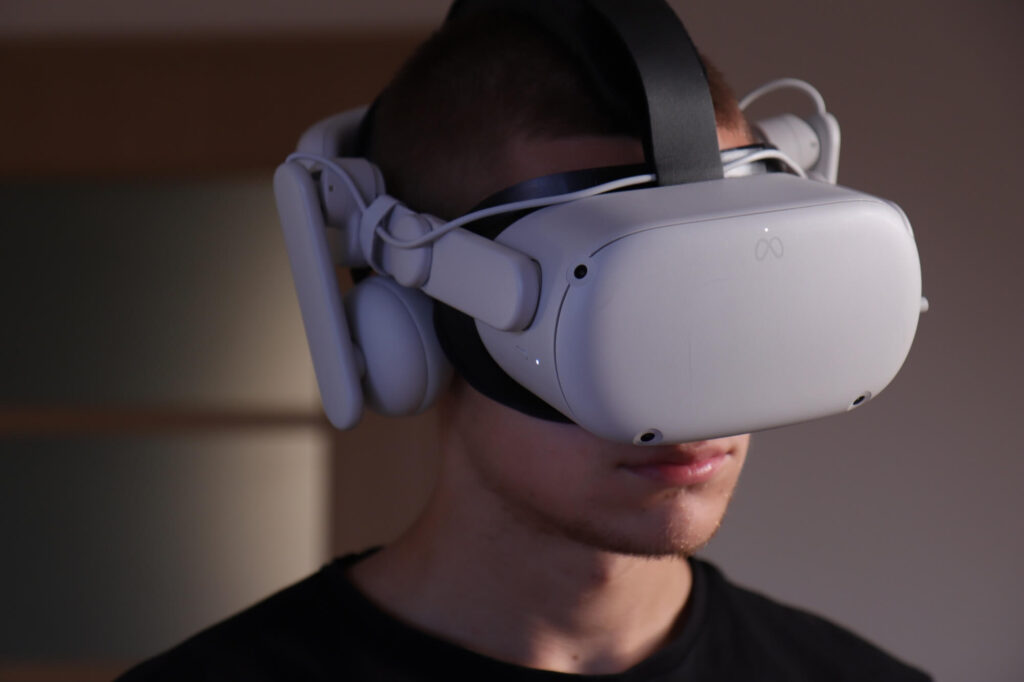 ---
Comfort – Weight Increase
As you might expect, adding more components to your headset will make it heavier. If you have a battery headstrap, the additional weight could actually improve comfort by providing an essential counterbalance to the headset. However, how does this relate to Kiwi Design Clip-On Headphones, which also add a significant amount of weight?
Here is a table displaying the total weight of the headset with various headstrap combinations.
| | | | | |
| --- | --- | --- | --- | --- |
| Quest 2 | Kiwi Design Comfort Headstrap | Kiwi Design Battery Headstrap | Kiwi Design Battery Headstrap + Clip-on-Headphones | Kiwi Design Comfort Headstrap + Clip-on-Headphones |
| 503g | 668g | 860g | 1026g | 834g |
The comparison of Quest 2 different head straps' weight
| | | |
| --- | --- | --- |
| Quest 2 | Kiwi Design Battery Headstrap + Clip-on-Headphones | Kiwi Design Comfort Headstrap + Clip-on-Headphones |
| 503g | 1026g | 834g |
The comparison of Quest 2 different head straps' weight
As you can see, if you have a Quest 2 upgraded headstrap or looking forward to it, be prepared to deal with a significantly increased weight when adding the Clip-on Headphones on top of that. The headphones alone weigh approximately 166g.
I must mention that having a battery as a counterbalance on the back of your head is definitely beneficial, and you typically don't notice it. However, when the weight on your head surpasses 1 kilogram, it does become noticeable. It's not uncomfortable initially but starts to get overtime in VR.
The good thing here is that Kiwi Design Clip-On Headphones distribute the weight evenly on the sides of the headset, preventing the headset from becoming too front-heavy or back-heavy. However, this doesn't negate the fact that they do significantly increase the overall weight of the headset.
---
Audio Quality
While comfort, appearance, ease of use, and various other aspects are certainly important, audio quality arguably takes the top spot in terms of importance. Despite Kiwi Design Headphones performing well in other areas of this review, their audio quality leaves much to be desired. Let me explain in more detail.
For most of my time with the Quest 2, I relied on the headset's default audio solution, the built-in headphones. They served their purpose, but they were far from perfect. That is why I was looking forward to an audio upgrade – So I bought the Soundcore VR P10 headphones. I've been using them for a few months now, and the difference between Quest 2 speakers and them is very noticeable. With the Soundcore VR P10, I could truly feel the bass, and the overall audio quality improved greatly.
While they had their drawbacks, the audio enhancement was like night and day compared to the default speakers. Yeah, it is all great and well, but Soundcore VR P10 headphones cost $100, which is not a price everyone wants to spend on Quest 2 accessories.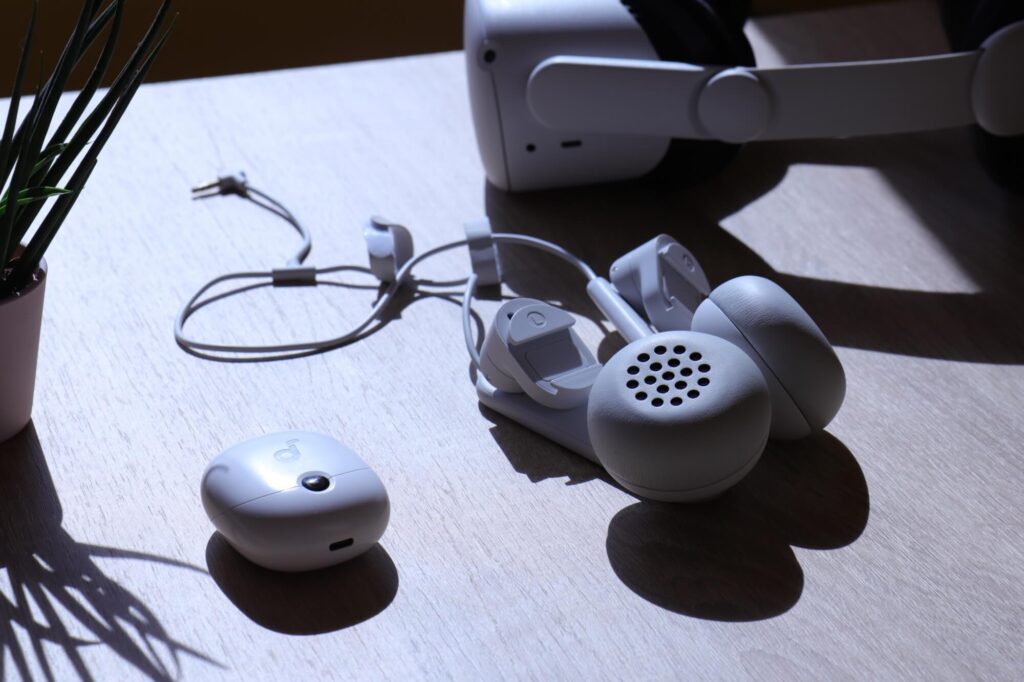 On the flip side, Kiwi Design Clip-On Headphones are priced at $39.99, which is roughly half the cost of the Soundcore VR P10. Naturally, this price gap implies there will be a noticeable difference between the two, so a direct comparison may not be entirely fair. However, if you're looking to significantly enhance your Quest 2 audio quality and possibly future-proof your investment (since the Soundcore VR P10 works with all standalone VR systems and other devices), it might be worth considering more expensive options. I will compare both options later in this article, but for now, let's focus on the strengths and weaknesses of the audio quality provided by the Kiwi Design Headphones.
So, to begin with, yes, Kiwi Design Clip-On Headphones are better than default Quest 2 speakers. The main difference is that they provide more bass and depth to the sound, mainly due to the fact that they are touching your ears, while Quest 2 speakers are located a few centimeters from your ears.
However, personally, I didn't feel any improvement in audio quality. While there is indeed more bass and depth to the sound, which might be seen as an improvement, the overall sound profile doesn't seem notably better. This is my primary concern with these headphones – they look great, are comfortable, and have quite an adjustability, but they disappoint in terms of audio quality.
So, you're essentially upgrading the headphones primarily for increased bass and deeper sound, at the cost of, obviously, $40, added weight, and some clutter on the headset. Also, the added depth in sound might be viewed as a downside by some, as it can compromise the clarity of the audio. Kiwi Design Headphones have one big advantage though – Sound Isolation.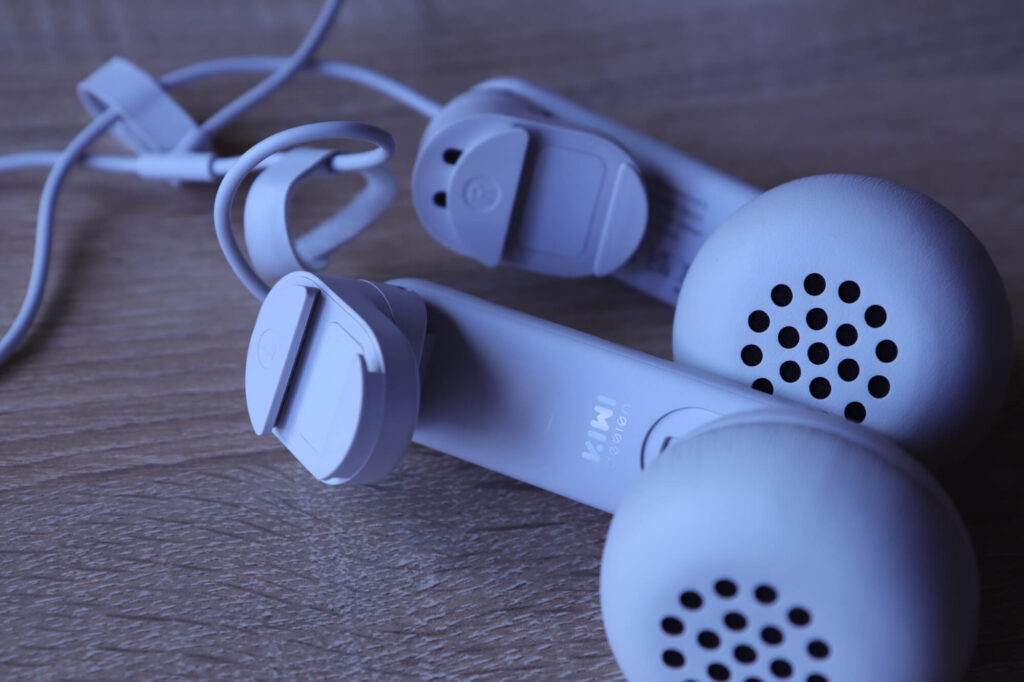 ---
Sound Isolation
The great feature of Kiwi Design headphones, compared to the Quest 2 speakers, is their ability to isolate audio – something that headphones usually do, but Kiwi Design does it great. When I relied solely on the Quest 2 default speakers, I often irritated my family members. If the game was too loud, it bothered them, and if it was too quiet, I lost immersion. While I could have moved to a different room, that wasn't always an option for various reasons.
I was pleasantly surprised when people around me mentioned that they couldn't hear the game at all while I had the headset with Kiwi Design headphones on. Despite their appearance, which might suggest otherwise, these headphones provide excellent sound isolation. I also didn't pick up any noises from my surroundings, and if someone needed to speak with me, I could simply swap the headphones out by adjusting them to hear people around clearly.
Repositioning the headphones to fit your ears again after that only takes a few seconds, so it's not a hassle at all.
---
Kiwi Design Clip-On Headphones vs Soundcore VR P10
I decided to compare both products primarily because I had been using the Soundcore VR P10 for the past few months, and upon receiving the Kiwi Design Headphones, I immediately noticed the differences between the two after trying them on. This comparison isn't solely about audio quality; both products have their advantages and disadvantages when compared to each other.
But let's start with the fact that Kiwi Design Headphones and Soundcore VR P10 are essentially very different headphones. Well, Soundcore VR P10 are not even headphones, they are wireless earbuds. They have very low latency (<30 ms) due to the USB-C adapter which features a 2.4GHz connection band between the earbuds and the headset. This adapter also features a passthrough port, which means that you can have your Quest 2 battery headstrap and earbuds connected at the same time.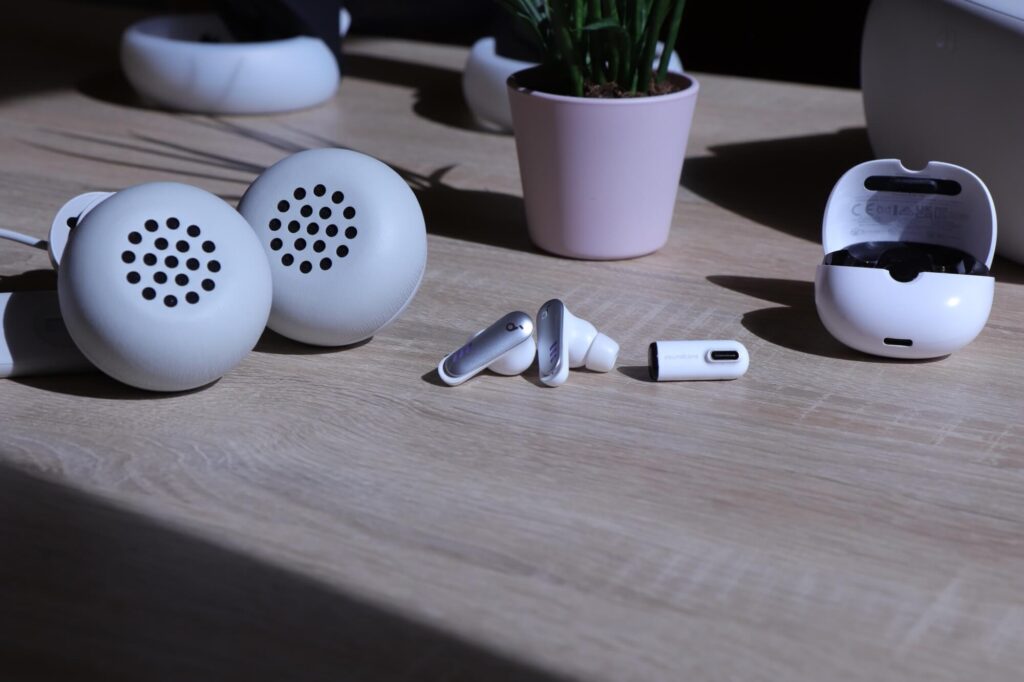 So, with Soundcore VR P10 earbuds you don't get any more cables on the headset. They also have their own interesting look, some people may say that they look odd, but I personally really like the aesthetics.
Soundcore VR P10 also provides you with a gazillion different customization settings in the mobile app, which is a very welcomed feature. Their audio quality far exceeds what is available on Quest 2, they also add a very noticeable amount of bass, and zero additional amount of grams to the headset.
And yeah, while Kiwi Design Clip-on Headphones don't have all of those features, they are also half the price, which is very important to consider. Another competitor in this space is Bobovr, with their Bobovr A2 headphones, which offer similar functionality to Kiwi Design ones. However, they come at two times the price, and I haven't had the opportunity to compare them directly.
My main issue with the Soundcore VR P10 is that they don't really fit my ears perfectly. Sometimes they feel like they might fall out (mainly during fast-paced games) But even while this doesn't happen too often, I like using the Kiwi Design Clip-on Headphones for my VR fitness sessions as they stay put better.
However, despite this one issue, Soundcore VR P10 earbuds simply offer superior sound quality. They deliver crystal-clear audio, impressive bass, and are noticeably lighter than the 166-gram Kiwi Design Headphones.
So, when comparing the Soundcore VR P10 at $100 (which is sometimes on sale) and the Kiwi Design Clip-On Headphones at $40 (also subject to sales), the clear winner for me is the Soundcore VR P10. This isn't surprising given the price gap between the two. My recommendation is that if you're willing to invest in a reliable audio solution, even at a slightly higher price point, the Soundcore VR P10 is the way to go. You might also want to check Bobovr A2 headphones, but I cannot compare them directly as I didn't have a chance to try them out.
If you're considering purchasing Kiwi Design Headphones, along with other products from Kiwi Design, such as their absolutely great Battery Headstrap, Fitness Facial Interface, and Controller Grips (with a review for those coming soon), you'll be pleased to know that Kiwi Design is currently offering a $20 discount on orders over $100. This special promotion is part of their 5th-anniversary celebration and is valid from September 12th to 25th.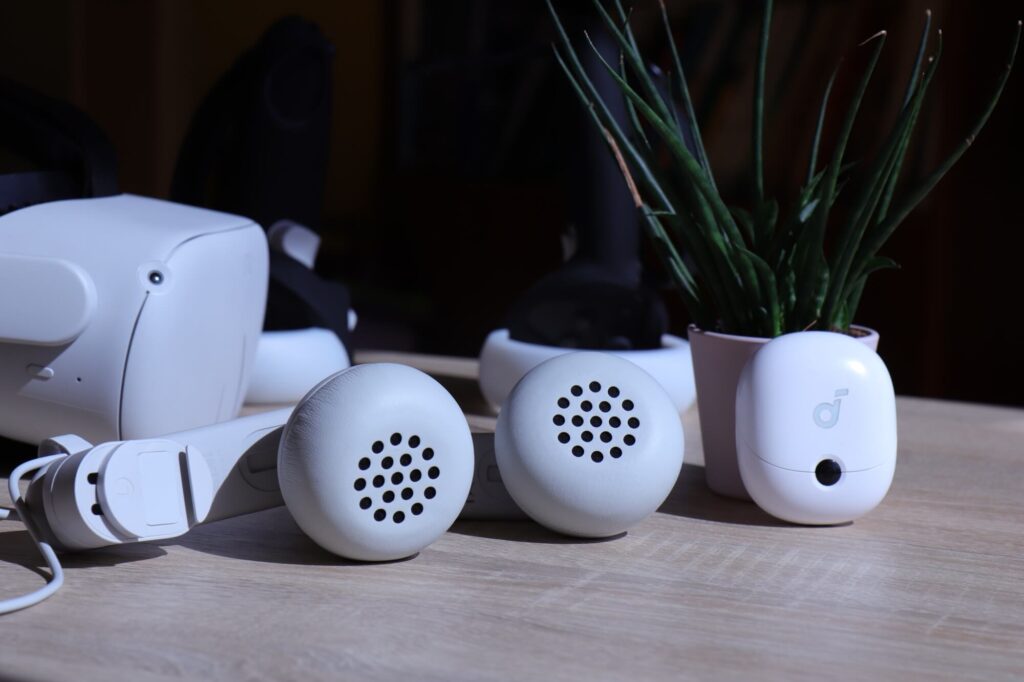 ---
Conclusion – Is it Worth $39.99?
Kiwi Design Clip-On Headphones are definitely a better audio solution compared to the Meta Quest 2 speakers. They excel in aesthetics (although they might appear a bit goofy when worn), comfort, adjustability, and audio isolation, and provide more bass and depth to the sound. However, they fall short in terms of enhancing audio quality.
They do add noticeable weight to the headset, which ideally should be kept as low as possible. However, they do provide a cost-effective solution at $40, offering some value for the price. Nevertheless, given the price, I would have expected a bit more improvement in audio quality compared to the default Quest 2 speakers. Currently, there are better alternatives available, albeit at higher price points.
---
The Review
Kiwi Design Clip-on Headphones
Kiwi Design Clip-On Headphones offer an improvement over the Meta Quest 2 speakers with their better aesthetics, comfort, adjustability, audio isolation, and enhanced bass. However, they do not provide a substantial boost in audio quality and add noticeable weight to the headset, which should ideally be kept minimal. At $46, they provide a cost-effective option, but considering the price, one might expect a more significant audio improvement over the default Quest 2 speakers. While they offer value, there are better alternatives available at higher price points.
PROS
Great Aesthetics
Comfort
Adjustability
Audio Isolation
More Bass
Enhanced Sound Depth
CONS
No Noticeable Audio Quality Improvement
They do Add Noticeable Weight To The Headset
Odd-Looking While Wearing Them
Review Breakdown
Audio Quality Overall (With Quest 2 Speakers Being 3)

0

Bass

0

Audio Isolation

0

Adjustability

0

Comfort

0

Appearance

0

Appearance (While Wearing Them)

0