The Amazon listing for the Meta Quest 3 reveals the headset's launch date as October 10th.
As the release date of the upcoming Meta Quest 3 draws nearer, the anticipation surrounding the new headset continues to grow. We received an official announcement from Meta on June 1st, and since then Meta has been remarkably transparent about the headset. The headset has also made appearances on various platforms, including BestBuy. Adding to the excitement, an unboxing video of the headset was recently leaked by an anonymous Redditor a few days ago.
It has been anticipated that preorders of Quest 3 will likely start on September 27th at Meta Connect – a two-day in-person event. It is expected that this event will provide us with complete information about the headset, aiming to convince customers to place their preorders.
Meta Quest 3 Release Date
Nonetheless, the latest Amazon Listing, which was shared on Twitter by IronbugVR, suggests that the official release date for Meta Quest 3 will be October 10. This listing was removed shortly after the leak and is no longer accessible.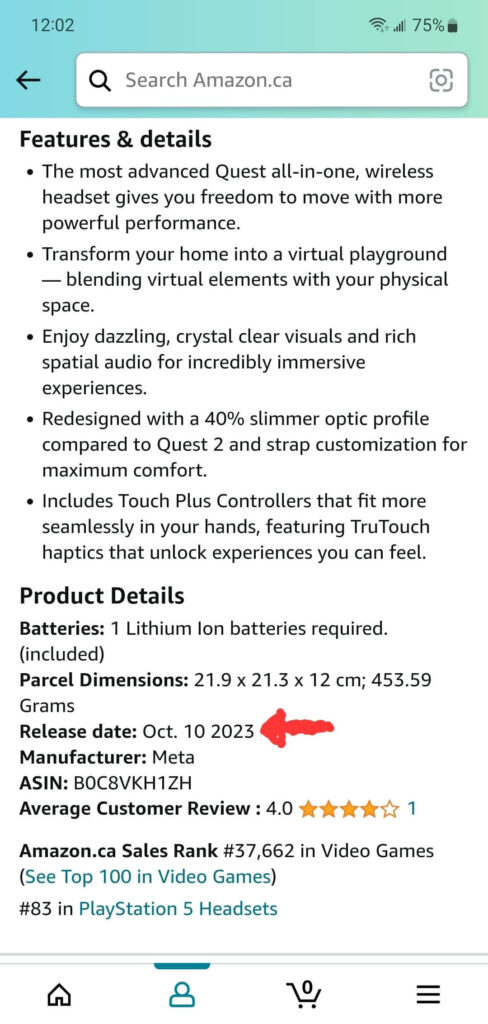 While some might assume that this date is just a placeholder generated by Amazon, this seems unlikely. Amazon typically uses December 31st as a placeholder date, a trend evident on the German Amazon platform where the Quest 3 listing is available:

Considering these factors, it's logical to assume that Meta might start the preorders for Quest 3 during the Meta Connect event on September 27th, followed by the headset's official release almost two weeks later on October 10th. This approach closely mirrors the strategy used for Quest 2's launch, which was similarly introduced during Meta Connect (Facebook Connect then) and released a few weeks afterward, with preorders being made available well in advance.
However, it's important to approach this rumor with a degree of skepticism. Meta has yet to provide any official confirmation regarding the date, and we can anticipate that all will be definitively revealed during the Meta Connect event on September 27th.