Are you waiting for GTA San Andreas VR? or maybe for Roblox VR? Meta Quest Gaming Showcase may be for you
Meta has recently announced the return of the Meta Quest Gaming Showcase, an event that VR enthusiasts have eagerly awaited for over two years, and it's scheduled for June 1st. You might wonder, is this event really that important? Our response is a resounding yes. and we're about to explain why.
One thing to note about the Quest Gaming Showcase is that it is scheduled to start just a few days before WWDC, an event where Apple is expected to reveal its upcoming VR/AR Headset. While this may be a coincidence, the unveiling of new games at the showcase so close to a potentially game-changing announcement in the VR/AR industry could be a significant advantage for Meta.
If Apple enters a new industry like VR, it's a big deal, regardless of whether their headset will succeed or not. The fact is that everyone will be talking about VR after WWDC, and this gives Meta a chance for free marketing of their platform. By announcing a large number of upcoming games on the Quest platform just a few days before WWDC, Meta can take advantage of the buzz around VR and capture the attention of potential customers.
What will be announced on Meta Quest Gaming Showcase?
According to reports, the upcoming Quest Gaming Showcase will be a 40-minute event that will feature new game announcements, trailers, gameplay, and more. While nothing has been officially confirmed, there is plenty of room for speculation. Many are expecting that Meta will make some kind of announcement regarding their flagship PCVR title, Asgard's Wrath. This is further supported by a sneak peek at the end of the announcement video, which has left fans eagerly anticipating what is to come.

In the sneak peek image, we can spot Loki's helmet, one of the characters from Asgard's Wrath, which strongly suggests that Meta has something planned for this game, whether it's a Quest port or a sequel. However, the possibility of a sequel seems more likely, as the image features a desert, a location that wasn't present in the original game. Additionally, three years ago, Meta trademarked "Worlds of Wrath" as "Virtual Reality Game Software," which further fuels speculation about a possible sequel.
At the Quest Gaming Showcase, Meta may also unveil other highly anticipated games that have been in development for some time, such as GTA San Andreas VR and Roblox VR. These games were announced years ago but there has been no news about them since.
While it was speculated that these games would be released with the Meta Quest 3, it is possible that Meta may expedite their release in light of the upcoming launch of Apple's headset in just four weeks. Fans of these games have been eagerly waiting for news about their VR versions, and the Quest Gaming Showcase could be the perfect platform to unveil them.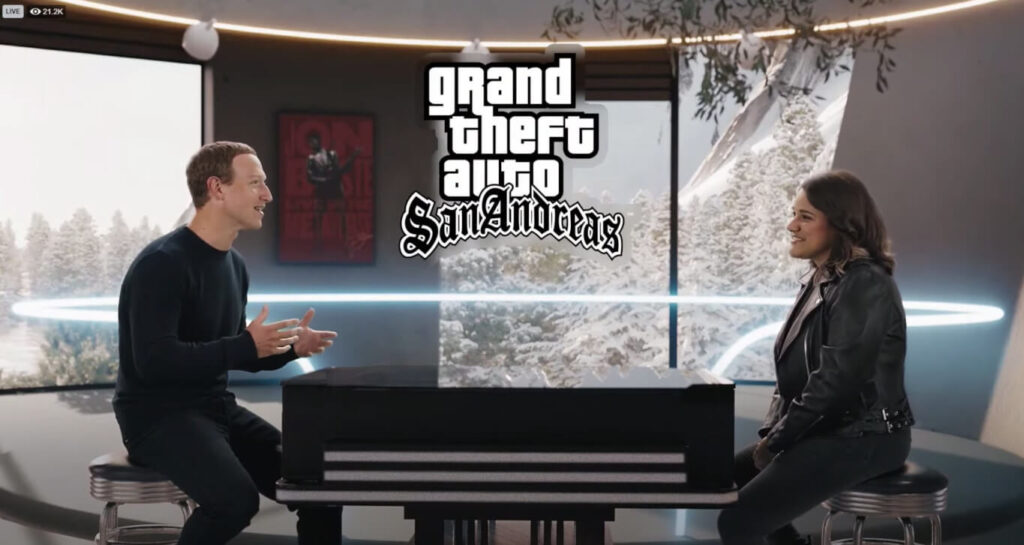 The announcement of GTA San Andreas VR and Roblox VR at the Meta Quest Gaming Showcase will definitely excite VR enthusiasts and gamers alike. GTA San Andreas is a classic game that has been widely loved and played for years, and bringing it to VR will undoubtedly be a major draw for many players.
Meanwhile, Roblox is one of the most popular gaming platforms of all time, and the addition of VR support could open up a whole new world of immersive gameplay for its millions of users. These announcements have the potential to bring even more people into the world of VR and further solidify Meta's position as a major player in the industry.
We can also expect to see other games like Behemoth VR and possibly even Assassin's Creed Nexus coming to VR. In addition, there may be a sneak peek of mixed-reality experiences for the upcoming Meta Quest 3, which is set to release on Meta Connect later this year. It's an exciting time for VR enthusiasts, and the Meta Quest Gaming Showcase promises to be an event not to be missed.
The Meta Quest Gaming Showcase kicks off at 9:45 am PT on June 1st, and you can catch the action on Twitch, Facebook, YouTube, and even in Meta Horizon Worlds, if you're feeling extra adventurous.