Meta's plans for the release of AR Glasses in 2025 and 2027
According to Alex Heath's article, during a recent roadmap presentation, the company's vice president for AR, Alex Himel, laid out the plan for a range of devices through 2027, including consumer-grade AR glasses with few cameras that will come with "neural interface" band that allows the wearer to control the glasses through hand movements.
Meta plans to release second-generation camera-equipped smart glasses, which will allow users to talk, listen to music, call other people, or record videos through front-facing cameras – similar to the first-generation Ray-Ban Stories glasses.
However, AR glasses with displays will come in 2025. They will have a "viewfinder", which is a display that would allow users to view text messages, scan QR codes and translate other languages in real time. The glasses will ship with a "neural interface" band that allows the user to control the UI with hand movements, without hand tracking.
The neural interface band comes with a natural problem – nobody wants to have some weird band on their hand instead of the watch they were used to. So Meta reportedly has a solution, they are working on a smartwatch with a neural interface, which will be an optional upgrade from the normal neural interface band.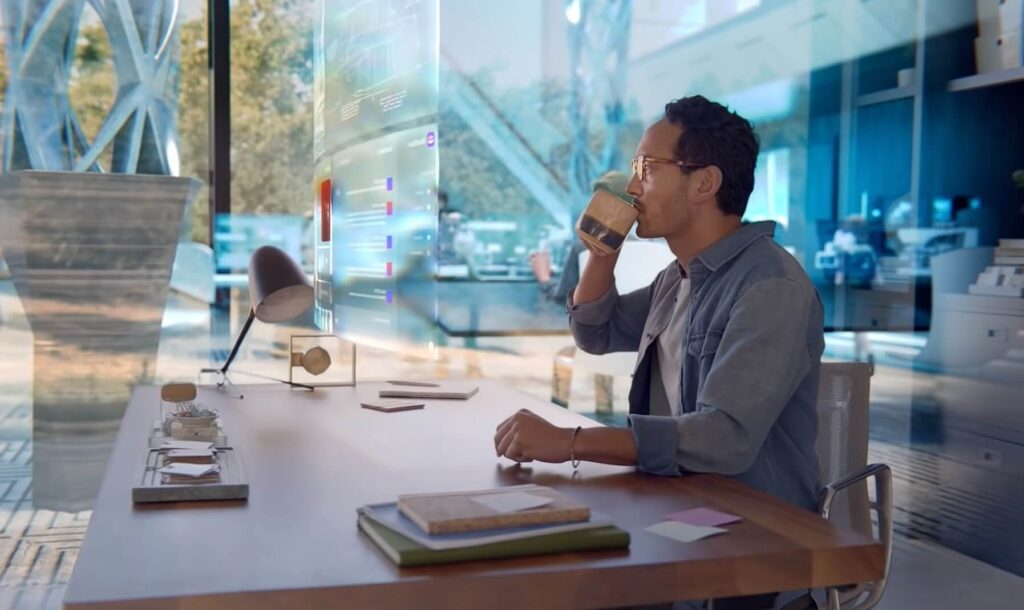 ---
True AR Glasses from Meta – When, and what will they offer?
Meta's first true pair of AR glasses codenamed Orion and under development for eight years, are more technically advanced and expensive than previous models. They are designed to project high-quality holograms of avatars onto the real world, but this requires an enormous amount of time to build.
The glasses are reportedly set to release in 2027, but an "internal launch" for employees to test the glasses will take place in 2024. These glasses will allow users to experience 6-DOF full Augmented Reality, which has long been a dream for many. How much will they cost?
The technology required to develop these glasses is very costly, so they will not be cheap. However, we can expect Meta to sell these devices at even possible loss, to make it to as many people as they can, but also because of ads that they will make money from.
---
Meta's new ads business for AR glasses
Meta plans to rely on its existing business model of advertising to generate revenue from its future AR glasses, according to Alex Himel.
Alex Himel said:

"We should be able to run a very good ads business, i think it's easy to imagine how ads would show up in space when you have AR glasses on. Our ability to track conversions, which is where there has been a lot of focus as a company, should also be close to 100 percent."
Meta could be one of these companies to sell fancy tech for little to no margin but at the cost of a very aggressive ads strategy, whereas other manufacturers like Apple could release the hardware for a very high cost, but with a big focus on privacy and as few ads possible.
Regarding the ad business in AR, Himel said:

"If we're hitting anything near projections, it will be a tremendous business. A business unlike anything we've seen on mobile phones before."
It is easy to imagine how eye tracking could enhance the ads' personalization to each user. However, the choice of which hardware to use will lay to the user overall, just like with smartphones today.