VR platformer you won't forget – Outta Hand Review
There aren't many intense, fast-paced, and unique first-person VR platform games available right now. While some of the most interesting VR platformers are in third-person, like Moss, Ven VR Adventure, or Lucky's Tale, some players are looking for a more immersive first-person experience. If you're one of them or if you're simply seeking a short but incredibly enjoyable VR experience, you've come to the right place.
"Outta Hand" presents itself as a "high-energy platforming adventure," and it truly lives up to that description. While it may not market itself as a fitness game, my experience suggests it could very well belong to that category. Players will undoubtedly find themselves stretching their arms while playing, but we'll delve into that aspect later. First, let's explore the game's strengths, weaknesses, and most importantly, whether it's worth the $20 price tag.
---
Table of Contents
---
The game's greatest strength: Movement Mechanics
You begin the game inside a big capsule, and shortly afterward, you'll catch your first glimpse of yourself. As a player, you assume the role of one of the Hand-People, who are subjects of experiments conducted by the game's antagonist, Dr. Vendelvom. However, during the scanning process, the system identifies you as too intelligent and marks you for immediate termination
The game doesn't end with the termination threat, of course. You manage to escape that fate and then dive into learning the game's movement mechanics, which happen to be one of its primary and standout strengths.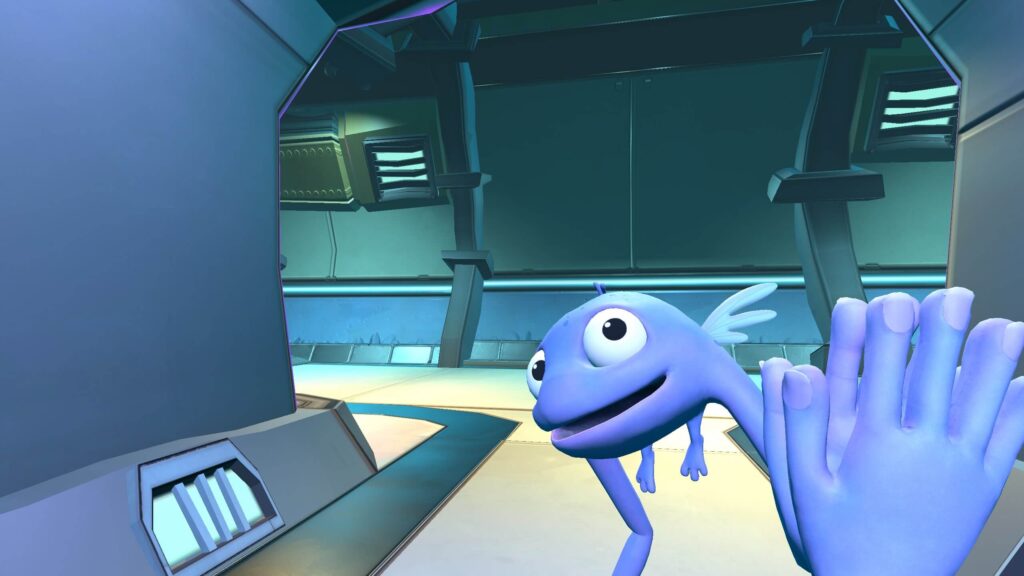 Hand-People in the game have exceptionally long arms and, well, relatively short legs. This immediately suggests that you'll be relying on your hands more for locomotion (though you can use your legs by lifting your arms high and moving slowly). The game's movement mechanics are similar to the ones of Gorilla Tag, which involves using your hands to push off the floor and move yourself through the air. However, I've found that Outta Hand offers more freedom in movement compared to Gorilla Tag.
One standout feature in the movement for me is the 'landing hint.' Essentially, it highlights a circular area where you'll land after pushing off into the air. This feature greatly simplifies movement, providing a clear indication of when and where to place your hands for landing.
Polishing your movement skills will only take you a few minutes, but once you've mastered them, the game becomes incredibly enjoyable. You can bounce off nearly any surface, offering you a remarkable level of freedom in terms of where you can go.
You can also "fly", well, sort of. When airborne, you can extend your arms in a wing-like position and flap them three or four times to stay afloat and push yourself forward, enabling you to leap across sizable depths.
All of these mechanics combined can give you a fairly decent workout. While it might not reach the intensity of something like Thrill of the Fight, energetically waving your arms for an hour or more can undoubtedly give you a satisfying exercise, which is a welcomed benefit.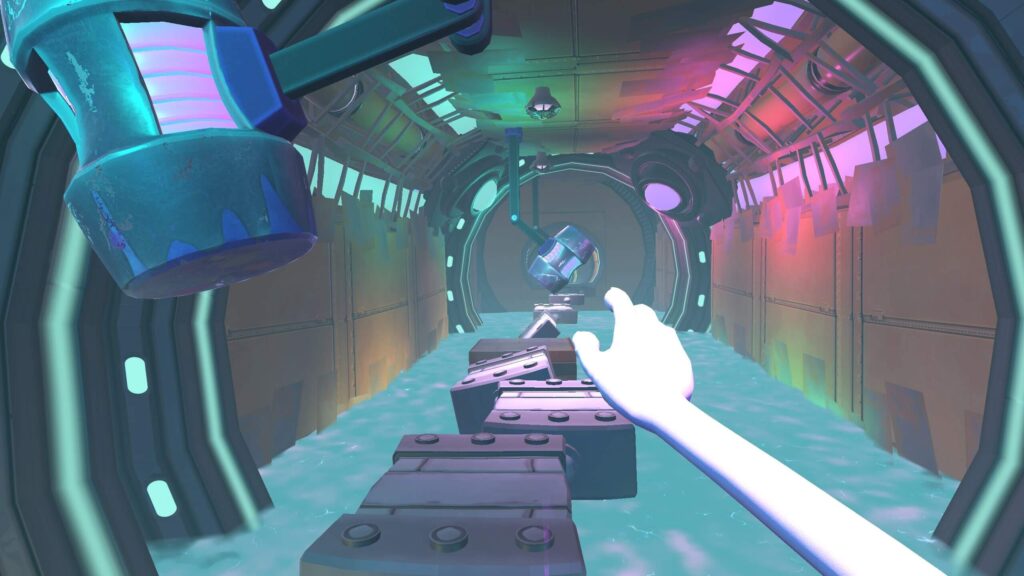 ---
Fighting is fun but comes with a few caveats
Shortly after mastering movement, you'll encounter your first enemies. When you make a fist and throw a punch, your hands will extend to a pretty large size, allowing you to strike enemies from afar. This makes combat enjoyable and doesn't disrupt your jumping rhythm, because, well, you are essentially pretty weak, and you will be killed after just one punch.
If being defeated by a single enemy punch is the case, it's quite obvious that you'll do everything in your power to avoid them, right? Well, you're in luck – you have plenty of ways to do just that. You can leap several meters into the air, bounce from wall to wall, and fly around the room, all while keeping your distance from the ground-bound enemies.
This keeps the game consistently dynamic whether you're parkouring or in combat, which is great. However, it also makes combat quite easy, as enemies don't pose much of a threat. This isn't necessarily a major issue, though, as the game's objective (at least from what I gathered while playing) seems to be delivering a relaxing yet dynamic platforming experience that won't frustrate you with overly challenging opponents.
Nevertheless, some players might desire a bit more of a challenge from the enemies, which, by the way, are pretty well-designed. The game features a variety of opponents, ranging from robot policemen and walking TNT to slow but sturdy ones and distant-firing turrets.
I also noticed something about the combat – enemies don't make any sound when they're defeated. This was a bit confusing at first because I couldn't tell if the enemy I had taken down was truly dead or just knocked out, and after a moment of lying on the ground they would stand up and go after me. Yet, even after these few problems, I found fighting aspects pretty fun.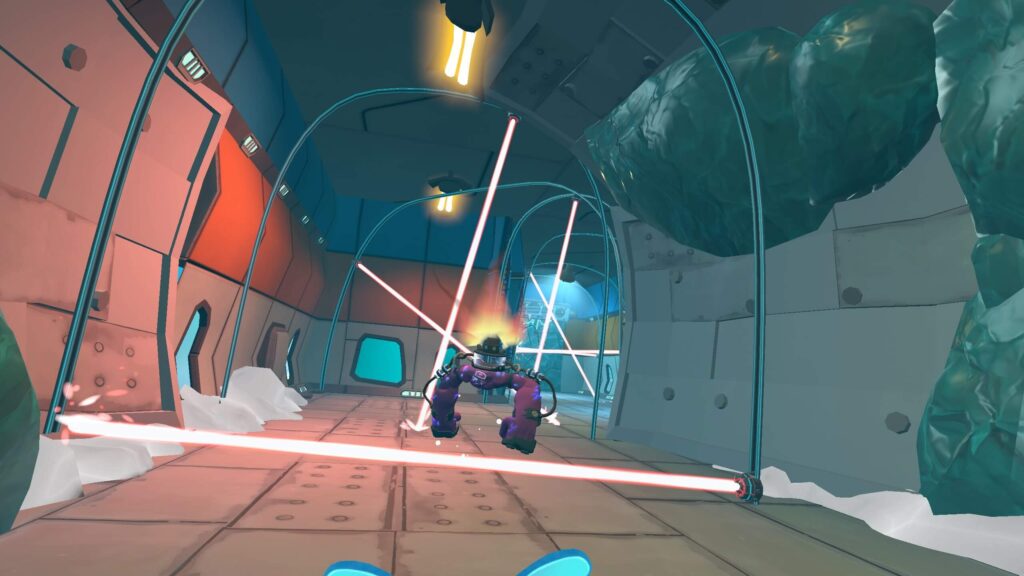 ---
Fear the Bosses!
Speaking of combat, there are also bosses in the game. I won't reveal the exact number, but each one has unique abilities and requires different strategies to defeat. The bosses are exceptionally engaging and enjoyable to battle, and this is another area where the developers have excelled.
The bosses are pretty balanced, and you can't just go all out with speedy punches to beat them. Unlike regular enemies, bosses have shields or other tricks up their sleeves that you need to handle first. Once you crack their defense, you've got a limited window to make some damage. But, if you go all Hulk-smash with your punches too quickly, you'll get pushed back and won't hurt the boss much.
On the flip side, some bosses require completely different tactics, and simply throwing punches won't cut it. This diversity in boss encounters keeps things engaging and intriguing.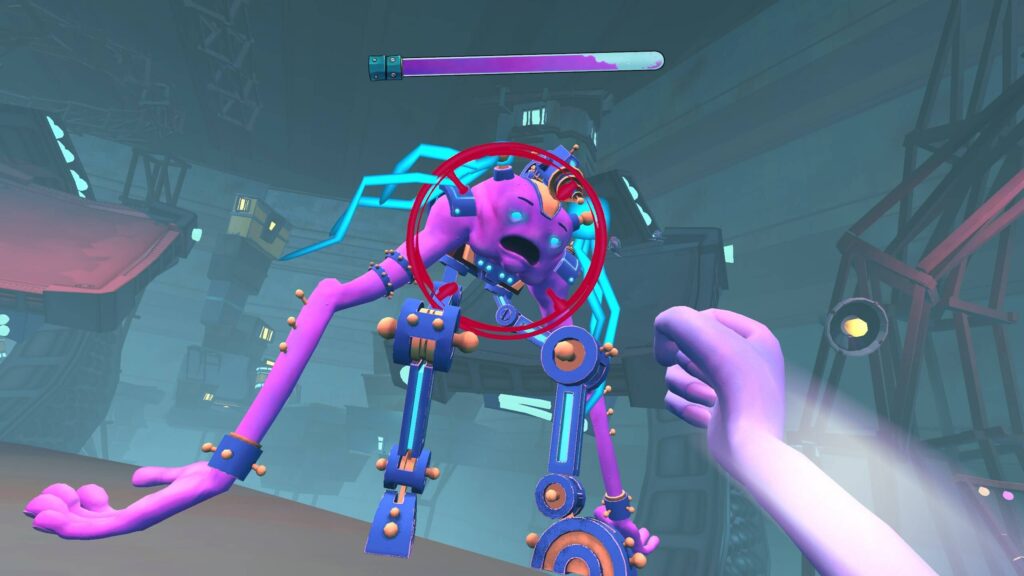 ---
The Story is Okay…
If you're considering buying Outta Hand, don't expect it to be solely story-driven. Storytelling isn't the game's strong suit, and it doesn't need to be. One common observation with many VR and indie games is that developers often try to excel in every aspect, sometimes overlooking their game's core strengths. Outta Hand takes a different approach by honing its Movement mechanics, Level Design, Fighting, and Boss encounters while keeping other aspects of the game at a decent level.
The voice acting is quite good, but the story lacks a compelling plot and isn't very engaging. However, I found myself wanting to play the game more, not to uncover its secrets, but simply to enjoy the well-designed levels and the engaging obstacles that required me to navigate and jump to reach the next level.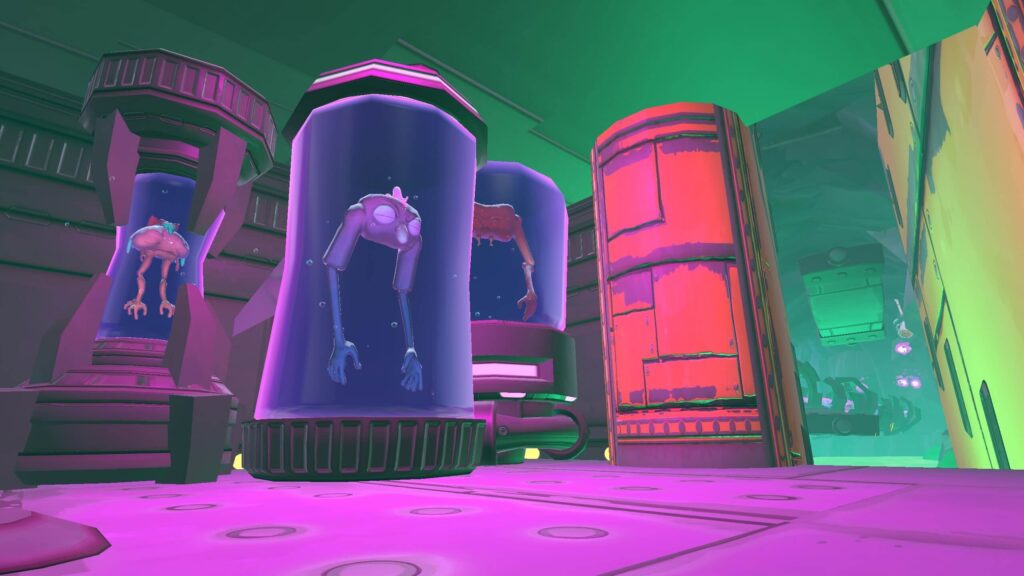 ---
The Game is Short… Too short.
Let's address this right from the start: the game is roughly 3 hours long. You can breeze through it even quicker if you're not hunting for hidden Easter eggs like scattered DNA or secret containers with other Hand People that can be freed. If you're aiming for 100% completion by uncovering all the hidden elements, you'll spend a few additional hours on it. I can't provide an exact figure, but it's certainly more than my initial 3-hour playthrough. In summary, the game is relatively short.
For twenty bucks, you might expect a bit more, and there's some merit to this expectation. After finishing the game, I found myself thinking, "I wish there was more to play." Personally, I think a 5-6 hour story campaign would be ideal, any longer might feel a bit tedious due to the game's mid-story content.
However, all is not lost! Outta Hand offers an endless mode where players can have fun for as long as they want. There's a mode where the player has three lives and needs to survive as long as possible (with statistics saved on a public leaderboard) or a zen mode, where players can jump around for as long as they want.
Personally, I will definitely play the game in endless mode, as I found the game's mechanics to be its biggest strength. The game's relatively short length, which left me wanting more, will surely drive me to explore the endless mode.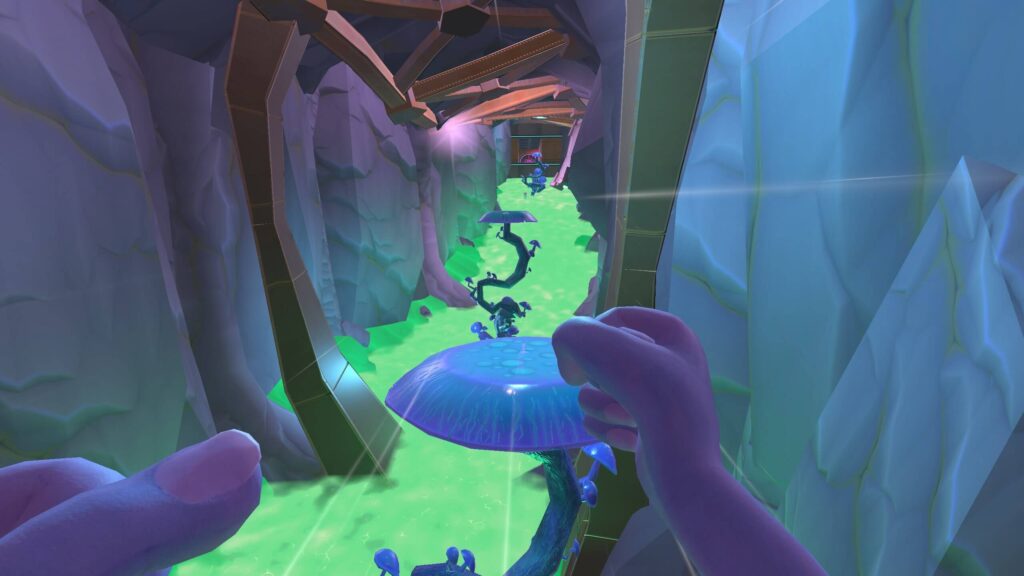 ---
Conclusion
In conclusion, Outta Hand is a thrilling, action-packed VR adventure that easily ranks among the best first-person VR platformers of all time. While it does have some drawbacks, such as a short campaign, relatively easy enemies, and a somewhat lackluster story, the game truly shines in its exceptional movement mechanics and exhilarating boss fights. These issues are fixable, and there's potential for more content in the future.
Outta Hand is currently priced at $19.99 on the Meta Quest Store and is compatible with Meta Quest 2, Pro, and pretty soon Meta Quest 3. The game will also be available on Steam next year. Outta Hand holds my recommendation, and the $20 price tag is well-suited for such an experience.
The Review
Outta Hand
Outta Hand is a thrilling VR adventure that stands out among first-person platformers. Despite a short campaign, easy enemies, and a basic story, its exceptional movement mechanics and exciting boss battles make the game shine.
PROS
Amazing Movement Mechanics
Well-Made Level-Design
Exceptional Boss Fights
Satisfying Fighting Mechanics
The Game Always Maintains Its Pace
Gives a Decent Workout
Has Endless Mode
CONS
The Game is Short, At Only 3 Hour Campaign
Enemies Could be More Difficult
The Story is Dull
Outta Hand DEALS
We collect information from many stores for best price available
Best Price
$19