Is Pico 4 still a headset worth buying? Let's find out in this review
In today's review, we're looking at the Pico 4, considering the time that has passed since its release. The aim is to assess not only its initial appeal, but also its durability, content store maturity, longevity, and overall staying power in the rapidly evolving VR landscape.
Positioned as a consumer device, the Pico 4 launched in October 2022 targeting mostly gaming, entertainment, and fitness-oriented audiences. Pico Interactive's strategic move to target a similar demographic as other established headsets underscored its ambition to compete as an equal in a market otherwise mostly dominated by Meta.
These aspirations turned out to be at odds with the current market structure as well as international affairs. According to sources, Pico Interactive decided at the last minute to cancel their planned launch of Pico 4 in the US because of the ongoing feud between the US government and their parent company Bytedance. As it stands, US residents can order the headset for $429 through Newegg and other unofficial channels. I would be surprised to see Pico Interactive try for any major push into the American market in the coming months, and with the TikTok ban looking inevitable, things might not change any time soon.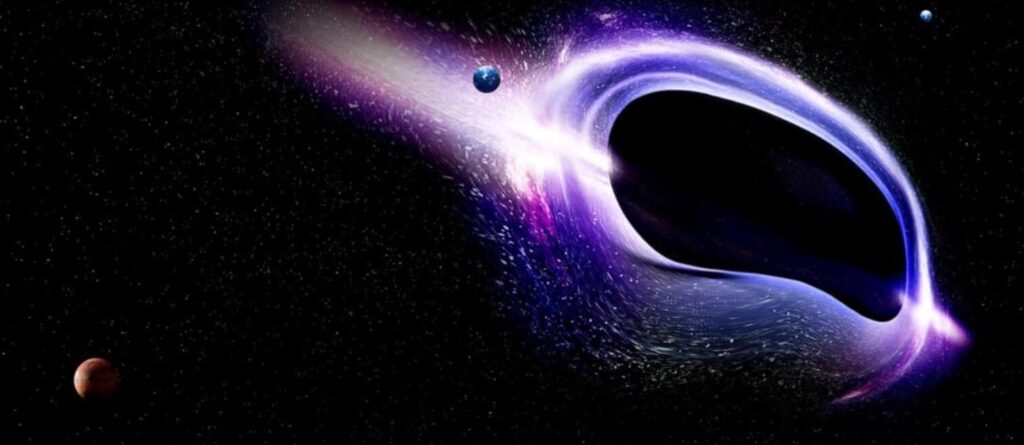 At a price point of $429/ €429 / £379, the headset falls within a competitive entry-level range. Pico 4's key features are also quite impressive. Its design, performance, and specifications are all significantly higher than Quest's 2, which is almost three years old at this point, and are more on par with what we might see in Quest 3.
For the last six months, the Pico 4 has remained my daily driver. How pleased am I with its performance so far? Will I be switching to Quest 3 once it comes out? Let's dive into this review and uncover whether the Pico 4 truly stands as a compelling contender or if it is destined to be overshadowed by the next generation of headsets.
---
Table of Contents
---
Looks, Comfort, and Ergonomics
With almost nine months since its release, the Pico 4 still captivates with its sleek and modern design. Even before opening the box, the Pico 4 manages to impress, positioning itself as an appealing upgrade for those seeking a fresh VR experience in 2023.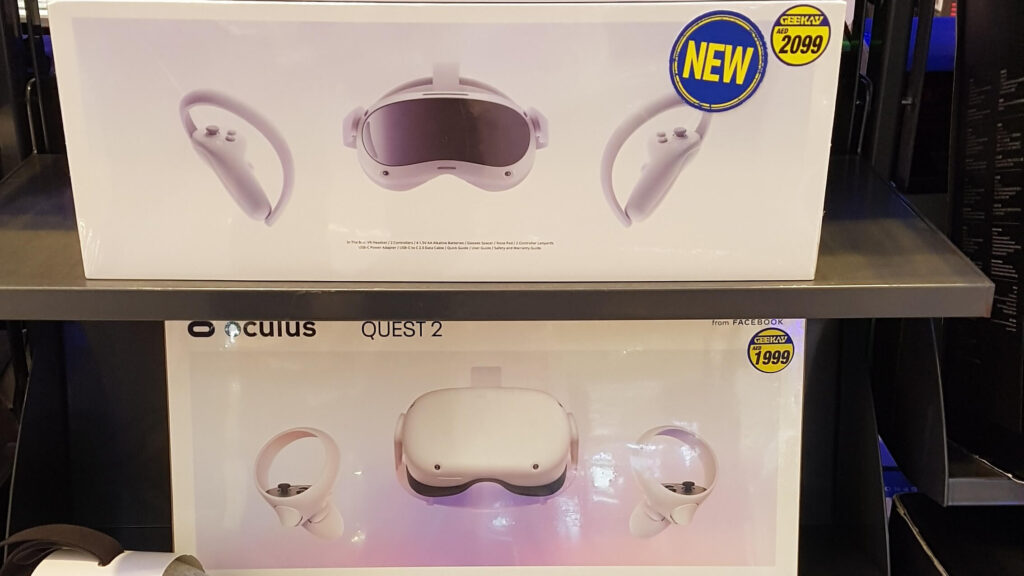 While beauty is in the eye of the beholder, it's important to recognize the amount of effort that sometimes goes into outward appearance – a prime example is the Apple Vision Pro.
The Quest 3 aesthetics, on the other hand, are commonly regarded as lacking. In that context, I feel the praise that the Pico 4 received for its design is entirely justified.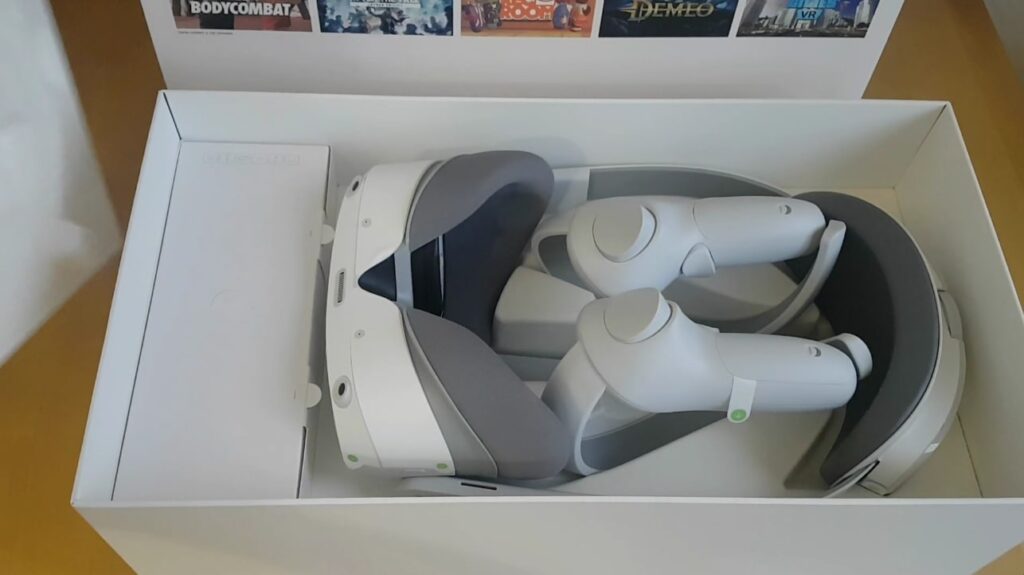 When it comes to ergonomics, the Pico 4 offers a reasonable level of comfort out of the box. Its rigid design, with the battery positioned at the back, ensures a balanced weight distribution and alleviates pressure on the face and forehead. The knob at the back helps the headset stay securely in place and reduces the time it takes to put it on.
Additionally, since its launch, many third-party manufacturers have begun developing their own custom mods and accessories, including replacement straps, top straps, and battery packs. Some users complain that the stock facial interface included in the box is too stiff. For these users, Sebastian Ang from MRTV recommends the AMVR replacement. Personally, I found the default interface to be good enough, although it did start to show wear and tear, but more on that later.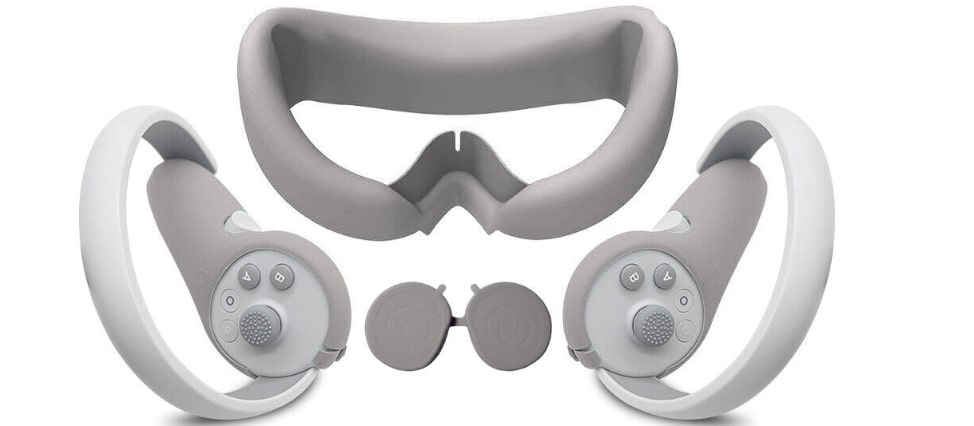 One of the unusual features of Pico 4 is its motorized interpupillary distance adjustment (ranging between 62mm and 72mm), which can be regulated from inside the headset using settings — something not seen before in an entry-level device. This design allows for precise and stable IPD configuration without the risk of accidental changes. Moreover, the Pico 4 introduces a magnetic face cushion, simplifying the process of swapping front paddings. While this may not be used frequently, the seamless snap-in-place functionality adds a touch of convenience.
I have managed to spend four, six, or even eight hours using the Pico 4 and my eyes were still fine but on a few occasions, I did start feeling discomfort at the bridge of my nose. From there it only took another 30 minutes for discomfort to turn into pain and I had to stop as it became too difficult to continue. Whether you'll have the same problem depends on your nose and face shape, but looking at the forums I know I'm not the only one.
Still, for ultra-extended use, the Pico 4 tends to be more comfortable than many of its competitors. Even the fabled Apple Vision Pro is reportedly struggling with comfort due to its weight and lack of proper weight distribution. Considering the Pico 4 is eight times cheaper, that I could use it voluntarily for up to eight hours is no mean feat. Many headsets struggle to even get to the four- to five-hour mark due to eye strain or weight. Spending eight hours in VR may sound extreme, but as XR becomes more and more integrated into our social and productivity timetables, it's an important benchmark that all headsets should be able to pass.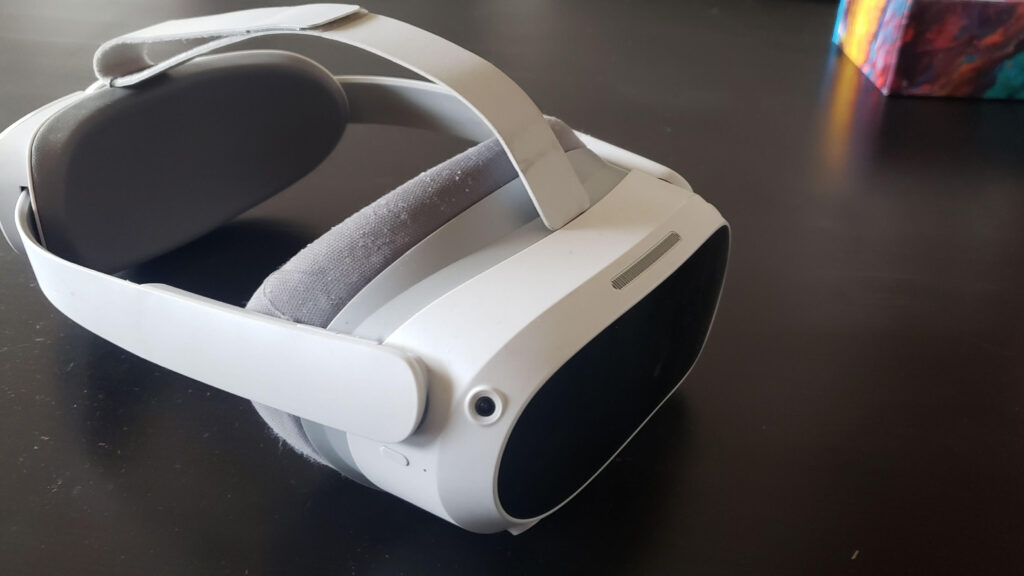 Durability remains an open question, but so far there have been no reports of any of the components being somehow uniquely prone to failure. In my case, even though I did not invest in a carrying case and instead tossed the headset casually into my luggage, it proved sturdy enough to withstand six months of such treatment and, together with almost daily use, hasn't developed any significant issues that would require a warranty claim. The only component that suffered from wear and tear is the facial interface, which got ragged and scratched and is now in dire need of replacement.
For the soon-to-be-released Quest 3, Meta has decided to stick with a cloth strap, which while portable and lightweight, has been received very mildly by most Quest 2 users. Quest Pro on the other hand features a very similar design to that of the Pico 4 and the higher-end competitors adopted completely different design approaches. The Apple Vision Pro chose to use a battery puck, while the HTC Vive Elite boasts a modular and detachable design. There is no ideal solution but it seems that the Pico 4 will most likely continue to be more comfortable than the soft-strapped version of the Quest 3.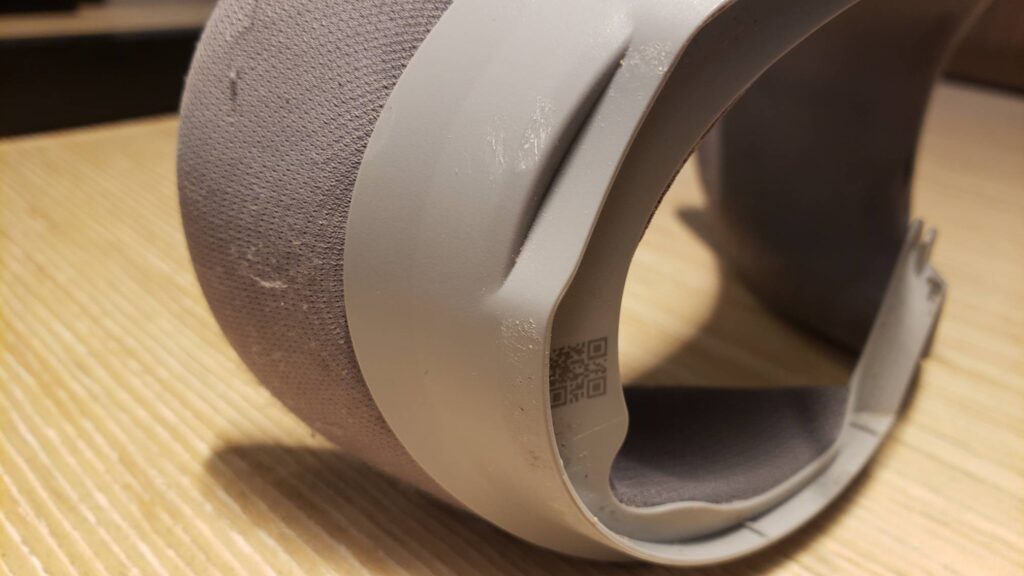 ---
Optics and Performance
Specifications and parameters have been discussed many times before by various reviewers but basically, the Pico 4 is a step up over the Quest 2 in almost every area except for the refresh rate.
As a result, the Pico 4 has found itself a loyal user base, including a lot of PCVR users, as evidenced by Virtual Desktop being constantly one of the top-selling apps. It's hard not to appreciate the Pico 4's high resolution, fresnel lenses, nice FOV, and a large sweet spot.
That last element is what some pundits often miss, but it might be one of the more important factors in the Pico 4's lasting appeal. A narrow sweet spot requires the user to keep their gaze perfectly aligned with the lens center or risk a blurry view. What happens next is people will often unconsciously readjust and slightly correct their headset to maintain clarity. This might be reflexive and done without thought, but do it enough times and it becomes another subliminal point of friction that hinders prolonged use.
When the Pico 4 was released, there were early reports of faulty distorted optics, wavy lenses, and weird screen door artifacts. Fortunately, these issues seemed to affect only the first batch of products. The only persistent issue with the Pico 4's pancake lenses is their 'smudging' effect caused by light bouncing between the lens layers. The Quest 3 lenses will also use pancake optics, so it's going to be interesting to see how they compare. Overall smudging, while undesirable, is a small price to pay considering the Fresnel lenses suffer from glare, god rays, and chromatic aberration.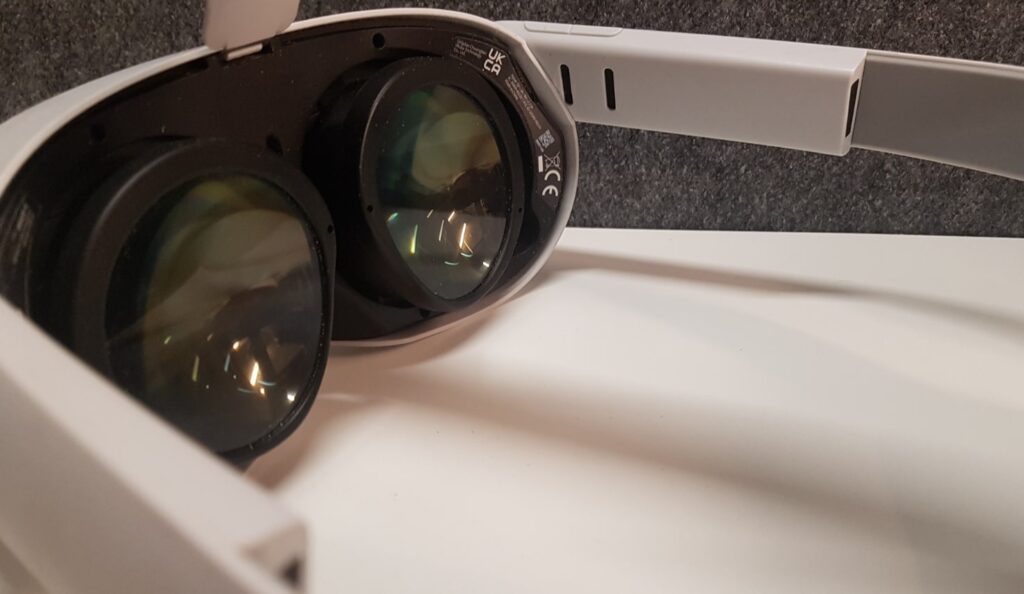 ---
Motion Input and Hand Tracking
When it comes to controllers, the Pico 4 is pretty much on par with Meta, but that will soon change. The Quest 3 is supposed to ship with a new set of controllers called "Touch Plus" (not to be confused with the Quest Pro controllers called "Touch Pro"). Both Touch Plus and Touch Pro come without any tracking rings in a sleek, unobstructed form factor. Details are still scarce but if the tracking on Touch Plus proves reliable, it will be a noteworthy improvement over the Pico 4's controllers.

When it comes to hand tracking, Pico Interactive has so far failed to deliver any meaningful improvements or updates. Despite promises, hand-tracking is still pretty much non-existent. If you are buying a Pico 4 in hopes that their hand tracking will improve over time, you are setting yourself up for disappointment.
In contrast, Meta is investing substantial resources in developing this into a reliable and enjoyable input method. They have also been pushing various performance-related improvements and updates. In December, they increased their clock speed by 7 percent, and now with version v55 released in June, by another whopping 26 percent. Whereas at the start Quest 2 was running their XR2 chipset at 490hz, it's now boosted to 625hz — overtaking Pico 4's 587hz. In a similar fashion, Meta keeps updating the Quest Pro, improving its eye and facial tracking capabilities. Meanwhile Pico Interactive seems to have rested on its laurels.
---
Content & Store Maturity
Perhaps the most burning question for those who intend to use a Pico 4 for anything other than PCVR is its standalone content and whether the Pico store is maturing at a satisfactory pace. Well, I have some good news and some bad news.
Let's start with the good news. Since launch, there's been a ton of new games and content added. The store indeed feels very much alive. This doesn't just mean a stream of new offerings, but also a growing number of user reviews, seasonal game sales, and bundles. There were even some timed exclusives, for example, Galactic Catch by Baobab. It's clear that Pico Interactive is trying to mimic Meta's business model and will continue to invest in its ecosystem.
The bad news is, a large number of key games are still not available. Many were waiting for VRChat but VRChat is currently using Unity 2019 and the Pico 4 requires Unity 2020 or newer. The update would break a lot of user-generated content so for now a standalone version of VRChat seems out of the question. Other big titles like Pavlov: Shack or Bonelabs also never made it to Pico 4. And then there's Quest exclusives like Resident Evil 4, the App Lab and a lot of high-quality media content and much more.
For those who are just getting started or who do not have any specific games in mind, the Pico 4 content offering should be more than enough. The selection is up to par and the rate at which new products are added is satisfactory. However, those who have been spoiled by Meta's massive library or have a couple of favorite apps they tend to go back to might feel lonely in this unfamiliar, more diluted ecosystem.
In fact, those who own a Quest 2 and have extensive game libraries tied to their Meta Accounts might feel little incentive to switch. Improvements, while welcome, rarely justify losing access to already purchased content that often goes into hundreds of dollars. If anything, those who switched might feel tempted to return, if only to revisit all the dormant games in their Meta library but in a new, higher resolution offered by the Quest Pro or Quest 3.
---
Verdict: Buy or wait?
Personally, I'm happy with how my Pico 4 has performed so far and I am in no hurry to upgrade. However, if the new Meta Quest 3 meets or exceeds expectations, I will not hesitate to change headsets.
As for the first the time buyers — is it worth buying the Pico 4 right now or is it better to wait until the Quest 3 comes out?
The answer in part depends on when the Quest 3 is going to be available. Rumors suggest pre-orders might open on the 27th of September, which is when Meta Connect will take place. Three months is quite a lot of time in the tech space and as someone wise once said, a day without VR is a day lost. For those who can't wait to get into virtual reality, or those who are fine with possibly trading their headsets later on — the Pico 4 represents a worthwhile proposition. It's better than the Quest 2 in many key areas but how it will stack up against the Quest 3 is something only time will tell.