After 3 months since shipping, Pimax has finally released eye-tracking and a standalone mode for its Pimax Crystal.
Pimax Crystal was launched nearly three months ago at a price of $1599. Despite the headset's impressive specifications, including two 2880×2800 Mini-LED displays, HDR at 200 nits, realistic colors with Local Dimming, and clear lenses, its launch suffered from the lack of two major features highly advertised by Pimax – Eye Tracking and Standalone Mode.
Even though the Pimax Crystal requires a battery even when used in tethered PCVR mode and comes with a built-in XR2 Gen1 chipset, it couldn't operate in standalone mode until now. This could be due to a lack of compatible games or perhaps the software wasn't fully prepared for standalone functionality.
Eye Tracking, a highly desirable feature, is now functional as well. Given the high resolution of this headset and its demands on PC performance, it should make PCVR more accessible to a wider range of users, thanks to the foveated rendering now available on the headset. More details on this and other improvements below.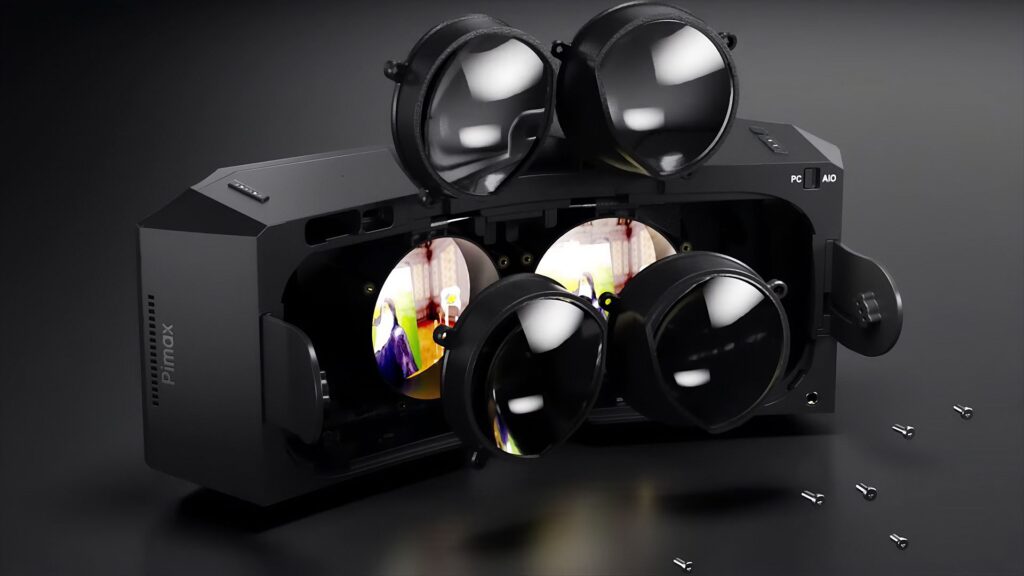 ---
Table of Contents
---
Pimax Crystal Eye Tracking
The Crystal features Eye Tracking powered by Tobii, a technology also used, for example, in PSVR2. According to Pimax, this technology provides several significant benefits:
Social (such as in VRChat when your avatars can move her/his/its eyes, creating a stronger sense of presence and connection to fellow players)
Performance (eye-tracking powers Dynamic Foveated Rendering for FPS gains)
Comfort (Auto-IPD)
Active input (although not many games support this yet)
These mentioned benefits have a significant impact on your VR experience. Even if you don't play social VR games like VRChat, you'll still notice how eye tracking enhances your headset's usability and its potential.
Eye-Tracked Dynamic Foveated Rendering can provide a substantial FPS improvement. According to Pimax, users can experience a "15% to 40% FPS Boost," This boost becomes particularly noticeable when playing demanding PCVR games like Half-Life Alyx, among others. The Pimax Client offers three Foveated Rendering Performance options: minimum, balanced, and maximum, each giving different results.
Auto-IPD is a rare feature in most of today's headsets, especially in this price range. The upcoming Apple Vision Pro will include this feature but at a hefty price tag of $3499. In contrast, the Pimax Crystal is roughly half that price. Auto-IPD essentially automatically adjusts the lenses to match your interpupillary distance, which is the distance between the centers of your eyes. It's a valuable addition, albeit with some compromises like increased weight due to an additional mechanism inside the headset. However, it provides the convenience of easily sharing the headset without the need for manual IPD adjustments.
Active Input, which involves Gaze and Click functionality, is also offered by the Apple Vision Pro. However, in the case of the Pimax Crystal, it will provide this feature without using Hand Tracking. Instead, it will utilize controllers for button clicks, while your eyes serve as the cursor. Although only a handful of games currently make use of this feature, it's expected to become a standard interaction method in VR and AR in the future. This makes the Crystal somewhat future-proof in this regard.
The video below shows how Pimax Crystal Eye Tracking works.
---
Pimax Crystal Standalone Mode
The Pimax Crystal Standalone mode is now available in Public Beta. It experienced review by closed Beta testers and is now prepared to reach a wider audience.
Pimax has shared the current titles available in Standalone mode, and to be honest, while the selection is underwhelming at the moment, it is essential to remember that Pimax is just starting to build its library and it doesn't have enormous resources like multi-billion companies such as Meta or ByteDance. However, given that the headset has been out for 3 months, some users might still find the game offerings a bit disappointing.
Whirligig VR Media Player
X-Fitness
Pierhead Arcade 2
Labyrinth Trap VR
Z Show
Voxel Fly
Frog & Froggie
OpenBrush
Hitstream (soon)
David Slade Mysteries: Case Files (soon)
First Person Tennis (soon)

According to Carol Yuan, the overseer of Pimax developments: "These games use the Unity engine, we've got several other game engines coming up, with corresponding games, that'll quickly add much more content to the library. We've already signed agreements with those developers and those games will be ported to the Pimax Store soon."
According to those words, users can look forward to more games being added to Pimax's Standalone Library. However, the company is not currently able to rival the extensive game libraries of Meta Quest or Pico, so don't expect anything near those two platforms.
The video below reveals Pimax Crystal's game library.