Fogging lenses, light leakage, and an uncomfortable face cushion got you down? Kiwi Design might have the solutions you need. Again.
In my previous review, I evaluated the Kiwi Design Battery Headstrap, which significantly improves comfort while wearing a headset. However, to achieve maximum comfort with your Quest 2, you also need to ensure the face cushion, the material that comes into contact with your face, is comfortable.
While the default facial interface that comes with the Quest 2 serves its purpose, it has its flaws. It absorbs sweat, is challenging to clean, and allows for significant light leakage through the nose gap, among other issues. All of these factors can disrupt your immersion and make it difficult to share the headset or use it altogether. To address these and other problems, you have the option to upgrade your facial interface, just as you can upgrade your headstrap.
In this review, we will examine the Kiwi Design Fitness Facial Interface, a product that can arguably be just as crucial as your headstrap.
Disclosure: Kiwi Design provided me with the Fitness Facial Interface, but had no input on this review. All opinions are my own.
---
Table of Contents
---
Unboxing and Installation
Let's begin with unboxing – the first thing you'll do once the courier arrives at your door. Right from the start, the product greets us with an elegant wood-colored Kiwi Design box. It arrived to me slightly damaged, but it had no effect on the products inside.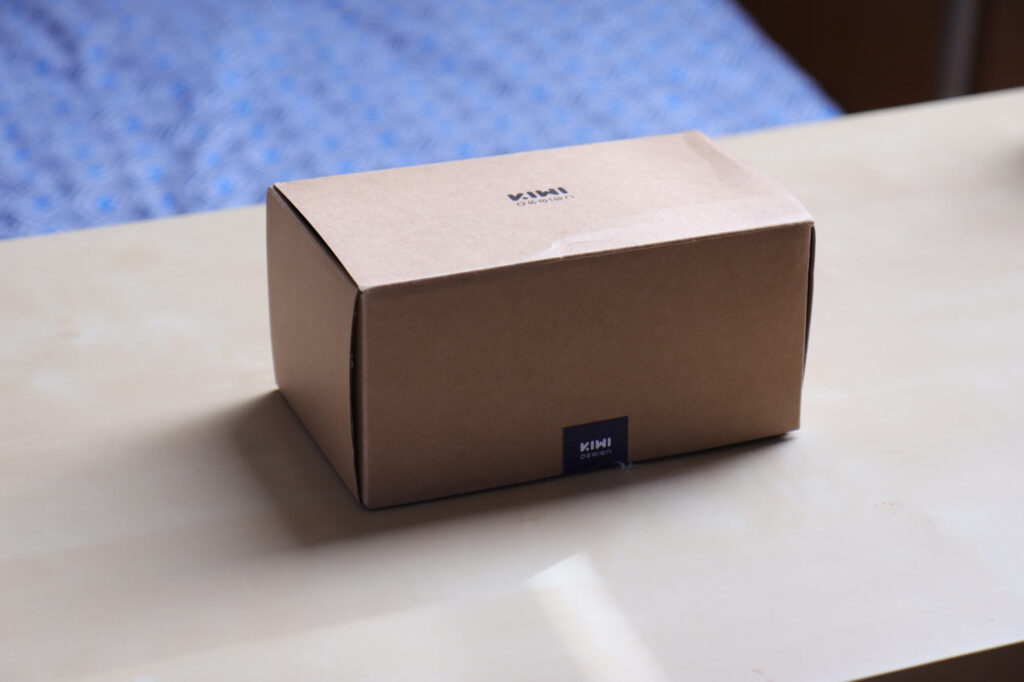 However, as they say, don't judge a book by its cover, and this saying applies to this product. While the packaging is nice and elegant, upon opening it, the first thing we see is the foil containing all the face cushions and other essential items neatly packed inside.
I preferred the packaging of the Battery Headstrap, but let's be honest – who really cares about unboxing quality? The important thing is what we find inside the package, and this is where the Fitness Facial Interface shines.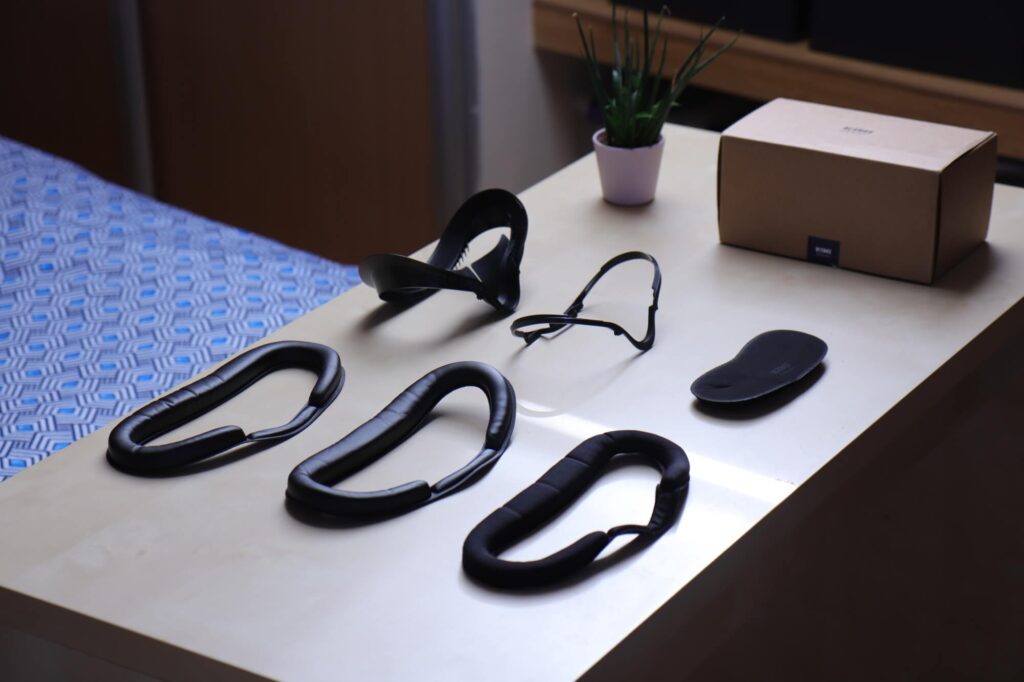 So, after unboxing, we have six items in total. Yes, you heard it right, six items! Let's begin with the Facial Interface – this rigid component is where we'll attach our facial cushions, of which we receive three.
One is the Fitness cushion, and the other two are leather-based cushions. We also receive a glass spacer (essentially almost the same as what comes with the Quest 2, but Kiwi Design includes its own due to the different Facial Interface). Additionally, there's a crucial product that many people tend to overlook – the lens protector.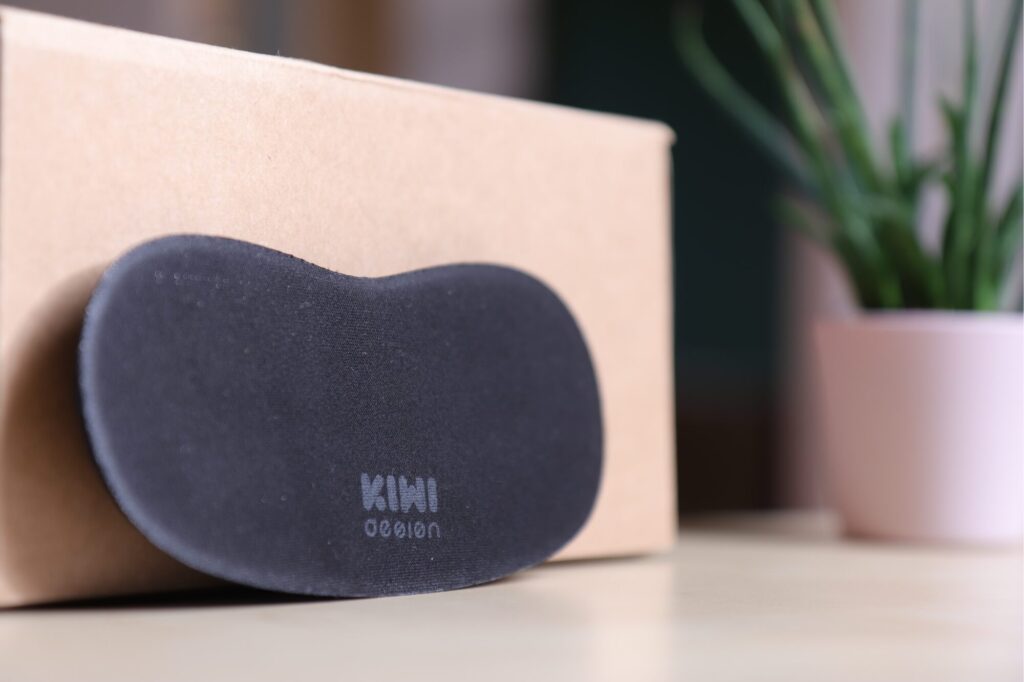 This package is a fantastic combination of highly useful products, each serving different purposes. It significantly improves your comfort, and you no longer need to worry about damaging your headset's display with direct sunlight, thanks to the lens protector. With all these components inside the package, you might be wondering how to install them on your headset.
The installation of the facial interface is relatively straightforward but may seem a bit confusing at first. To attach the facial cushion to the facial interface, you need to bend it, place it in the center of the facial interface, and then carefully unfold it. If it doesn't fit perfectly the first time, don't worry; simply give it another try. You'll likely get the hang of it quickly, and the facial cushion should install smoothly.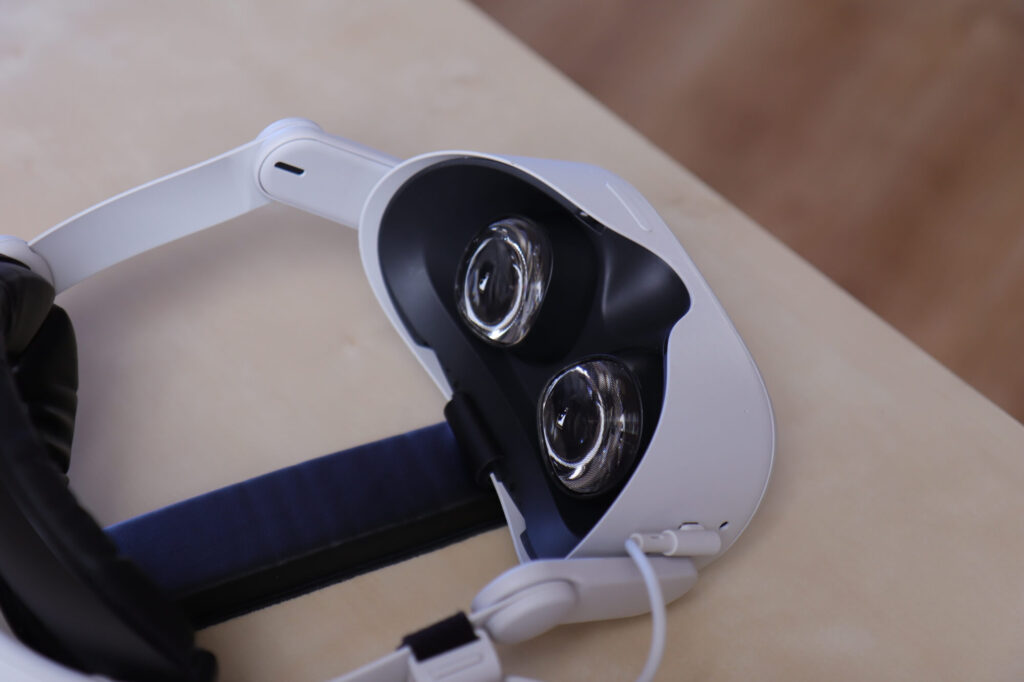 Then, you can simply slide the facial interface into the headset. That's it; you're ready to play. Once you put on the headset with the facial interface installed, you'll notice that you are completely cut off from the real world. This naturally leads us to the next point in the review.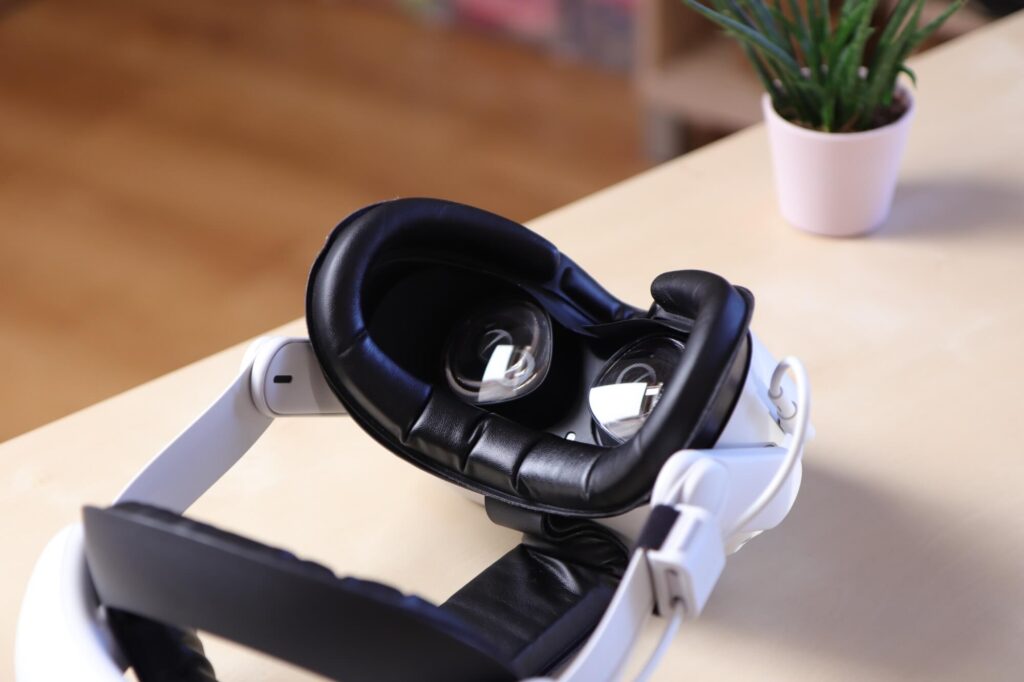 ---
Zero Light Leakage!
Once you put on the headset, you'll immediately notice that there is absolutely no light leakage. Light leakage tended to distract me from the immersion when using the stock Quest 2 facial interface. This issue is completely resolved there, mainly due to the rubber material on the facial interface that comes into contact with your nose – it effectively blocks out all light.
There were some situations when the light-blocking material would curl around my cheekbones, just below my eyes, causing some discomfort. However, a minor adjustment easily fixed this, so it wasn't a significant issue.
I still love the concept of an open peripheral with your headset, allowing a lot of light into your headset. So, why do I believe that light leakage is such a disruption from immersion when I like the idea of a fully open headset from the sides? Well, the thing is, fully open peripherals keep you aware of your surroundings, which arguably makes it easier to get used to them. They also have different use cases – They are ideal when you are using the headset for Mixed Reality.
However, even a slight light leakage from your nose gap can be irritating when you have all your other sides covered, ultimately disrupting immersion in the game. That's why eliminating this problem is a significant advantage of the Kiwi Design Fitness Facial Interface, but there are more benefits to discuss.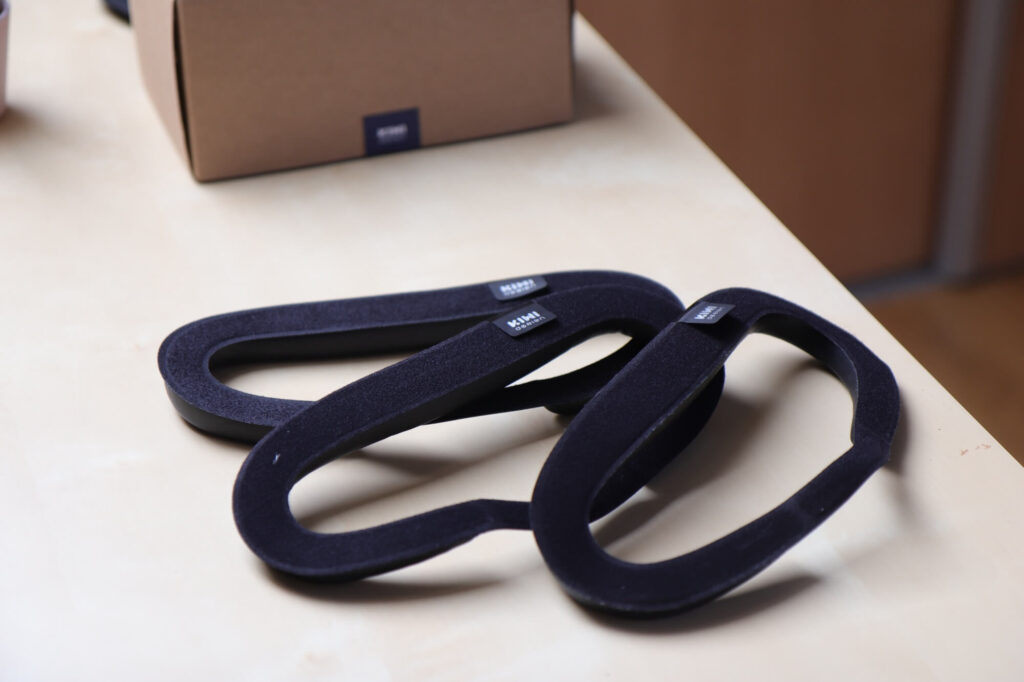 ---
Fitness vs Leather Cushion
So, what's the deal with having three face cushions included in the package? As I mentioned earlier, you get one fitness cushion and two made from leather. Leather is a non-absorbent material, which means that if you sweat a lot during gameplay or it gets dirty or wet, it won't absorb anything, making it easy to clean – just wipe everything off the surface.
On the other hand, the fitness cushion is made from an absorbent material, which means that it will soak up your sweat during extended gameplay sessions. Consequently, sharing the headset might be problematic. For instance, imagine hosting a party where everyone wants to take turns playing Beat Saber. As you can guess, some of the players may work up a sweat after their turn, making it unhygienic to share the headset.
To prevent this issue, Kiwi Design has included Leather Face Cushions (even two of them). This solution effectively resolves the problem, as you can simply wipe off the sweat from the leather surface, making the headset ready to be shared with others. At this point, you might wonder why we even need the Fitness facial interface if leather cushions are better – they don't absorb sweat. Well, there's more to it.
The 'Fitness' Facial Interface, as the name suggests, is specifically designed for… fitness – and it is great in this role. It is crafted from a highly breathable material and offers superior air filtration compared to the leather cushion, resulting in no lens fogging. Additionally, its sweat-absorbing capability ensures that there is minimal to no sweat on your lenses while playing fitness games, unlike the Leather face cushion, where sweat can drip onto the lenses.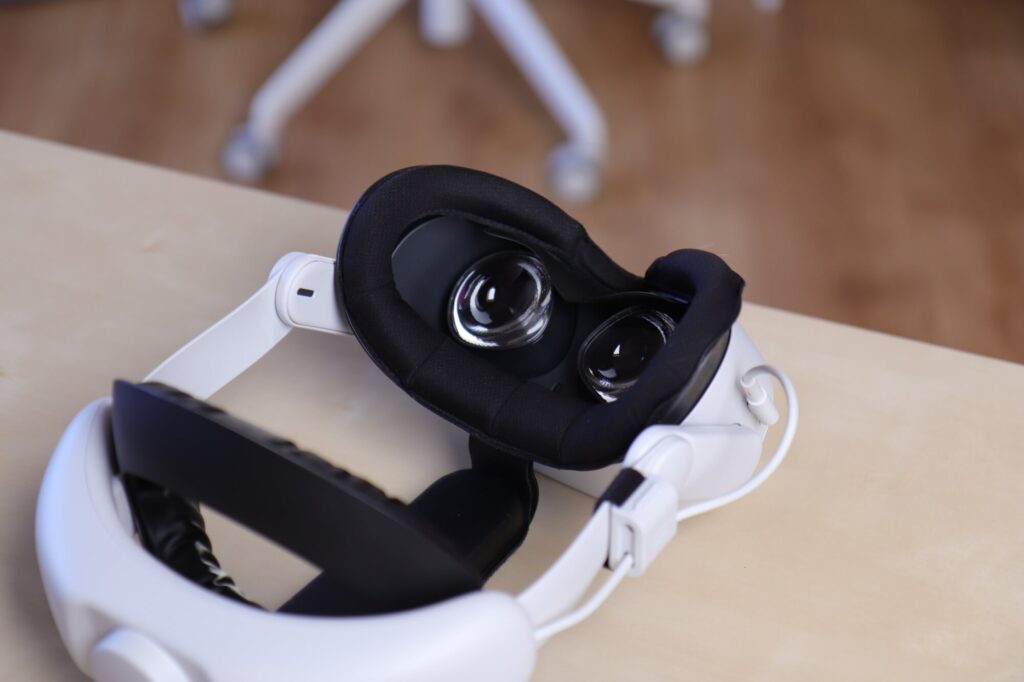 ---
Comfort
From this point, I will continue to compare the two, focusing on comfort. I must say that, for me personally, the Fitness Facial Interface is noticeably more comfortable. But don't misunderstand me – both are highly comfortable options. However, the fitness variant simply fits better to my face.
This slight difference in comfort becomes more noticeable during longer play sessions. This means that when sharing the headset after a short period of playing, opting for the Leather Facial Interface is a better choice than the Fitness variant.
I also noticed that after extended play sessions, the 'VR Face' (red marks around your face, matching the shape of the facial interface) is far less noticeable when using the Fitness Facial Interface compared to the Leather one. This is particularly important because many people might prefer to play VR during the day, perhaps before leaving the house. Thus, looking good after your VR sessions can be important for some users. This is the reason why picking the Fitness Facial Interface is better when playing alone and not sharing your headset with others.
---
Testing in Fitness Games
The Fitness Facial Interface is primarily designed for fitness games, so I tested it mostly with fast-paced fitness games where you can sweat a lot, using both facial interfaces. My tests included games like Thrill of the Fight, Pistol Whip, Half-Life Alyx (wave shooter mods), and many others.
Through my testing, I observed that my face didn't really feel the presence of the fitness facial interface, while the leather one felt increasingly noticeable and uncomfortable as time went on (still far more comfortable than the one shipped with Quest 2 though).
I also experienced issues with fogging lenses and sweat on them while using the leather facial interface. I had to repeatedly wipe them off every few minutes during gameplay, which was quite frustrating (who wants to take the headset off every few minutes?) However, I didn't experience these problems with the fitness facial interface.
---
Washing
Now, you might be wondering how to clean the fitness facial interface after it has absorbed all that sweat. This was a major issue with the face cushion that came with the Quest 2 because it was permanently attached to the facial interface, making it difficult to wash. However, this problem is now resolved because you can easily detach the face cushion from the facial interface; they are held together with Velcro.
To clean the fitness facial interface, simply wash it under the sink with soap; this is what I usually do. If you've had an intense VR workout and your fitness facial interface needs a more thorough cleaning, you can also throw it in the washing machine. After washing, it should come out looking and smelling fresh.
After washing, simply place it on a table or somewhere else and wait until it is dry. Drying times can vary depending on various factors, but it usually takes a few hours. Once it's dry, you're ready to enjoy VR again.
---
Conclusion – Worth $45.99?
After considering all the pros and cons of the product, I genuinely believe Kiwi Design Fitness Facial Interface offers excellent value for its price. Inside the box, you receive three different face cushions, with two of them serving a unique purpose, a light-blocking facial interface, a glasses spacer, and a lens protector.
All of these enhancements significantly improve the VR experience, making it more comfortable, suitable for fitness sessions, easier to share with others, and much simpler to clean and maintain. It represents a substantial upgrade over the stock facial interface that comes with the Quest 2.
The Review
Kiwi Design Upgraded Fitness Facial Interface
After weighing the pros and cons, I believe this product offers great value for its price. Inside the box, you get three face cushions, a light-blocking facial interface, a glasses spacer, and a lens protector. These improvements enhance comfort, make it suitable for fitness sessions, simplify sharing, and ease cleaning. It's a significant upgrade from the stock Quest 2 facial interface.
PROS
Greatly Improved Comfort
No Light Leakage
No Lens Fogging
Varied Products inside the Box
Three Face Cushions Included
Very Easy to Install
Easy to Clean
Sharing the Headset Becomes Easy
CONS
Comfort of Face Cushions Can Differ
Review Breakdown
Comfort of Fitness Facial Interface

0

Comfort of Leather Facial Interface

0

Ease of Use

0

Ease of Cleaning

0

Value-to-Price

0