A prototype of a VR/AR headset from Samsung has leaked, revealing that the company has canceled the device… But not entirely.
Update: August 21, 2023 – The original article from VRTuoluo has been removed. This could suggest various possibilities, including the potential that the information provided in this article may be outdated or inaccurate. Please take this into consideration.
It has been repeatedly reported that Samsung is actively working on developments in the VR and AR realm. They aren't keeping it under wraps either; the company has officially announced a collaboration involving Google and Qualcomm to create a "new immersive XR platform powered by Android."
Their efforts were indeed in progress, and now we have concrete confirmation. However, the outcome didn't quite meet expectations – their intended product paled in comparison to the recently unveiled Apple Vision Pro, leading the company to reconsider its strategy.
An exclusive report from VRTuoluo provides us with detailed information about Samsung's VR/AR HMD Prototype and the direction the company has opted to take.
---
Table of Contents
---
What was this Headset supposed to be?
According to reports, the company had to make significant changes to its plans following the announcement of the Apple Vision Pro. The author notes, "It was revealed that the parameters and characteristics of Vision Pro were far beyond Samsung's internal expectations."
Originally, the Apple Vision Pro was intended to incorporate a 4000 PPI display, but this was later scaled back to 3400 PPI due to technological constraints. In contrast, Samsung's HMD was initially proposed to house a 2000 PPI display, but it fell notably short compared to the capabilities of the Vision Pro. According to the author, a Twitter user's statements suggest that Samsung has revamped its HMD design to include displays with 3000 PPI, a specification that could potentially compete with the Vision Pro. Nevertheless, it's important to note that this information lacks concrete evidence, so it should be regarded with a degree of skepticism.

However, even in the absence of concrete evidence, the company is actively engaged in the development of significantly improved displays that surpass the capabilities of those found in the Apple Vision Pro. These displays boast impressive peak brightness levels of up to 15,000 nits, making them exceptionally bright and well-suited for VR HMDs.
Upon closer examination of the specifications, it becomes clear that the initial device was, in fact, far from being comparable to what the Apple Vision Pro represents, even being behind headsets like the Meta Quest 3 in certain aspects.
The prototype (as evidenced by photos provided by an insider) was designed to incorporate Pancake optics, Eye-Tracking, inside-out tracking using four black-and-white tracking cameras, two front RGB cameras for Augmented Reality, and oddly positioned Depth Sensors.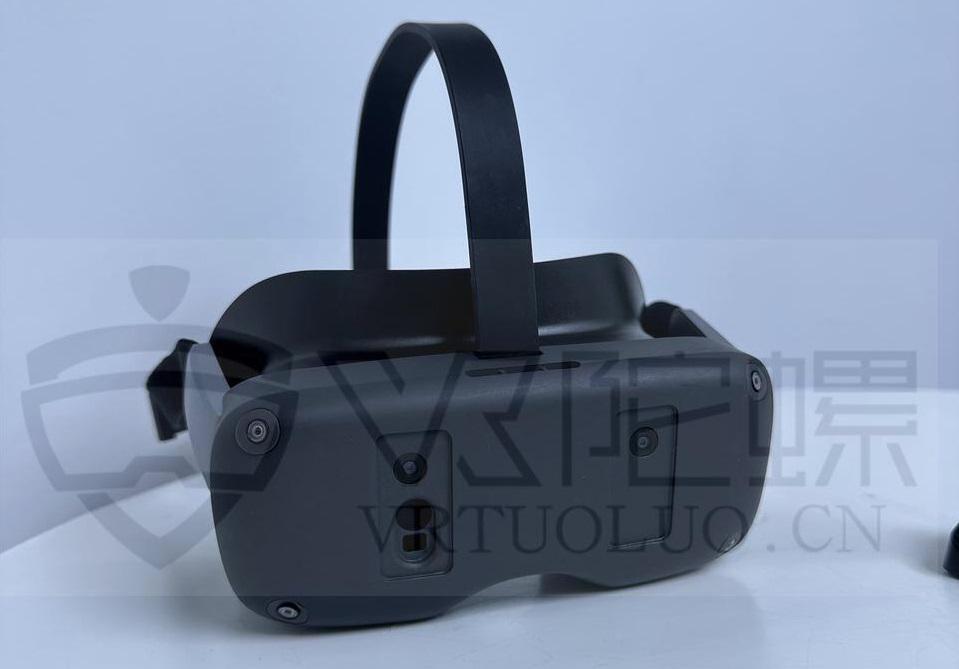 The prototype falls behind in terms of Interpupillary distance adjustment, as it was reported to include a manual three-step adjustment system, closely resembling that of Quest 2 and the outdated system that Quest 3 aims to replace.
What is both intriguing and disappointing is the reported processor in the device, the Exynos 2200. This SoC choice raises questions in 2023 – while it is notably an improvement over the outdated XR2 Gen 1 (SD865), it still falls short of the latest XR2 Gen 2 (SD8Gen2) which will find its place in VR/AR devices like Meta Quest 3. Now, if we compare these SoCs to Apple's M2, which powers the Vision Pro (alongside a secondary processor), the Exynos 2200 appears significantly inferior.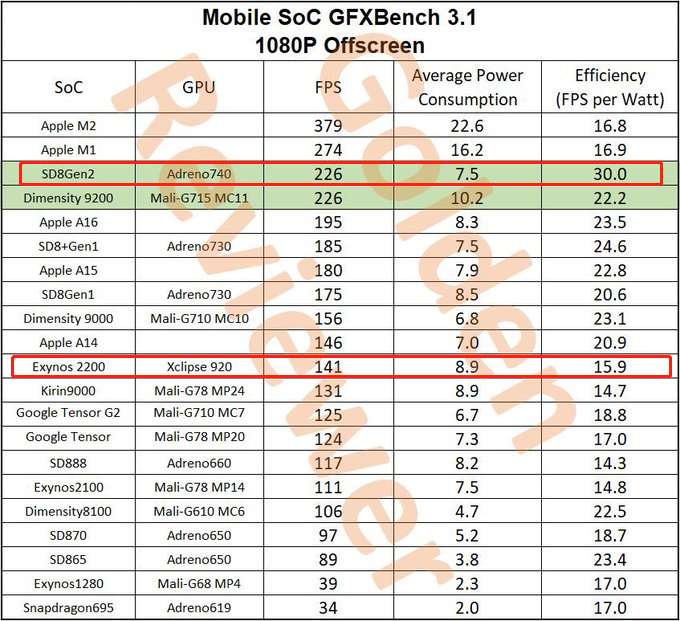 However, let's not overlook the fact that Samsung has entered into collaborations not only with Google but also with Qualcomm. It's quite conceivable that the company has undertaken a substantial revision of their HMD, possibly replacing their own Exynos series SoC with something more robust, like the Snapdragon XR2 Gen 2 at the very least.
---
What does Samsung want to do now?
The company undoubtedly intends to place more emphasis on competing with Apple rather than Meta. But does this imply that Samsung's XR device will fall within a similar price range? It's not an easy question, but the price could also be higher than initially anticipated due to the necessary headset redesigns to compete with a device like Vision Pro.
While the exact price point of the device remains unknown, a realistic price range would likely fall in the mid-range, especially when considering the $500 Quest 3 as the lower end and the $3500 Vision Pro as the higher end. However, it's worth noting that Samsung's HMD lacks certain features in comparison to Vision Pro, and the Android ecosystem it relies on might not be as robust.
Samsung currently holds the advantage of being the sole Android-based company actively pursuing the creation of higher-end VR/AR HMDs, especially with Meta reportedly taking its time on the successor to Quest Pro 2. Consequently, Samsung's path to competitive success may involve strategically positioning its product within the price range of $1000 to $2000.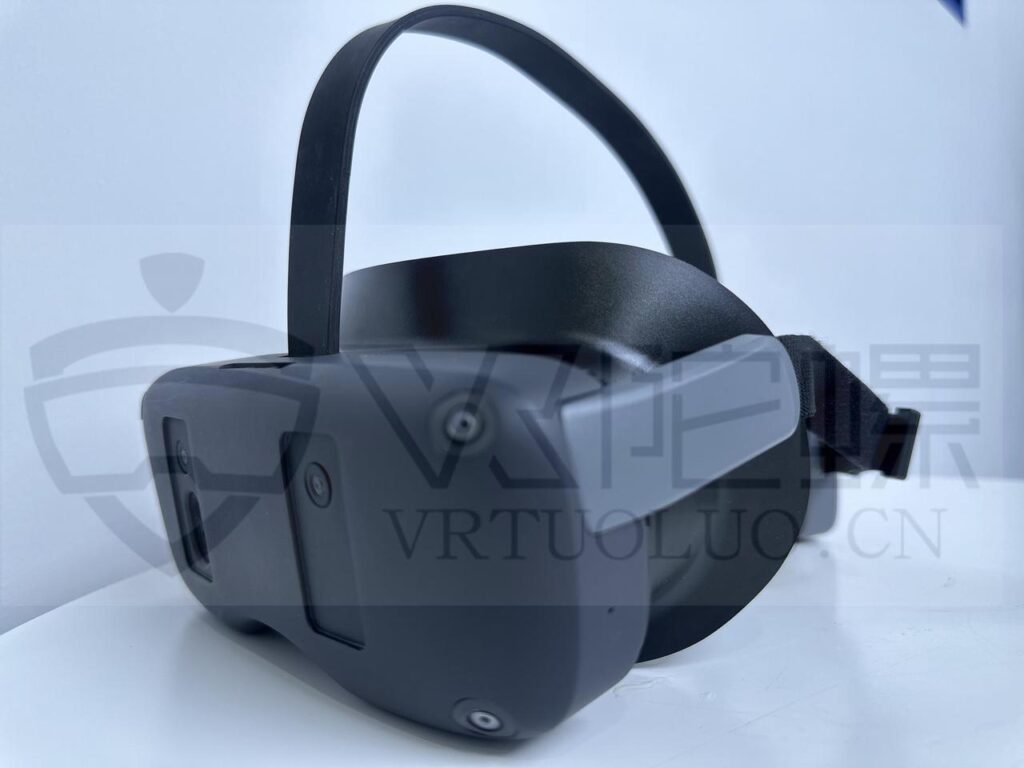 ---
Will Samsung's HMD be comparable to Vision Pro?
In terms of interaction, reports indicate that the headset will incorporate similar features to those of the Apple Vision Pro. The fundamental interaction system will involve Gaze + Pinch, just like in Apple's Vision Pro.
Controllers are reportedly not included in the device. As mentioned earlier, Hand Tracking will serve as the primary interaction system, alongside eye tracking. However, the camera array on the headset prototype (shown in the images above) is not as robust as what the Vision Pro offers, which means that Hand Tracking may not be as reliable compared to Apple's headset.
Samsung's direction in the realm of VR and AR remains somewhat uncertain. Unlike Meta, which has established a solid foundation in VR gaming and is swiftly advancing toward dominating the AR market with Quest 3, Apple is firmly committed to the concept of spatial computing over virtual reality. Although Meta isn't overlooking spatial computing, its values undoubtedly differ from those of Apple.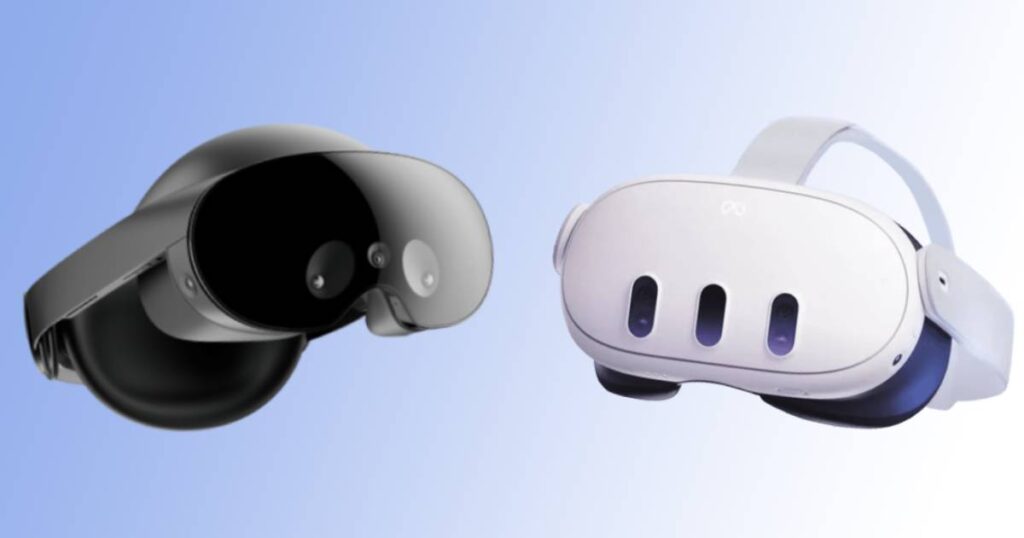 It appears that Samsung is leaning towards an approach more akin to Apple's rather than Meta's. However, an Android-based VR/AR device would offer greater openness compared to Apple's closed ecosystem. Consequently, this device would likely have a higher probability of being compatible with PCVR, albeit potentially facing the challenge of lacking dedicated controllers.
The company might consider offering it as an optional accessory, or a third-party entity could potentially develop their own self-tracker controllers that function with various PCVR headsets. However, even with these possibilities, Meta will likely remain the top choice for PCVR gaming in the foreseeable future, especially assuming that Valve's anticipated Deckard headset might not emerge for some time.
Regardless, it's intriguing to see a major Android manufacturer entering the VR/AR market. If this trend persists, we can expect more smartphone manufacturers to venture into the VR and AR industry.