Sirius Smart AR Ski Goggles can actually be a useful and appealing product, but primarily for professional skiers.
Of all the start-ups at AWE EU 2023, I found this one particularly intriguing. While I had the opportunity to test numerous AR glasses prototypes and similar products, Sirius Smart AR Ski Goggles stood out as a finished product with significant potential, especially for professional skiers.
Ostloong Innovations' Sirius Smart AR Ski Goggles offers a range of features tailored to skiers. These goggles come equipped with an 8-megapixel camera capable of capturing photos and videos in 1080p at 60FPS. Additionally, they feature stereo speakers and microphones for making calls and enjoying music. Sirius Smart AR Ski Goggles have UI buttons on each side, which not only facilitate calls but can also be used for emergency SOS situations.
This describes only one version of the Sirius Smart AR Ski Goggles. There is a second, slightly more expensive version that includes a Heads-up Display (HUD) for "AR" content, in addition to the features mentioned earlier. This HUD can show incoming texts and notifications, as well as real-time measurements of your speed, location, and other statistics.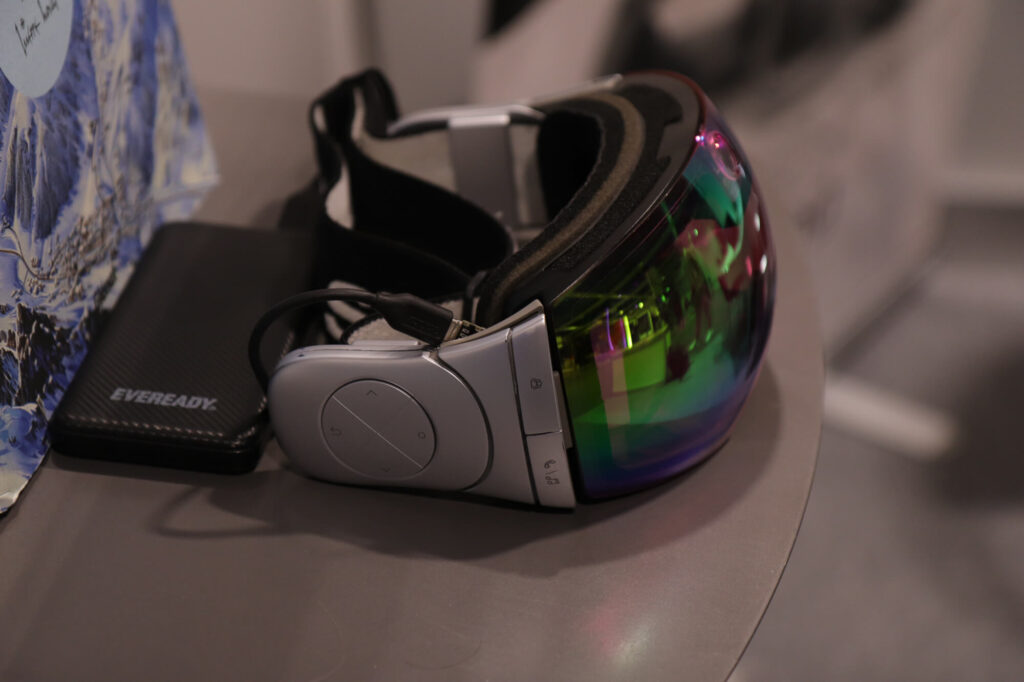 ---
Table of Contents
---
My Impressions
From my limited time with these goggles, I can say that I was impressed. While I, of course, didn't actually go skiing with it, the device managed to pack numerous features into one standalone unit with an onboard battery and built-in "AR" HUD, and it felt surprisingly lightweight, similar to a standard pair of ski goggles. This was quite surprising.
But why do I keep putting "AR" in quotes? Well, it's because Ostloong Innovations markets the Sirius Smart AR Ski Goggles as an Augmented Reality device. While this claim might make some sense since the device has a display inside on the right side of the goggles, it can be misleading. Based on my testing, the goggles feature 0-DoF Tracking, which means that displayed content remains fixed in your field of vision. To be honest, for a device designed for extreme sports, this limitation is entirely reasonable. After all, who would want critical information disappearing from their view just because they moved their head slightly while speeding down a hill? I certainly wouldn't.
Sirius Smart AR Ski Goggles isn't a product intended for the average person. It's designed for a niche group of professional skiers who engage in extreme sports and would rather not stop to take out their phones to record their adventures or answer a call while racing down a snowy mountain. Consolidating all these features into a single device that's already on your head proves to be incredibly practical in this context.
The price of Sirius Smart AR Ski Goggles, as revealed in the interview below (which includes some other intriguing details), stands at $900 for the "light version," equipped with only a communication system and a camera for capturing photos and videos. The version with the added "AR" HUD is priced at $1200. Some may argue it's a substantial investment, but considering that it caters to people who already spend thousands on professional ski equipment, this cost appears quite reasonable for a product that can enhance the overall skiing experience.
Ostloong Innovations is also working on another product in development, the Lyra Smart AR Glasses, designed for a different target audience. You can find more information about both the Lyra Smart AR Glasses and the Sirius Smart AR Ski Goggles in the interview below:
---
The Interview with Dimitri Charriere
Cezary Sobociński, XRDailyNews: Can you introduce yourself and briefly give us an overview of what your company specializes in?
Dimitri Charriere: I'm in charge of the marketing and sales for Oslo Innovations. We are based in Zurich, Switzerland. I was a professional skier for more than 15 years, and two years ago, we decided to develop a new kind of ski goggles with augmented reality possibilities.
XRDailyNews: What products do you currently offer?
Dimitri Charriere: Our first product is Sirius Augmented Reality ski goggles. It's a pair of goggles connected by Bluetooth to the phone. So, when you are skiing, you don't have any moment to stop and take off your gloves and take your phone out of your pocket. Everything is integrated directly into the ski goggles, so you can manipulate the goggles with the gloves, and you can access your address book, and your music library.
You have all the information you need when you are skiing, like your performance, your speed, your altitude, your location, and the location of your friends. There is a tracking system to follow your friends or to go to the restaurant or cable car in the resort. You have access to direct communication with hands-free, and a camera for taking photos as well. Everything is integrated into the goggles.
XRDailyNews: Do you have a release window, when do you plan to release the Sirius Sky goggles?
Dimitri Charriere: After two years of development, we started production two weeks ago, and the goggles will be available with pre-sales online in the middle of December 2023.
XRDailyNews: What price point are you aiming for?
Dimitri Charriere: You will have two models, one light version with only the communication system and camera and photography, for about 900 euros in francs or dollars, and the pro version with the augmented reality system for about 1200.
XRDailyNews: Sirius Sky Goggles seem like a product for consumers, but how about your next product that is in development, the Lyra Smart AR Glasses?
Dimitri Charriere: Yes, we are developing now the second product, Lyra Smart Augmented Reality Glasses. these glasses will have a direct translation system with city navigation and AI assistant for business. About the translation, Lyra will be able to do voice-to-text. It means if someone talks to you in Japanese, you will have in the Augmented Reality lens the direct translation and text-to-text as well. It means you can read a book in another language you don't know and you will have directly in front of your eyes the transition.
XRDailyNews: So when do you plan to release the Lyra Smart AR Glasses?
Dimitri Charriere: Hopefully, we go to market in early 2026.