Wait, is this Tetris…? What is TWISTEX all about?
Are you in search of a relaxing Tetris-like game in VR, an ideal platform for such experiences? TWISTEX could be one of those games, although it primarily centers around Mixed Reality, instead of VR. This means the game aims to enhance your real-world environment rather than immersing you in virtual worlds. It is a good thing though.
The Mixed Reality approach opens up the door to unique gameplay mechanics not commonly found in similar games. As we anticipate the release of Quest 3, which is set to unlock vast potential for Mixed Reality experiences – TWISTEX could certainly benefit from that. However, we'll delve into that aspect later in the article. First, let's explore the gameplay of this title and highlight some of its positive aspects.
---
Table of Contents
---
The Gameplay (and the Good)
Middle Man Games, the game studio behind TWISTEX, describes it as a "falling block puzzle game with a 'twist'. Made especially for VR, it combines classic gameplay with original, new mechanics." The studio explains, "Rather than playing on a flat grid, you navigate shapes around a continuous, cylindrical grid, and fill the spaces to clear rings rather than lines."
And all of this holds true. The mechanics are certainly creative, as this is the first puzzle game with a cylinder-grid which you twist with the rotation of your wrist. The game offers two game types: Ring Drop, where you must fill the entire ring across the cylinder, and Color Drop, where the goal is to connect 8 or more shapes of the same color to clear the group.
However, what truly sets this game apart from similar titles is not just its gameplay. It's also the use of Mixed Reality, which allows you to transform the look of your room through its beautiful environments. Even on devices like Quest 2 with only black and white passthrough, these environments can look pretty decent. The game's music adds to its charm, creating a pleasant and immersive atmosphere.
The levels in the game also offer a degree of variety. As you progress to higher levels, you'll encounter more challenges and obstacles. These obstacles often take the form of pre-placed blocks within the level, making it more challenging to complete the ring of blocks.
---
The Bad
Now, let's discuss some of the drawbacks of the game. I must mention that there are several aspects I believe the studio should, and is able to address. Let's start with what might be one of the most significant issues affecting sales: Why are the trailer and all the photos showcasing the game on Quest 2?
One of the main issues that caught my attention is the game's marketing strategy. I understand that Quest 2 is a mass-market device and focusing marketing efforts on it can potentially bring the highest sales, however, promoting a Mixed Reality game, even with immersive surroundings, on the black-and-white passthrough of Quest 2 won't do the game justice. The actual experience is somewhat better than what is shown in the images and trailers, but it still falls short of what a device like the upcoming Quest 3 could offer in terms of resolution and potential. With the addition of a depth sensor, Mixed Reality capabilities could reach new heights.
Given this, I believe it would be much better for the studio to wait for the Quest 3 release, and optimize their game to fully make use of the headset's capabilities, while also using it as a powerful marketing tool, as an advanced and colorful passthrough look much better than a grainy, black and white one.
Aside from the passthrough, I had problems with the gameplay itself. One of them was how the cylinder was controlled by my hand – because the advertised way is to move your wrist to move the cylinder around. This was fun for a few first minutes, but I soon noticed that I was unintentionally placing blocks in spaces I didn't intend to. That is why I used the joystick for cylinder rotation, it worked much better and was reliable for me.
The chaotic UI is one of the game's most significant drawbacks, although not necessarily the absolute worst. To be honest, it has been a while since I encountered such a confusing menu system. The studio mentions that "clearing levels will unlock new towers, blocks, music, and environments for you to customize your experience," and while this may be accurate, I found it difficult to understand how the menu works. It would be helpful if the game provided clearer information on how to unlock these elements or offered previews of how they look or sound, to encourage players to unlock them.
There's a major drawback to this game that I'd like to discuss in the following section of this article. The issue at hand is that the game lacks engagement; in other words, it's rather boring.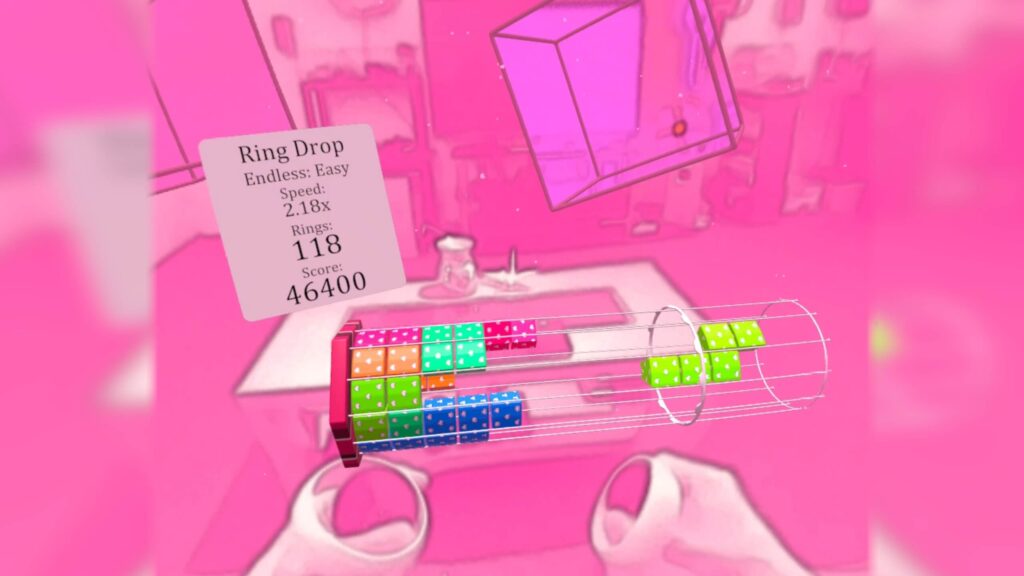 ---
TWISTEX and Tetris Effect: Connected… Are those similar?
I can confidently say that I'm a fan of Tetris Effect: Connected, but not necessarily because it's Tetris. I can play Tetris anywhere, so why bother with VR, right? Well, VR provides me with immersion, and the creators of Tetris Effect: Connected clearly understood that – They utilized the immersion factor in VR to the fullest, providing beautiful environments and music, that make players feel relaxed.
This is where TWISTEX falls short – it is not engaging. In Tetris, the music, effects, and surroundings are all closely tied to the gameplay. When you score points in Tetris, the music shifts, new effects emerge, and the environment changes, keeping the player engaged and immersed. In TWISTEX, despite some variation in levels, you're essentially playing in the same Quest 2 environment throughout.
I don't expect TWISTEX to become the next Tetris. What I mean is that Tetris Effect: Connected was appreciated for its stunning and engaging visuals, which is something TWISTEX is notably lacking.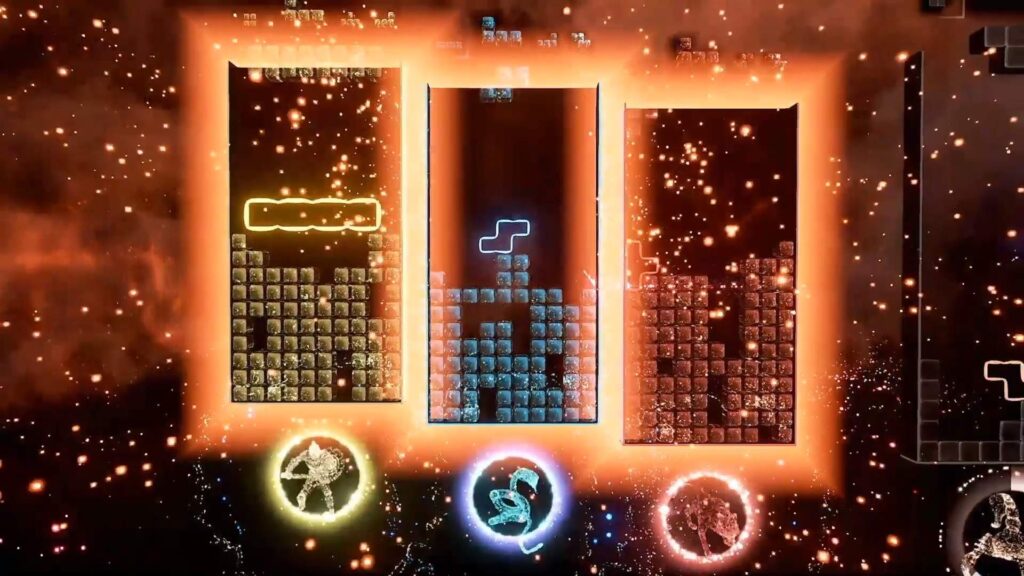 ---
Dear TWISTEX, You can be amazing!
Mixed Reality is quite an unexplored area compared to VR, so creating games based on Mixed Reality may be challenging, I understand that. However, if TWISTEX wants to be an interesting, engaging game, it also needs to have engaging audio and environments. And the possibilities here are huge.
Imagine this: You're playing TWISTEX on a Meta Quest 3, and the game makes the most out of the device's power. With calm and engaging music in the background, you're starting to score better and better at the game, reaching a certain level on your cylinder. Then, something surprising happens – your room's walls start to crumble, and a large jungle appears behind them. Soon after you start to see dinosaurs wandering around, and one of them is entering your room. As you keep placing blocks on the grid to beat the level and discover more exciting parts of the game, the dinosaur moves around your room, making the whole experience feel like magic.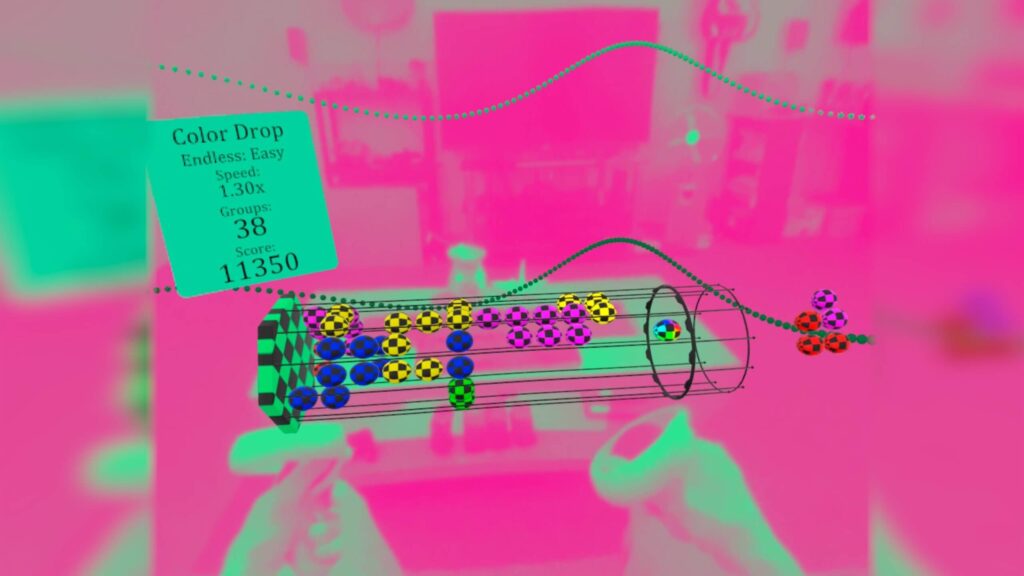 Alright, but what do I mean by all this imagining and pondering? I mean that this game might have been released prematurely and hasn't reached its full potential yet. It's possible that the creator had a different vision for the game or has grander, more creative ideas in mind – I certainly hope so. However, as it stands, the game lacks engagement and doesn't offer users a compelling reason to return to it. It's missing that "wow" factor that could make it truly magical, which is quite unfortunate.
Would I suggest buying this game for $15 right now? Probably not. However, it has the potential to become something truly special if the creators tap into its possibilities. If you're intrigued by the idea of playing a Tetris-like game in Mixed Reality, I'd recommend keeping an eye out for future updates rather than making the purchase immediately. Unless you're confident in the game's future and want to support the developers, it might be best to hold off for now. You can find TWISTEX on both the Meta Quest Store and Steam (currently available to wishlist), and it's available for $14.99.