Bifrost Pulse – Accessible Haptic Gloves with Force, Spatial, and Haptic Feedback, alongside Full Finger Tracking
Bifrost Pulse is a promising Indiegogo project that aims to develop the most accessible and high-end haptic gloves on the market. The project looks very optimistic at this stage and holds a lot of promise.
While some companies sell haptic gloves for thousands of dollars, Bifrost Pulse aims to offer theirs for only $299. Currently, the project looks promising and has generated interest on crowdfunding platforms. Furthermore, backers who support the project on Indiegogo in the next 72 hours can receive a $100 discount. UPDATE: The discount is over.
Bifrost Pulse's glove boasts full curl and splay finger tracking, allowing users to move their fingers in any direction. Additionally, the glove features force feedback, enabling users to feel the shape and texture of objects they are holding within virtual reality.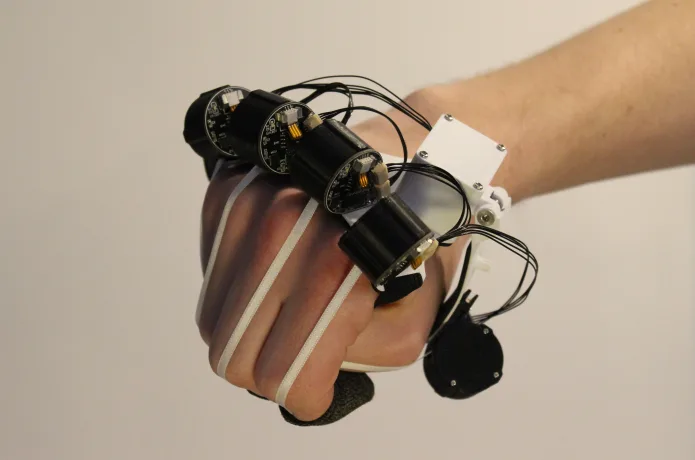 In addition to finger tracking and force feedback, the gloves also feature vibration feedback provided by motors located at the end of each finger. This feature, when combined with force feedback, offers a highly immersive experience that is unparalleled by any other VR glove on the market at this price point.
Furthermore, the gloves are also designed to provide Spatial Feedback, which is a form of force feedback that simulates the resistance and pressure you would feel when pressing your hands against solid objects, such as walls or other surfaces.
These gloves are completely wireless, which is great news for gamers who hate dealing with tangled cords. However, they do require a third-party accessory to track in 6-DOF. Don't worry though, you can strap a Quest 2 controller or Vive Tracker to your hand to get the job done. The creator has promised that he is working on integrating 6-DOF tracking into the gloves themselves, most likely by using SteamVR Tracking, since cameras would be too pricey.
The creator is currently seeking backers who can purchase the developer version of the gloves and build software to take full advantage of the gloves' capabilities for existing games, such as Half-Life: Alyx. Check out this promising project by clicking on the link provided and giving feedback to the creator.