Get Ready to Transform Your House into a Digital Playground With These 6 Intruging Upcoming AR Games for Meta Quest
Did you ever dream as a child of transforming your house into an epic battlefield, brimming with portals to other worlds? Well, get ready, because those dreams are about to become a reality with the upcoming AR games that will undoubtedly leave you in awe.
With the release of Meta Quest Pro last year, we were introduced to the concept of "Mixed-Reality," which essentially refers to Augmented Reality (AR) but with a slight variation. Instead of presenting your surroundings through transparent optics, it utilizes onboard cameras to capture and display your actual environment on the headset's internal screens. Although the method may differ, the result remains consistent: a view of your real-world surroundings.
Meta Quest Pro succeeded in showcasing the concept of mixed reality but fell short in terms of usability. The absence of a depth sensor, a crucial component for seamlessly integrating AR experiences with the real world, was apparent. Meta aims to fix these flaws with the launch of Meta Quest 3, which is expected to deliver significantly improved AR capabilities compared to the Quest Pro.
So, with the release of Meta Quest 3, a wave of new AR games is on the horizon. Here is a list of the 6 most interesting titles to wait for.
---
Table of Contents
---
Espire 2 – Mixed Reality Missions
Espire 2 is a single-player and co-op stealth FPS game that has already been available on Meta Quest 2 and Pro as a standard VR version. However, the studio recently announced an exciting development—the introduction of a free mixed-reality update that will turn your house into an authentic stealth mission. Your objective will be to eliminate enemies who have infiltrated your home.
According to the studio, the game's missions will "grow and adapt to the player's personal playspace." However, some concerns have been raised by players who worry that the missions may become repetitive and monotonous, as the player's apartment won't undergo significant changes throughout different missions.
While this concern is understandable, the pre-alpha trailer showcases the developers' efforts to make the AR experience highly replayable. They have introduced windows with VR environments inside across your house, allowing you to glimpse new environments created by the developers, resulting in a fresh and unique appearance of your house every time you play.
---
The Infinite Inside
"The Infinite Inside" stands out as one of the most compelling and mysterious AR games. Despite the lack of a detailed description, Maze Theory, the studio renowned for their work on Peaky Blinders: The King's Ransom has left us with a teaser, sparking intrigue and anticipation for what lies within this immersive experience.
Although we don't have any official description of the game, the teaser video offers a glimpse into what AR games should aspire to be. While the specific objective of the game remains unknown, the footage showcases the ability of players to seamlessly transition between AR and VR by entering a mysterious tower situated within the player's room.
This intriguing approach adds an exciting element of unpredictability, as the tower itself becomes a compelling enigma to unravel. With the potential for the tower to differ in each gameplay session, players can enjoy enhanced replayability, ensuring they are consistently engaged and captivated.
By dynamically changing between VR and AR based on whether the player enters the tower or remains outside of it, the game could effectively maintain a sense of intrigue and keeps boredom at bay.
---
Broken Edge – Mixed Reality Mode
Mark Zuckerberg, the CEO of Meta, has recently showcased the AR Capabilities of Meta Quest 3 on his Instagram profile. One of the games he teased was Broken Edge, the VR Duel game available on the Quest platform. The game features innovative sword mechanics allowing players to have a satisfactory and fun fight between themselves.
The AR version of the game has not been announced yet, but Mark's video clearly shows the game in action. It demonstrates how much fun multiplayer experiences can be between two users wearing headsets, especially in Augmented Reality. The game has the potential to provide immersive and enjoyable gameplay, making it an exciting example of what AR gaming can offer.
---
PianoVision
Have you always wanted to learn how to play the piano but never had the opportunity to get one yourself? Well, PianoVision might be the perfect solution for you! In this game, players can play the virtual piano using only their hands. While the game is currently available on Meta Quest 2 and Quest Pro, the experience has been decent at best due to low-quality passthrough and imperfect hand-tracking. This is about to change though.
With the introduction of Meta Quest 3, the PianoVision game is expected to offer an even more enjoyable experience. The hand-tracking functionality has been significantly improved, which is crucial since players use their hands to interact with the virtual piano. Additionally, the enhanced resolution cameras and the inclusion of a depth sensor will provide a clearer view of your real-life environment.
---
Knockout League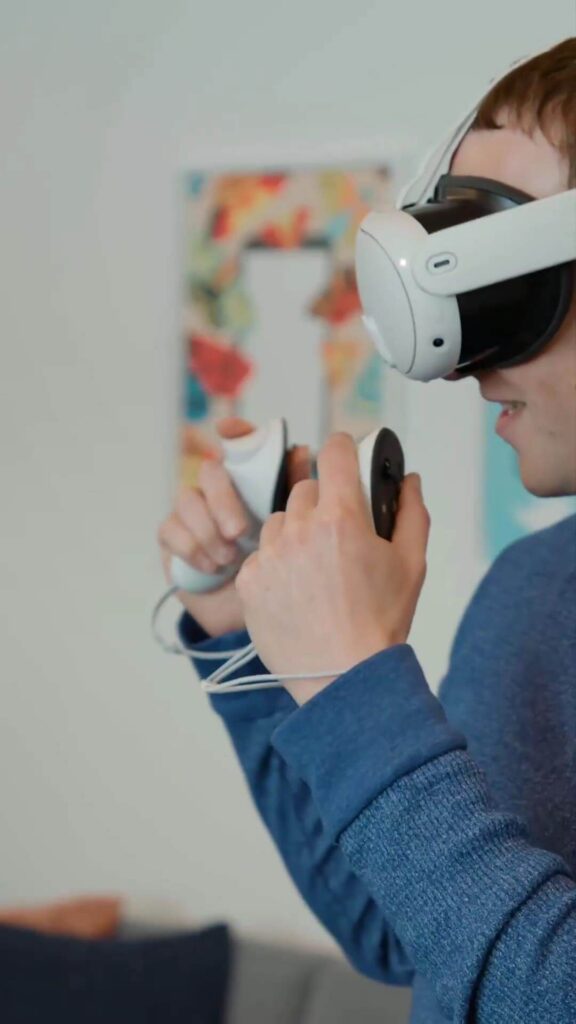 Knockout League is an exciting single-player arcade-style boxing game that lives up to its name, as players aim to knock out their opponents. Initially designed for Virtual Reality, it seems the game will be available in Augmented Reality mode, expanding its gameplay capabilities even further.
The introduction of the AR mode in the game offers a significant advantage over the Virtual Reality mode: the ability to see and navigate your surroundings. This eliminates the concern of accidentally hitting furniture or objects in your house, which has been a common issue for many players. The option to choose ultimately comes down to the user's preference though.
---
Track Craft
Remember the joy of building tracks to race your Hot Wheels cars as a kid? Well, now you can relive that excitement in a more affordable and limitless way. Track Craft presents an intriguing concept in Mixed Reality gaming by introducing Track Crafting.
While the game may not hold the attention of most adults for extended periods, Track Craft has the potential to be a big seller among children… And a big money saver among parents, eliminating the need to purchase physical track sets, as everything can be built virtually in AR.
We can look forward to a plethora of new AR games with the release of Meta Quest 3, with many of them expected to be announced during Meta Connect this year. During an internal presentation at Meta, it was reported that there are approximately 41 new games and experiences slated to arrive on the Quest Store alongside Meta Quest 3, offering exciting possibilities for augmented reality gaming.